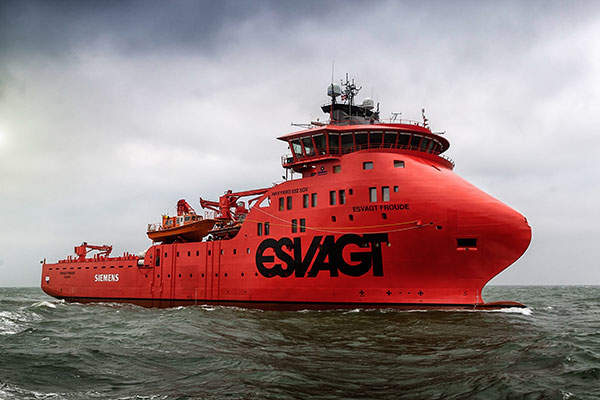 Esvagt Froude was delivered in February 2015. Image: ESVAGT Press Photo.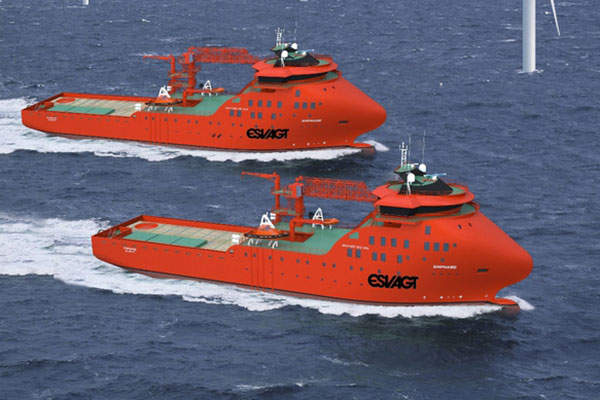 Esvagt ordered two offshore wind farm service operation vessels in July 2013. Image courtesy of Havyard Group.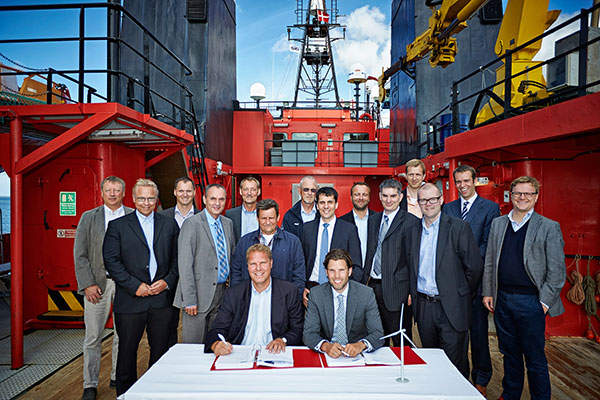 Esvagt's Havyard 832 SOV vessels service Butendiek and Baltic II offshore wind farms. Image courtesy of www.siemens.com/press.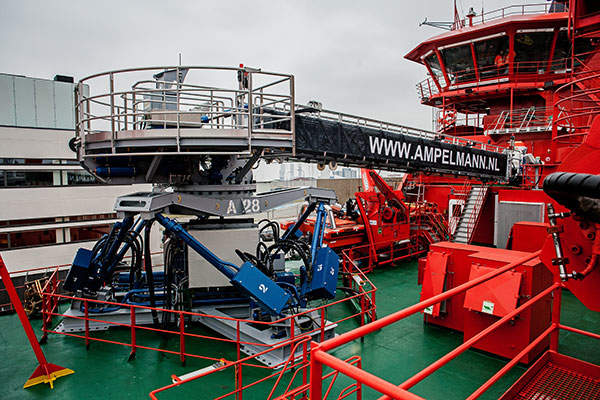 Esvagt Froude features a walk-to-work Ampelmann A-type gangway. Image courtesy of ESVAGT Press Photos.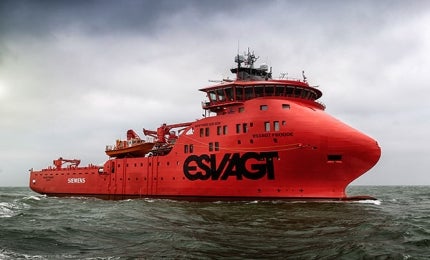 Esvagt Froude is the first Havyard 832-design offshore service operation vessel (SOV) built at Havyard Ship Technology's shipyard in Leirvik, Sogn. It is one of two vessels ordered by Danish shipping company Esvagt in July 2013.
The vessel was christened and transported to her owner in February 2015. Esvagt Faraday, the sister ship, was also delivered in February 2015.Esvagt Froude has been chartered to Siemens Energy for five years to transport cargo and crew for the construction and operation of the Baltic II offshore wind farm.
In addition, a ten-year contract for operations at the Butendiek offshore wind farm in Germany has been agreed. Both include an option for extension.
Esvagt also placed an order for a third Havyard 832 SOV, Esvagt Njord, in December 2014 for operations at the Dudgeon wind farm, which is being developed by Statoil and Statkraft off the coast of Norfolk, UK. The vessel was delivered in August 2016.
Design and tank capacities
"The Havyard 832 SOV was designed and engineered by Havyard Design & Solutions."
The Havyard 832 SOV was designed and engineered by Havyard Design & Solutions. Its overall length is 83.7m, moulded breadth is 17.6m and maximum draught is 6.5m. The deadweight is approximately 4,200t at maximum draught.
The gross tonnage is 5,006t, whereas net tonnage capacity is 1,502t. Esvagt Froude can carry cargo of up to 2,500t on deck.
With a deck area of up to 900m², the SOV provides 450m² of deck space to contain workshop facilities and six 20ft containers for spare parts.
Its cargo deck can accommodate standard 20ft containers for necessary spare parts for wind turbine maintenance.
The vessel has received Det Norske Veritas (DNV) 1A1 class notations, including SF – EO – HL (2.8) – DYNPOS AUTR – COMF-V(3)-C(3) DK(+) – Clean Design – NAUT OSV(A) – OILREC – LFL* – ICE C – BIS. It is further classified under DNV FIFI1 – COMF-V(2) – WINTERIZED BASIC – ICE 1B rescue / standby for 200 people, according to NMD, NOFO regulations 2009 (1.5).
Esvagt Froude has the capacity to store 1,100m³ of fuel, 250m³ of base oil, 800m³ of freshwater, 2,500m³ of water ballast, 2,500m³ of drilling water, 300m³ of dry bulk, 1,025m³ of mud, 1,025m³ of brine, 1,560m³ of oil recovered and 150m³ of low flashpoint liquids.
Deck equipment and systems
---
---
Brave Tern is a purpose-built heavy-lift jack-up vessel constructed for Fred Olsen Windcarrier.
---
Esvagt Froude features an Ampelmann A-type gangway, which is a walk-to-work offshore access system. The gangway allows the on-board technicians to reach wind turbines through a hydraulically stabilised asymmetric bridge, even during wave heights up to 2.5m. It has an active and passive roll damping system for improved comfort and gangway operations.
The vessel can be placed close to the wind turbines for easy and safe operations. The state-of-the-art dynamic positioning (DP) system provides enhanced manoeuvrability during the servicing of wind farms. Froude's high ERN-score (station-keeping capability) allows for operations even in severe climatic conditions.
Esvagt Froude is fitted with a deck crane having a capacity to carry 2t at 12m outreach, and a boat landing ramp at aft to launch a safe transport boat (STB) 12A or catamaran transfer vessels.
Additional facilities include an incinerator and compactor for waste management and a closed-circuit television (CCTV) for monitoring the central areas of operation and the vessel.
A-Lifting delivered a crane package for Esvagt Froude and Esvagt Faraday. Electrical engineering, automation and alarm systems, including the Havyard Concept Bridge, were delivered by Havyard Power & Systems.
Accommodation and safety features
Esvagt Froude has 60 single-bed cabins for 40 technicians and 20 crew members. The accommodation facilities, including modern cabins, meeting rooms, fitness area and entertainment areas, are located in the superstructure.
The Walk-to-Work gangway system is complemented by STBs, developed at Esvagt's headquarters in Esbjerg.
An open STB model, 7B, is also included and can accommodate two crew members, three technicians and their equipment. It also has an enclosed STB model 12A carrying two crew members and eight technicians, along with one tonne of cargo.
A standard Esvagt fast rescue boat is positioned on the deck.
Engine and propulsion
"Esvagt Froude is powered by a diesel-electric propulsion system."
Esvagt Froude is powered by a diesel-electric propulsion system and an advanced DC power system developed by Siemens, Trondheim, Norway.
The power-plant enables fuel and energy efficiency while providing additional comfort to the crew. The vessel is also fitted with Siemens Blue Drive propulsions system which reduces fuel and CO2 emissions.
The propulsion system includes four diesel generators, each capable of generating 1,650kW of power.
Esvagt Froude also includes 1,600kW main azimuth thrusters and a forward thruster generating 700kW of power. The propulsion system provides a speed of 14.5kt.