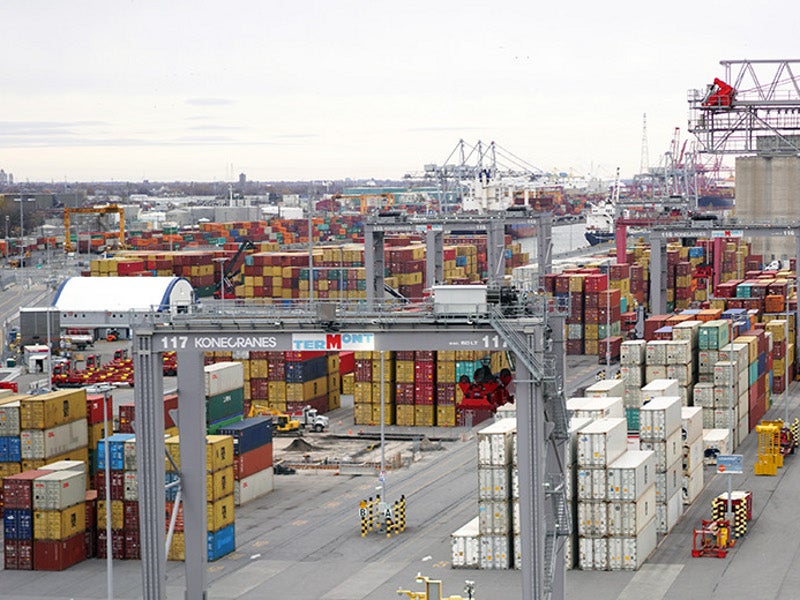 Contrecoeur port terminal will be spread over 120ha. Credit: Canada Infrastructure Bank.
The new terminal will handle 1.15 million TEUs during first phase. Credit: Chamber of Commerce of Metropolitan Montreal.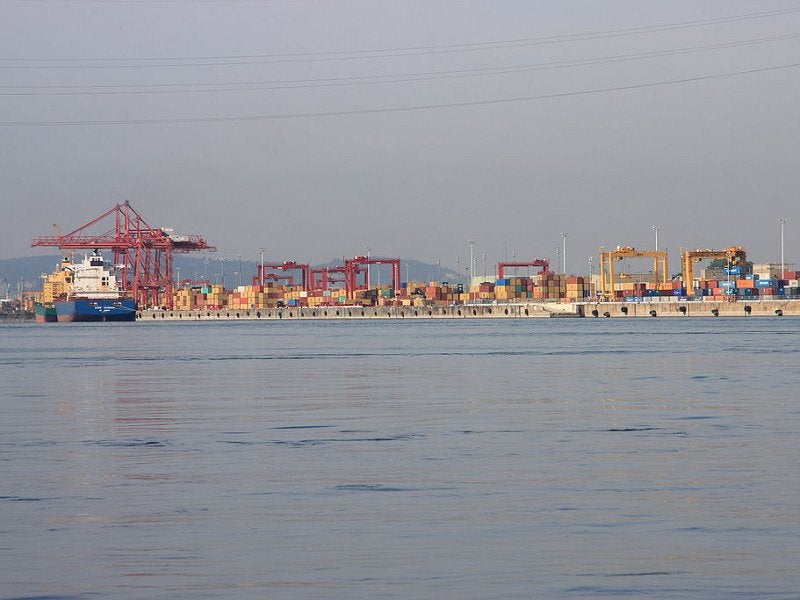 The project will become operational in 2024. Credit: Cephas.
The Montreal Port Authority (MPA) proposed a container terminal at the Contrecoeur terminal in the Port of Montreal in order to support the growing container market in Quebec and Eastern Canada.
Construction of the project is expected to start in 2020 subject to receipt of necessary approvals, while commissioning is scheduled for 2024.
Strategically located in Quebec, Canada, Port of Montreal is the biggest international container port in Eastern Canada. It provides shorter transit time to ship containers from the Mediterranean and Europe to North American markets. The port handled more than 1.7 million containers in 2018.
The new terminal is expected to handle up to 1.15 million containers a year upon commissioning. It will increase the container handling capacity of the port to 3.5 million twenty-foot equivalent units (TEUs).
Contrecoeur port terminal details
The new container terminal at Contrecoeur port will cover an area of 120ha on the south bank of the St Lawrence River, approximately 40km downstream from the MPA facilities in Montreal. It is situated near the CN railway, Route 132, and Highway 30.
The terminal is expected to handle 1,200 trucks and one train a day, and two to three ships a week.
It will feature a 675m-long berthing area, which will dock two ocean-going ships with 4,200TEUs capacity each. Each berth will be served by four rail-mounted gantry cranes for loading and unloading.
The container yard, spread over 26ha, will be used as the handling area for both ship and land transportation. The maritime transfer area will have a total storage capacity of up to 28,800TEUs.
The approach and berthing area will be dredged in order to allow ships to access wharf from the St Lawrence shipping channel.
An intermodal yard and marshalling yard spread over 24ha area will allow train services and switching activities using five electrical rail-mounted overhead travelling bridge cranes.
A truck control area will be built over 1.2ha, where the truck transactions will be verified according to Transport Canada's port security regulations on terminal access.
Infrastructure and utilities
The supporting land infrastructure at the new terminal can be accessed through Highway 30, Route 132, and the CN railway. A railway crossing will be built at Route 132.
"Expansion of the port infrastructure will increase the flow of goods from container ships and help meet existing and future capacity requirements."
Operations at the new terminal will require support buildings, including administrative offices, mechanical and maintenance workshops, employee room, electrical substation and compressors, fire-fighting infrastructure, and de-icing salt storage area.
An access road connecting to Route 132 will be constructed for use by workers and other authorised vehicles.
The Hydro-Québec network will provide the required power supply to the maritime terminal. On-site water supply will be pumped from the St Lawrence River.
Financing and contractors
The total estimated cost of the project is approximately $750m. Canada Infrastructure Bank (CIB) and MPA signed a memorandum of understanding to provide financial structuring for the proposed terminal.
MPA partnered with SNC-Lavalin for carrying out a study regarding the issues in its environmental impact assessment of the new terminal.
Benefits of Contrecoeur port terminal
Contrecoeur container terminal is expected to create 5,000 jobs during construction and more than 1,000 direct jobs during operations.
The terminal will enhance economic growth and international trade in Canada by allowing importers and exporters to efficiently deliver products to the market.
Expansion of the port infrastructure will increase the flow of goods from container ships and help meet existing and future capacity requirements.