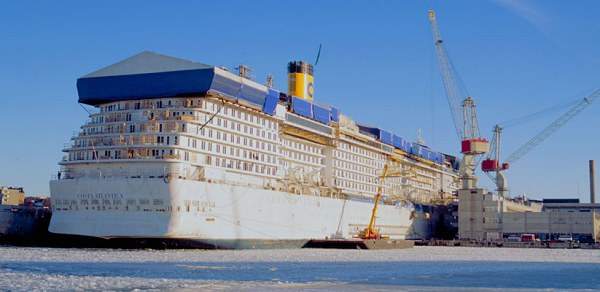 Costa Atlantica at the outfitting quay.
The Costa Atlantica has an overall length of 292.5m and a 38.8m maximum breadth. The 85,700gt cruise ship – the largest built for a European cruise line – carries a total of 2,680 passengers in a total of 1,057 staterooms. 845 (80%) include a sea view and 742 (70%) have balconies. The crew capacity is 902 (509 crew staterooms) and there are 12 passenger decks.
FACILITIES
Deck 1 contains the show lounge (salone delle feste corallo) seating some 320 guests. Decks 2 (la dolce vita) and 3 (la strada) are public passenger decks. From here, the atrium stretches over ten decks up to deck 11, and is fitted with panorama lifts.
Above the atrium are the casino and the grand bar (bar madama butterfly and piazza madama butterfly, seating 22/255 guests respectively), both with band stands and dance floors. Further forward is a card room and the large main theatre (teatro caruso) seating 1,170 guests.
In the atrium area are the reception and excursion desks and the lobby bar, aft of which is the lobby lounge (bar la dolce vita/lounge via veneto, for 16 groups of 83 people). Further aft is the lower floor of the main restaurant (ristorante tiziano), which stretches over two decks and seats a total of 1,300 guests, including 86 guests in a separate annexe restaurant.
The conference area is on deck 3 (sala paparazzi), seating some 60 guests, and the foyer lounge and bar (lounge paparazzi). In the atrium area is the photo gallery, photo studio and laboratory. In front of the atrium is the shopping area (via della spiga shops), piano bar (piazza san marco) and the café florian, seating 127 guests.
Deck 4 (Roma) is a passenger cabin deck. At the top is the uppermost level of the theatre, the chapel, a video gaming area (mondovirtuale) and the children's playroom (giochi pinoccio's).
Decks 5, 6 (amarcord), 7 (intervista) and 8 (8 e ½) are passenger cabin decks, while the ship's wheelhouse and officers' staterooms are forward on Deck 8.
Deck 9 contains the pool deck, with two large swimming pools and two jacuzzis in the central pool area (lido Ginger and lido Fred). The buffet restaurant (buffet ristorante Botticelli) seats 270, and the pizzeria napoli seats 228 guests. Forward is the ship's spa area (terme ischia) stretching up to Deck 10, with a gymnasium (gym olympia), solarium and beauty salon (beauty venus). Aft is the ship's TV studio and broadcast room. Above the lido area and around the atrium is the club atlantica tavernetta view lounge and nightclub, seating 106 passengers.
Forward on Deck 11 (la voce della luna) is an open deck with a jogging track and a volley ball court/basket ball court. Surrounding the atrium on Deck 12 (le notti di cabiria) is the ship's observation balcony.
SAFETY
Costa Atlantica has a very high level of plant redundancy. Plant that has an impact on the safety of the ship has a redundancy built into it in such a way that at least 50% of nominal capacities remains available after any single failure.
SHIP PROPULSION
The diesel-electric machinery consists of six Wärtsilä NSD 9L46D diesel engines, with a total power of 62,370kW, each connected to an ABB alternator producing electricity to the ship's main electric network at 11kV 60Hz, three phase. The propulsion consists of two azimuthing electric Azipod units, with a power of 17.6MW each.
Each propulsion motor comprises a synchronous, single-unit AC electric motor, supplied via a stepless AC/AC air-cooled thyristor converter. Costa Atlantica has three 1.91MW tunnel thrusters in the bow. The service speed is 22 knots.
The systems includes two 1,400kW incinerators and a food waste system with vacuum transportation from feeding stations in all galleys and food preparation areas, as well as processing for burning in the incinerators, and a recycling and storage system for glass, metal, ash and paper – including a new automatic ash transport and packing process.