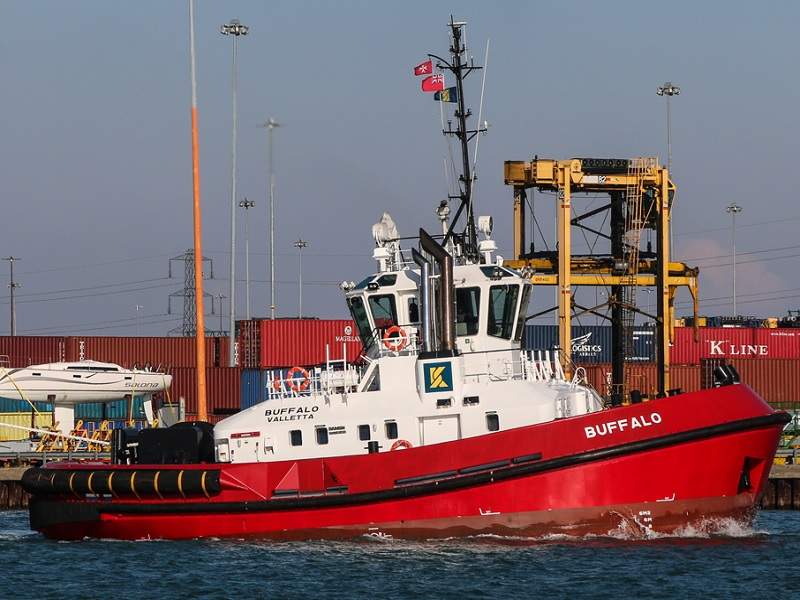 The Damen ATD 2412 series of twin fin tugs is being offered by Damen Shipyards Group for use in towing, mooring and fire-fighting operations.
KOTUG International placed an order for two Damen ATD 2412 vessels, named ZP Boxer and ZP Bulldog, in November 2012. Damen also delivered two ATD 2412 tugs named ZP Bear and ZP Bison to KOTUG for its European harbour towage missions in April 2015.
Damen Shipyards handed over two ATD 2412 vessels, named Svitzer Maimon and Svitzer Beata, to Svitzer in April 2016.
Mackenzie Marine & Towage of Esperance received two ATD 2412 vessels, which entered service in April 2017.
KOTUG also received an ATD 2412 vessel named Buffalo in January. The tug, which entered service in March, is being used for harbour towage activities in the Port of Southampton.
Damen ATD TUG 2412 design and features
The azimuth tractor drive tug features a heavy hull with rigid foundations and extra plate thickness, as well as extra brackets and fendering. It offers superior seakeeping and towing capabilities.
The tug is 24.74m-long and 4.6m-deep, with a beam of 12.63m and displacement of 503t.
It can store 69.5m³ of fuel oil, 8m³ of freshwater, 6.9m³ of lubrication oil, 5.9m³ of bilge water, 5.5m³ of foam, 3m³ of dirty oil and 3.4m³ of sewage.
ATD 2412 deck layout
The vessel features four decks, including below main deck, main deck, bridge deck and top deck. The below main deck houses the engine room, which accommodates forced engine room ventilation, closed cooling water system with box coolers, 35dBA exhaust silencers, and generators.
"The vessel features four decks, including below main deck, main deck, bridge deck and top deck."
The modern and efficient wheelhouse is equipped with ergonomic consoles. It is installed with a helmsman's seat on a sliding rail, providing a 360° view through the large windows. The sound-absorbing ceiling further reduces noise levels. The wheelhouse also incorporates chart table with drawers, UMS alarm panels, and towing winch foot control.
The main deck features a central filling station, towing hook, towing winch split drum and towing bitt, while the top deck houses accommodation cabins, a mess room and galley.
The vessel can be optionally installed with dispersant set, fuel oil purifiers, bilge water separator, air intake filter engine room ventilation, and a sewage treatment plant, as well as internal and external solutions to extinguish a fire.
Accommodation aboard ATD TUG 2412
The ATD 2412 accommodates four personnel in three cabins including a captain's cabin, chief engineer's cabin, and a twin crew cabin. Each cabin features completely insulated and modern interiors, floating floors and air-conditioning systems.
It also offers a galley with modern equipment, a comfortable mess room, sanitary facilities and storage.
Navigation and communication systems
The tug is installed with a Furuno FAR 2117 radar system, magnetic Kotter compass, Furuno GP-170 global positioning system (GPS), Furuno LS-6100 echo sounder, Furuno FA-150 automatic identification system (AIS), Furuno NX-700A Navtex and two Pesch 1000W searchlights.
The on-board communication systems include two VHF radiophones, two VHF handheld radios and Furuno Felcom 18 Inmarsat.
Propulsion details
The tug is powered by two Caterpillar 3516C TA HD+/D main engines driving two Rolls Royce US 255 FP azimuth thrusters fitted with CuNiAl 2,600mm five-bladed fixed pitch propellers. The powerplant develops a total power output of 4,200bkW at 1,600rpm.
The propulsion system provides a bollard pull of approximately 70t and a maximum speed of 12k.