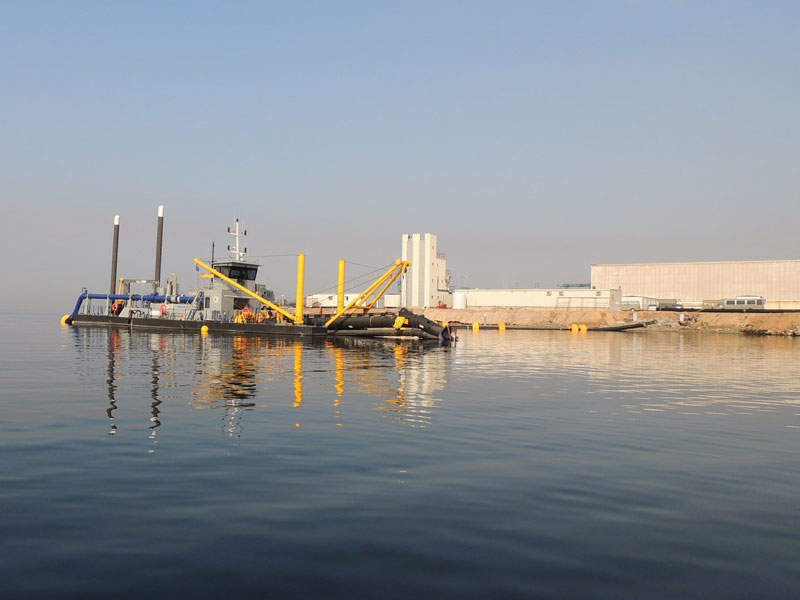 Damen's cutter suction dredger (CSD) 450 is used to perform dredging operations in ports and rivers. Credit: Damen Shipyards Group.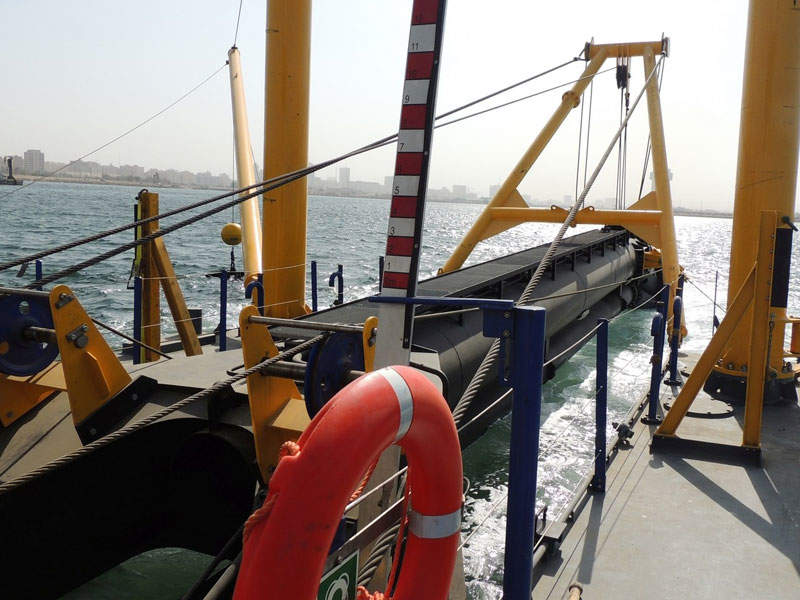 A close view of the CSD 450's cutter ladder and pontoons. Credit: Damen Shipyards Group.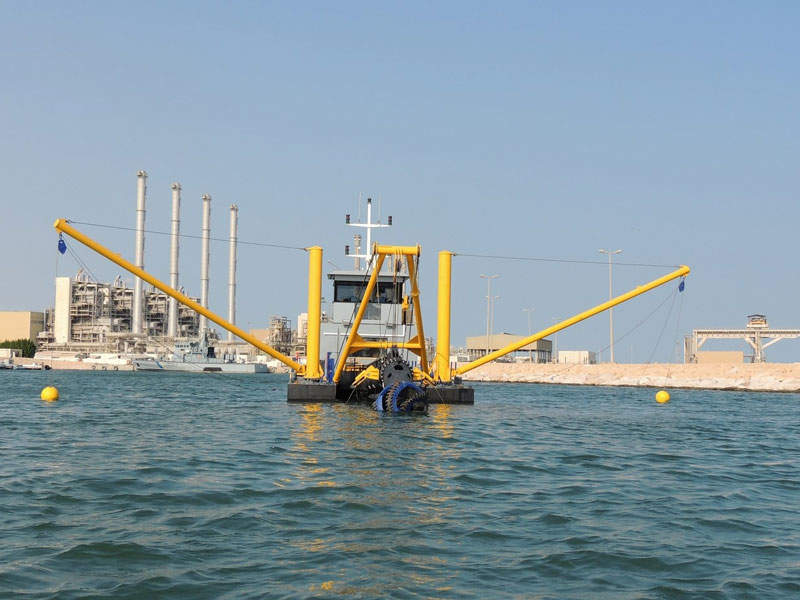 CSD 450 can be equipped with optional anchor booms. Credit: Damen Shipyards Group.
The Cutter Suction Dredger (CSD) 450 series of dredging vessels can be used for dredging operations in harbours, rivers, lakes and sheltered waters. They are built by Damen Shipyards Group.
Vesirakennus Ojanen Oy placed a contract with Damen Shipyards Group for the supply of a CSD 450 vessel in November 2017. Delivered in December 2017, the vessel was customised with a day accommodation unit under the control cabin for four people. It is also equipped with an anchor boom system and a navigation package.
Damen Shipyards delivered a CSD 450 vessel to Van der Lee in September 2016. Saudi Border Guard received two CSD 450 vessels in November 2015. West Africa took delivery of a customised CSD 450 vessel in May 2013.
The Iraqi Ministry of Water resources was handed over four CSD 450 vessels in January 2011, followed by a further four in March 2011.
Vessel design and features
The CSD incorporates a heavy-duty robust design, which can be customised with a range of standard options. This includes anchor booms, swivel connection, a mast with navigation lights, and a production measurement system.
The vessel is controlled by a single operator from the control cabin and the dismountable design allows for the vessel to be transported by road.
The CSD 450 has an overall length of 33.15m including the ladder, while length over the pontoons is 22.6m. It has a beam of 6.95m, a draught of 1.05m and depth of 1.8m.
The 115t vessel has a total installed power of 941kW, which enables it to sail and perform dredging works independently. Its cutter head has a power rating of 110kW and facilitates dredging operations at a maximum depth of 12m.
"The CSD incorporates a heavy-duty robust design, which can be customised with a range of standard options."
The dredger carries approximately 18.8m³ of fuel, 6.25m³ of ballast water and 1.5m³ of hydraulic oil.
The cabin features sound-absorbing insulation in the walls and ceiling. The spacious, ergonomically-designed control desks and engine room are equipped with an air-conditioning and heating system.
The dredger also offers facilities such as a toilet, kitchen and a refrigerator. It is certified under Bureau Veritas Coastal Classification.
Dredging equipment aboard CSD 450
The dredging equipment on CSD 450 includes a BP451100 dredging pump, discharge pipe and suction pipe. The crown model cutter aboard the vessel is installed with changeable chisels. The suction and discharge pipes have a diameter of 450mm. The vessel has the capacity to hold a maximum of 3,00m³ of mixture an hour.
The CSD 450 vessel is outfitted with two 16m-long spuds and two spud hoisting rams with a stroke of 1.5m each. It is further equipped with a hydraulic drive ladder winch with a variable force of 80kN at 0-15m/min. Two hydraulically-driven side wire winches aboard the vessel have a pulling force of 80kN each and provide a swing width of 34m.
Other dredging instrumentation on the CSD 450 includes a dredging depth indicator, as well as a vacuum and pressure indication of the dredge pump.
Propulsion details
Damen's CSD 450 vessel is powered by Caterpillar C-32 TA diesel dredge pump with a rated power output of 709kW at 1,600rpm. The electrical installation includes 24VDC and 230/400VAC systems.