Damen Song Cam Shipyard is owned by Damen Shipyards and Song Cam Shipyard. Image courtesy of Damen Shipyards Group.
The first phase of the shipyard started operations in March 2014. Image courtesy of Damen Shipyards Group.
The yard currently employs approximately 800 people. Image courtesy of Damen Shipyards Group.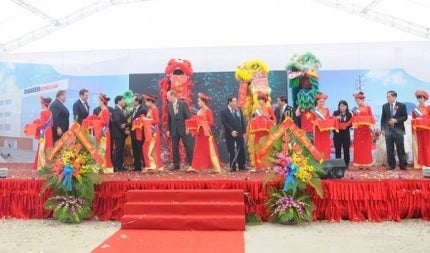 The Damen Song Cam Shipyard (DSCS) is located in Haiphong City, Thuy Nguyen district in Vietnam. Construction of DSCS started in August 2011, and the first phase of the three-phased shipyard development project was officially commissioned in March 2014.
---
Related content
---
Damen Shipyards Sharjah (DSS) is located at the Sharjah Hamriyah free-zone, UAE.
---
DSCS is owned by Damen Shipyards (70%) and Song Cam Shipyard (30%), a subsidiary of Shipbuilding Industry Group Vietnam (Vinashin). The joint-venture will operate the shipyard for 40 years.
The total cost of the project is €40m (approximately $55.07m), of which €35m ($48m) is being financed by FMO Entrepreneurial Development Bank through its FMOA and FOM funds. The overall project is expected to generate approximately 750 jobs.
The yard currently employs approximately 800 people, which will be increased to 2,500 people when the remaining two phases are fully operational, increasing the number of vessels built to 80.
Services offered at Damen Song Cam Shipyard
DSCS will offer services including outfitting of tugboats, fast crew suppliers, high-speed craft, service vessels and other types of workboats. It will initially carry out the outfitting of hulls provided by other Vietnamese shipyards, including Song Cam Shipyard in the first phase. The latter phases will add new steel-building facilities at the shipyard, enabling production of part of the hulls.
Facilities built under phase 1 are sufficient to deliver 45 vessels by 2016. The second and third phases will increase the capacity to 55 vessels.
Shipbuilding facilities at DSCS
DSCS is spread over an area of 43ha and has direct and unrestricted access to the sea. Up to 500m of the shipyard is located adjacent to the River Cam. When fully operational, DSCS will be capable of constructing tug and workboats of up to 60m.
"DSCS is equipped with a syncrolift supplied by Rolls-Royce."
DSCS is equipped with a syncrolift supplied by Rolls-Royce. The syncrolift has a maximum lifting capacity of 2,500t, with a docking platform of 60m in length and 24m in width. It acts as a large elevator for raising and lowering vessels in and out of the water for dry-docking ashore.
The covered outfitting hall is 120m-long and 85m-wide, and is equipped with three overhead cranes with a capacity of 25t each. The shipyard also features an air-conditioned and environment-controlled paint shop, as well as other carpentry workshops and offices.
Special work platforms are fitted at five metres and eight metres, allowing employees to work in close proximity to the main deck. The platforms are equipped to store components allowing convenience of work, reducing walking distance and providing logistical efficiency.
Contractors involved with the Vietnam shipyard
Royal Haskoning was contracted to develop the design and supervise the construction works for the shipyard. It provided the design for the inner harbour featuring a ship-lift and ship transfer pit, which will offload pre-constructed hulls and transport them to the shipyard's various outfitting buildings.
TTS Group, a subsidiary of TTS Handling Systems, signed a contract with DSCS to deliver a tire wheel transfer system, also known as a powered wheel transporter. This transfer system will allow for fast and flexible movement of ships in yards. Sigma Engineering provided mechanical and electrical services for phase 1 of the project.