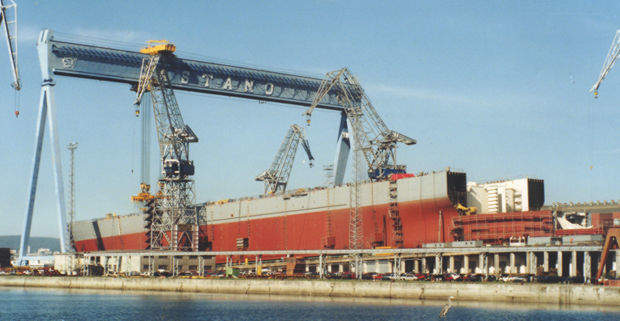 Discoverer Enterprise was built at Astano, Izar's offshore construction yard in northern Spain.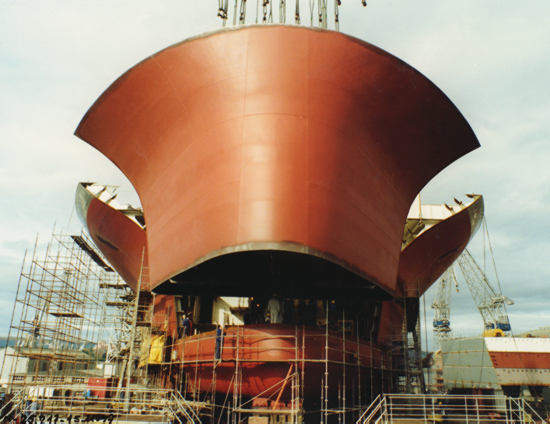 Bow erection of the Discoverer Enterprise.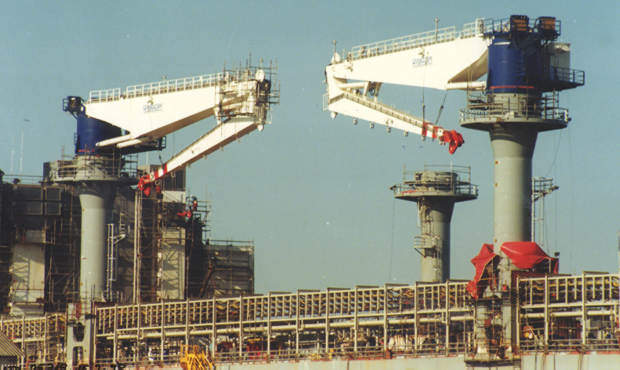 Discoverer Enterprise's knuckle boom deck cranes able to handle drilling pipes 4X80t @ 15m.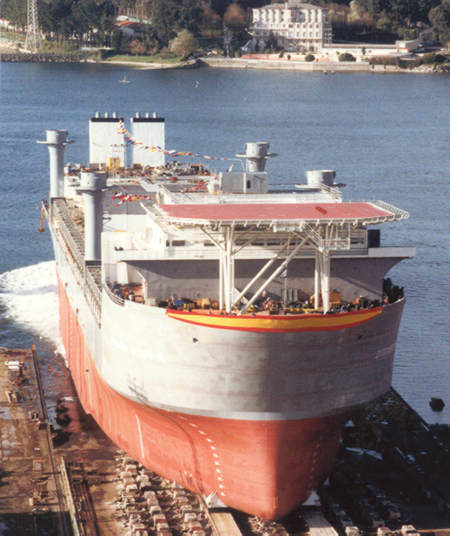 The launching and floatout operation of Discoverer Enterprise prior to sailing for final fabrication in Mexico.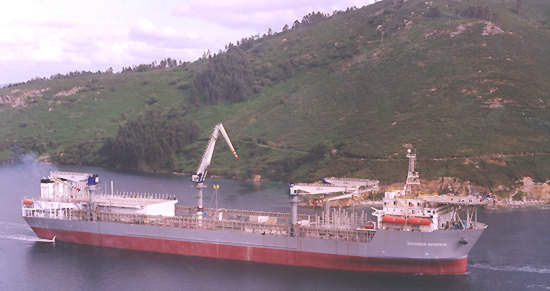 Discoverer Enterprise as delivered by Astano ready for installation of the dual derrick systems.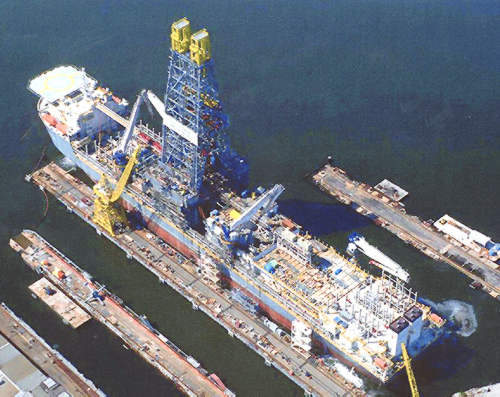 Final stage of the installation of the dual derrick systems in the Gulf of Mexico.
Employing a unique dual drilling methodology Discoverer Enterprise, the first of a three-ship series for Houston-based Transocean, was designed to achieve considerable cost savings. The modified double-hull shuttle tanker design combines a drilling equipment package, comprising twin derricks and twin drill strings so she can peform simultaneous drilling operations. The result is a large US$300m multipurpose rig that reduces well construction time, provides extended well testing and storage capabilities, and allows for a range of subsea operations, including the J-laying of ultra deepwater pipelines.
Discoverer Enterprise was built at Astano, the Izar's offshore construction yard in northern Spain, to Det Norske Veritas class 1A1 MODU's designed for harsh environments worldwide. It should heave less than 7ft in a 50-year Gulf of Mexico storm. She was delivered in August 1998 and has since been followed by two sister ships, Discoverer Spirit and Discoverer Deepseas. Final outfitting was completed at the Ingalls Shipyard in Mississippi, USA, under a US$3.6 million contract, and she is now engaged in her first role – a five-year contract with BP Amoco.
DESIGN
The concept behind the Enterprise class is to reduce deepwater drill costs by allowing operations to be performed concurrently rather than sequentially. Transocean estimates that it saves 25 per cent of exploratory well drill time costs, and 40% when moving into a development scenario because it is possible to work on a second well while still being latched up, drilling, testing and completing the first well. As a consequence, operations are set up so that the blowout preventer (BOP) and riser string are not constantly tripped back and forth to the surface between each well, cutting down on several days of rig time. She can drill in water depths of 10,000ft to a total depth of 35,000ft.
Rig floor equipment is designed to reduce traditional roughneck work by using a series of semi-automated pipe-handling equipment, operated from remote touch screens and controls. Dual activity drilling is provided by forward and aft work areas, each centred around a rotary table. These are spaced 40ft apart above a moonpool and are serviced by independent drilling equipment packages. Clearance of 60ft between the moonpool deck and the substructure allows handling of subsea trees and other large pieces of equipment. Equipped with tensioners, the forward work area is used as the primary rotary table for drilling and includes the riser and BOP stack. The aft area has a 95ft powered mousehole and system designed to pick up or lay down stands of drillstring or casing in singles. Four 60mt cranes with rigid lifting attachments can lift tubes and risers from deck storage areas to conveyors located forward and aft of the derrick.
Initially, operational topsides weight will be about 10,000t while the variable deckload, including drill pipe, can take 20,000t. Discoverer Enterprise can work with a significant wave height of 13m and, if conditions get very bad, has the ability to disconnect risers quickly before moving to a different location. The unit is designed to store 120,000 barrels of oil and has a 15,000psi drilling capability. There are four 7,500psi mud pumps and an active mud system consisting of 12,500-barrel capacity pits.
Accommodation is provided for 200 people.
PROPULSION
Discoverer Enterprise is dynamically positioned via six 5,000kW Azimuthing thrusters, three at the bow and three aft. Her prime movers are two Wärtsilä 12V32 engines, developing a total power output of 13,214bhp and a service speed of 15 knots. The primary reference systems are a differential global positioning system and a long-short baseline acoustic positioning system. All GMDSS and safety communications equipment have been supplied by Nera.