The world's first ethane-fuelled ethylene carriers are being built at the Chinese shipyard of Sinopacific Offshore & Engineering.
The vessels will be sub-chartered to SABIC Petrochemicals by GasChem Services.
MAN Diesel & Turbo has been contracted to supply the gas carriers with its revolutionary ME-GI Dual Fuel 2-stroke engine.
The 6.65m MAN Kappel propeller with a rudder bulb and a twisted 'HB Hunte Twist-flow Rudder', which is fitted in the first ECO STAR 36K vessel.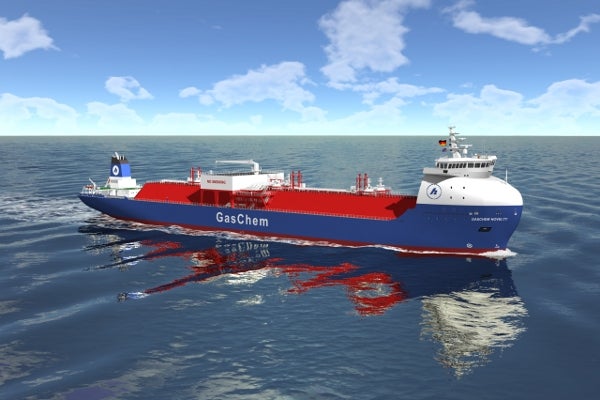 Ocean Yield ordered for three ECO STAR 36K Liquefied Ethylene Gas Carriers (LEG) in May 2014. The vessels will be the world's biggest LEG carriers and the first ethane-fuelled ocean going vessels. The eco-friendly gas carriers are being built with an estimated investment of $243m at Sinopacific Offshore & Engineering's Chinese shipyard.
The first vessel in series, GasChem Beluga, was delivered in November 2016, while the second vessel is anticipated to be delivered in the second half of 2017.
The vessels will be chartered to the Hartmann Group on a 15-year 'hell and high water' bareboat charter with the first ten years at a fixed charter rate and the next five-years at a floating charter rate. Hartmann will further sub-charter the LEG carriers on ten-year charter basis with five one-year options to SABIC Petrochemicals through its GasChem Services division.
Details of the ethane-fuelled carrier vessel
Hartmann Reederei in association with engineering consultants HB Hunte Engineering developed the ECO STAR 36K design. Another Hartmann company, Hartmann Schiffahrt served as the technical lead on the LEGC project.
The carrier features a 'Svelte' bow design in which the superstructures are positioned at the bow, enabling even distribution of weight and reducing the demand for ballast water. The 'Svelte' design also ensures the vessel to be stable at higher transit speeds and improves fuel efficiency.
---
Related Suppliers:
---
NTD Offshore – Shipbuilding, Electrical Systems and Winches
Caterpillar Marine Power Systems – Propulsion Engines and Marine Generators
SeaQuest – Shipbuilding Project Management, New Building Supervision, Ship Management
Coastal Group – Shipbuilding, Ship Chartering and Marine-Support Vessel Services
---
Design and features of the LEG carriers
The overall length of the ECO STAR 36K ethylene carrier is 188.3m, and length between perpendiculars is 178.82m. The vessel has a moulded breadth of 29m, moulded depth of 17.5m and a design draught of 9.5m. The gas carrier has a dead-weight of 21,600t, and cargo storage capacity of 36,0000m³ for liquefied gas cargoes up to -104°C.
The gas carrier is classified as per Germanischer Lloyd class. It is fitted with the new C-type form of cargo 'STAR-Trilobe'-tank that comprises three cylinders combined into one for increasing the cargo capacity by more than 30% in comparison to ships of the same dimension. This improves reliability and reduces shipping costs.
The gas plant, integrating components from AC-INOX, will be located behind the superstructure. The vessel also features three cargo compressors and six deepwell cargo pumps with a capacity of 500m³/h each.
A pressure swing adsorption (PSA) plant is used to separate some gases from a mixture of gases under pressure.
Engine and propulsion
The ECO STAR 36K is powered by a single MAN B&W ME-GI dual fuel two-stroke engine which meets IMO Tier II emission requirements. The engine operates on heavy fuel oil (HFO), marine diesel oil (MDO) and marine gas oil. The gas carriers will, however, also use ethane as the propellant fuel.
"The ECO STAR 36K is powered by a single MAN B&W ME-GI dual fuel 2-stroke engine which meets IMO Tier II emission requirements."
Replacing HFO with ethane reduces bunkering time and saves cost as it is comparatively cheaper than HFO. Moreover, ethane contains almost negligible sulphur and emits 15% to 20% lower carbon dioxide (CO2) and other particulates when compared to HFO. Furthermore, the ethylene carrier is also outfitted to use the boil-off gas from its cargo as fuel.
The MAN Diesel & Turbo engine can be easily switched from gas to diesel and vice-versa immediately. The vessels are equipped with four auxiliary engines with a power output of 1,520kW each.
One shaft generator of 2,500kW output is fitted to increase the flexibility of the propulsion system for peak loads. The gas carriers will also be equipped with MAN Kappel propeller with rudder bulb system and a twist-flow rudder for easy manoeuvring.
The propulsion system gives the vessel a service speed of 16.5k and an operating range of 10,000nmi.
---
Related content
---
Pskov is a new liquefied natural gas carrier (LNGC) built by STX Offshore & Shipbuilding, for Russia's largest shipping company OAO Sovcomflot (SCF).
---