Caterpillar Marine Power Systems (CMPS) provides propulsion engines and marine generator sets in the medium and high-speed segments. The outputs of our main propulsion engines range from 93kW to 16,000kW, and outputs of 10kWe to 7,680kWe are available from our marine generator sets.
Main propulsion engines and marine generator sets
Backed by Caterpillar's corporate research outputs and development programs, CMPS has reached a leading position in three market segments for propulsion engines and marine generator sets:
Ocean-going ships: container feeders, chemical tankers, Ro/Pax ferries and cruise ships
Commercial vessels: workboats, offshore supply vessels, commercial fishing boats and governmental vessels
Pleasure craft: production yachts, mega yachts and sport fishing boats
Diesel engines for ships
Cat® and MaK diesel engines for ships feature all the important qualities you expect in today's marketplace. These include high reliability, low operational costs, simple installation and maintenance, and compliance with IMO environmental regulations.
In addition, CMPS constantly seeks innovative solutions, aimed at making you more successful. For example, when Caterpillar looked at the options to deliver a cleaner engine, we chose an innovative yet simple approach to meeting current and future emissions requirements for engines.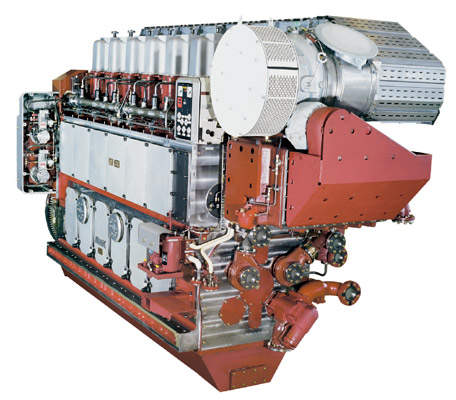 Cat® and MaK diesel engines for ships are highly reliable, low-cost, simple to install and maintain, and comply with IMO environmental regulations.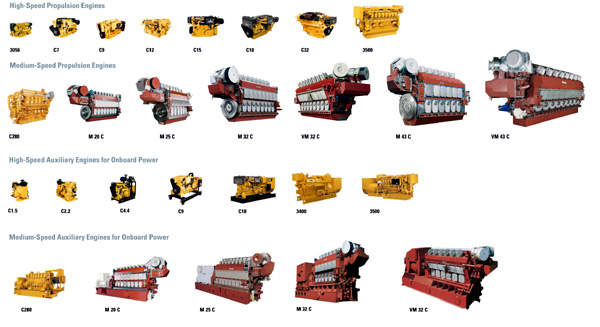 CMPS provides a strong line of world-class diesel engines.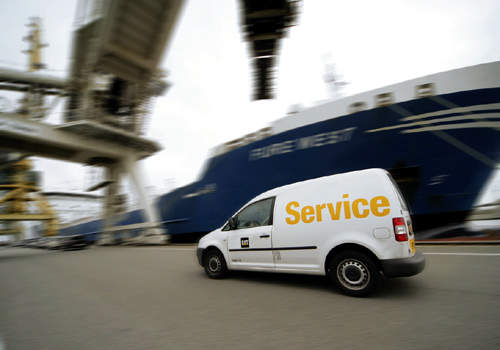 CMPS' dealer network provides comprehensive service for both Cat and MaK engine brands.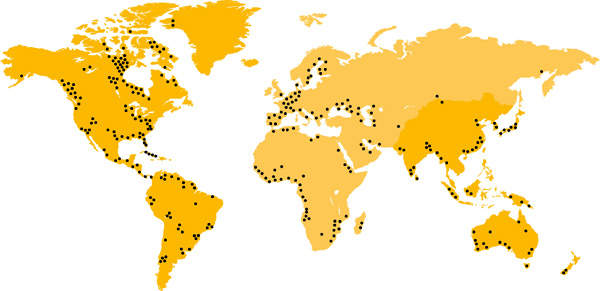 CMPS' worldwide dealer network.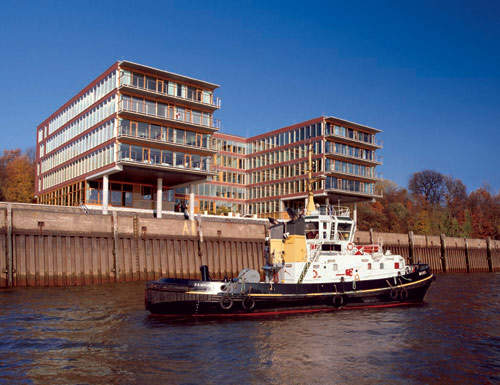 CMPS, headquartered in Hamburg, brings together sales and service for all Caterpillar's Cat and MaK branded marine products.
Propulsion engines, generator and engine spares and servicing
Caterpillar's commitment is to meet your comprehensive marine needs. To do this, CMPS has established marketing and customer service infrastructures to cover Europe, Africa, the Middle East, Asia Pacific and the Americas.
Three regional headquarters work with an extensive global dealer network to provide comprehensive sales and service for both Cat and MaK engine brands. From the project phase, through the sales process and product commissioning, to parts supply, logistics, maintenance and repair, right through to engine upgrades, CMPS offers integrated marine solutions.
Furthermore, Caterpillar Financial Services (Cat Finance) provides attractive financing packages for all types of vessels that are using Cat or MaK main propulsion. Cat Finance offers competitive rates, terms and repayment plans tailored to customers' needs.
Propulsion and auxiliary engine installation and commissioning
In addition to the more than 110,000 people at Caterpillar working around the globe, the Caterpillar dealer network is the strongest in the world. With more than 2,100 dealer locations and 120,000 employees, the worldwide dealer organisation has the local expertise, specialists and extensive spare parts inventory you will need.
The Caterpillar dealer network supervises the installation and commissioning of propulsion and auxiliary engine systems during the construction of the vessel. Our dealers support you in all aspects from engine maintenance to parts delivery, repair, reconditioning or upgrading through the vessel's lifespan. Moreover, customised training for your crew and staff ensures maximum availability of the engine.
CMPS has one simple goal: to surpass your expectations by providing outstanding sales and service support in a professional and consistent manner.
About Caterpillar and CMPS
Caterpillar, a Fortune 100 company, is the world's leading manufacturer of construction and mining equipment, diesel and natural gas engines and industrial gas turbines. The company is a technology leader in construction, transportation, marine, mining, forestry, energy, logistics, electronics, financing and electric power generation.
CMPS, headquartered in Hamburg, Germany, brings together all the sales and service activities for Cat and MaK branded marine products within Caterpillar, Inc. Both brands have been powering the ships and boats that grace our oceans, rivers and lakes for a combined history of more than 150 years.