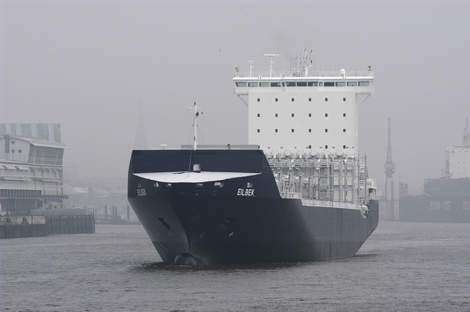 German shipowner Hansa Hamburg Shipping International commissioned four container ships claimed to have set new standards for the feeder segment. The sister ships are the MS Eilbeck, MS Reinbeck, MS Flottbeck and MS Barmbeck.
The Eilbeck was formally launched in January 2005 at Meyer Werft shipyard in Papenburg. The Reinbeck was delivered in March, the Flottbeck was handed over in May and The Barmbeck followed in July 2005. All four were chartered by the Canadian operator CP Ships and are in service on the route between Canada, mainly Montreal, and north-western Europe.
These slender-built ships can operate at a speed of 20k. From a technical viewpoint, the ships are noteworthy due to the highest ice-class (Finnish-Swedish 1A Super).
This means they are ideally suited to year-round operation in northern hemisphere waters, where they can navigate ice floes of more than 1m in thickness without icebreaker escorts.
In March 2017, the first vessel, Eilbek, was taken over by BSM with the other three, Barmbek, Reinbek and Flottbek in mid-April.
The Eilbek class feeder vessels were the first ships to be built and modified for service under the conditions of the ice class to be operated by BSM Germany. The vessels have been re-flagged from Liberia to Cyprus and will retain their new charter of employment with Unifeeder.
Ship design and cargo
Another feature is the special arrangement of the hatches. In the midship section they are designed as so-called 'open-top ships', while on the forward end, as well as on both sides, hatch covers are provided. The triple, longitudinal division of the cargo hold is a novelty.
This innovative ship design allows for the best possible flexibility when operating the vessel as feeder ship.
The vessels have an overall length of 169m and a moulded breadth of 27.2m. They have a draught of 9m and register a tonnage of 16,324gt. The layout of the vessel is over 14 decks.
The ships have a total container capacity of 1,620TEU of which integrated cooling containers total 308.
There are 17 crew cabins and six passenger cabins. All four container ships can hold 12 passengers in six cabins.
Engines, power and manoeuvring
The container ships are powered by MAN B&W two-stroke engines, which generate an output of 12,640kW. These are linked to a single controllable-pitch propeller. The ship has a fuel consumption of approximately 46t of heavy fuel oil /day.
The fuel bunker is placed inside of the ships instead of in the double bottom or double hull to prevent oil leakage into the water in case of collision or crash.
When coming into port, the vessel has manoeuvring aids in the form of bow and stern thrusters.
The port of registry for all the vessels is Hamburg. They are classified by Germanischer Lloyd under the notation +100 A 5 E4 Container Ship NAV-O BWMF+S +MC E4 AutFinnish/Swedish Ice Class 1A-Super.