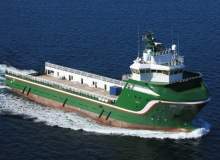 Enea is an environmentally friendly platform supply vessel (PSV) delivered in September 2010. Its name was derived from Greek mythology. The vessel is owned by Portosalvo Limited and is managed by Gulf Offshore.
It was built by STX OSV, a Norway-based designer and builder of offshore and specialised vessels.
"Propulsion is provided by two azipull controllable pitch propellers (CPP)."
The vessel was ordered in July 2007 and the keel was laid in June 2009. The hull was built at STX Europe's shipyard in Tulcea, Romania. Outfitting was done in Søviknes, Norway.
The vessel is on a five year contract with the Abu Dhabi National Energy company, TAQA Bratani. It is currently deployed in the Tern oilfield, North Sea, UK.
Design of Enea
Enea PSV is of STX 09 CD PSV design, which was developed by STX Europe after years of research and development.
The vessel was designed for better sea keeping performance, environmental friendly operations and low fuel consumption. The features of the vessel include a dynamic positioning system, tank cleaning system and optimised hull lines for reduction of water resistance in various conditions.
Selective catalytic reduction (SCR) system equipped in the ship helps to reduce nitrogen oxide and sulphur oxide emissions.
The vessel is provided with six elliptical and two cylindrical tanks with hydraulic mud mixer. Tank washing systesm include a dedicated 24m3 slop tank, Alfa Laval Aldec decanter and tank washing machines with 360° washing capability.
A facility for hot/cold wash with or without chemicals is also available. All mud tanks are provided with a fixed tank washing system.
The vessel is estimated to consume 11m3 of fuel a day when cruising at 11kt, 13m3 a day at 12.5kt and 27m3 a day at 16.5kt.
A total of 26 crew members can be accommodated onboard. Cabin combinations include ten one-man cabins and eight two-man cabins.
Cargo capacity and discharge rates
Enea PSV has a deck area of 16m x 62.5m and a deck load capacity of 2,700t. At 100% storage, tank capacity for fuel oil is 1,038m³, drill water is 3,476m³, fresh water is 1,175m³, oil-based mud is 6,029bbls, base oil is 2,659bbls, brine is 9,173bbls and dry bulk is 265m³.
Fuel and pot water can be discharged at the rate of 250m3 an hour at a pressure of nine bar. Drill water, oil based mud and brine are released at the rate of 150m3 an hour. Discharge rate of base oil is 100m3 an hour and that of mud / brine slops is 35m3 an hour. Cement, barytes and bentonite are discharged at the rate of 80t/h, 60t/h and 100t/h respectively.
Equipment
Enea PSV is equipped with two deck cranes, one of which has a lifting capacity of 1t at 10m outreach and the other 10t at 10m outreach. Two tugger winches, of 10t each, and two capstans of 10t each are also provided.
Navigation and communications
The state-of-the-art navigation equipment includes two Furuno radars, a Furuno GP-90 satellite navigator, three Simrad GC80 gyros, a Simrad AP50 autopilot, a Furuno echo sounder, a Furuno FA150 automatic identification system system and a Telchart T2026 ECDIS AIS Interface.
Communication equipment includes three VHF GMDSS, four portable UHF, a GSM / GPRS cellular phone, a satellite communication system, a MF / HF SSB radio, a distress and safety communications (DSC) terminal, a fleet broadband, a Navtex receiver, two FM-8800D VHF with DSC and two fixed GM360 UHF radios.
Propulsion and manoeuvring
Enea PSV is outfitted with a diesel electric power plant that has a power generating capacity of 8,880BHP and propulsive power of 5,900BHP.
"It was built by STX OSV, a Norway-based designer and builder of offshore and specialised vessels."
It is powered by four Wärtsilä main generators, each capable of generating 1,665kW. A 425kW Caterpillar auxiliary generator and a 97kW capacity Caterpillar emergency generator are provided too.
Propulsion is provided by two azipull controllable pitch propellers (CPP). The two tunnel bow thrusters are of 1,200BHP each.
The vessel features a DP (dynamic positioning) class-2 control system. The DP-2 system allows the vessel to automatically maintain the ship's position and heading.