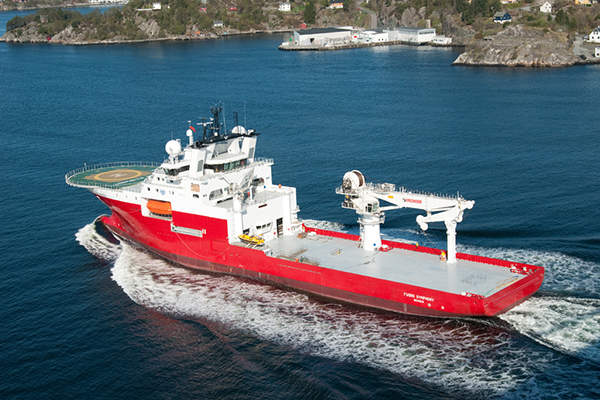 Fugro Symphony is a DNV-classsified multi-purpose offshore construction vessel.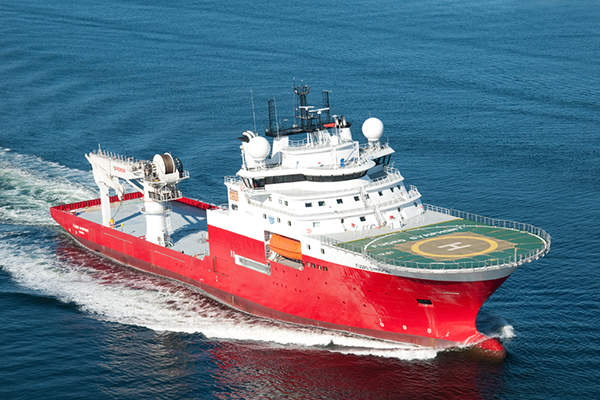 The ship is operated by Fugro Subsea Services.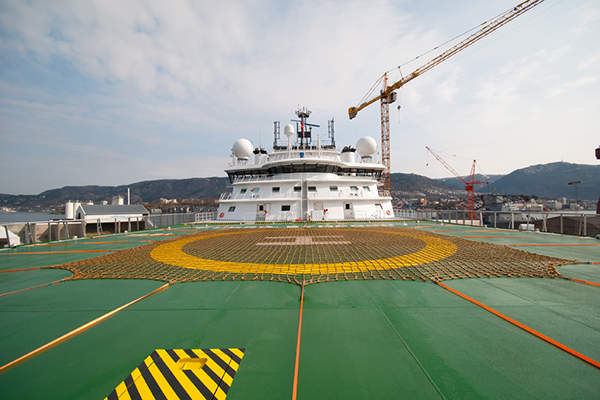 The ship's helideck is suitable for operations of Sikorsky S61/S91.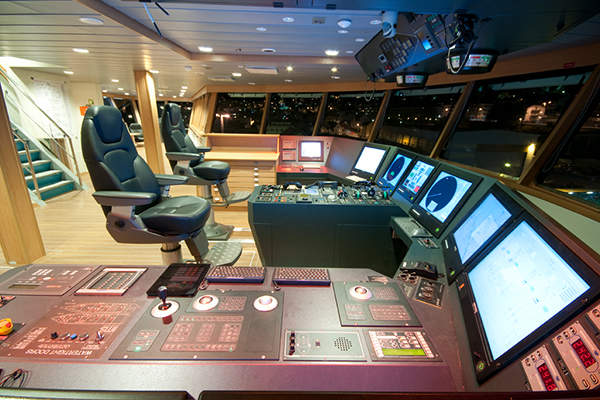 Kongsberg Maritime's K-Master aft bridge workstation onboard the vessel uses touch-control technology.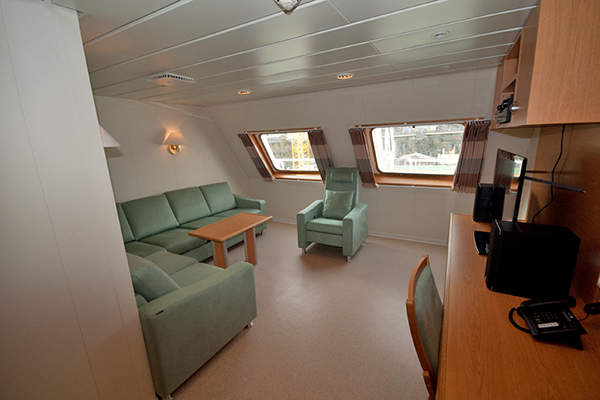 The ship provides living accommodation for 105 people.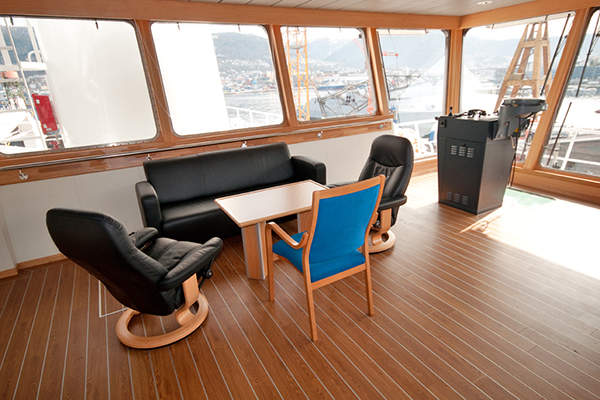 The living area onboard the vessel is outfitted as per Norwegian standards.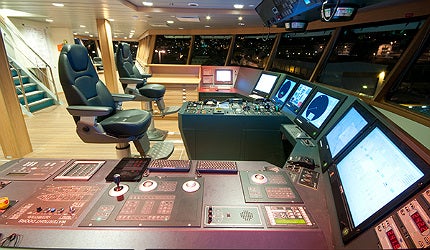 Fugro Symphony is an offshore construction vessel (OCV) built to perform ROV intervention, light construction and survey operations in deep sea waters. The Bahamas-flagged vessel was delivered in May 2011 to her operator Fugro Subsea Services, a subsidiary of Fugro Group.
Norwegian ship-builder Bergen Group was contracted for construction of the ship in December 2007. Construction started with a keel-laying ceremony in November 2009. The ship's steel hull, manufactured by Gdansk Shipyard in Poland, was launched in July 2010.
Final outfitting of the vessel was carried out at Bergen Group's Laksevag shipyard in Bergen, Norway.
Fugro Symphony has the distinction of being the first ship to be equipped with Kongsberg Maritime's K-Master aft bridge workstation system.
Fugro Symphony design features and dimensions
"Fugro Symphony has the distinction of being the first ship to be equipped with Kongsberg Maritime's K-Master aft bridge workstation system."
The DNV-classified vessel is of ST-327L CD design developed by the Norwegian ship designer Skipsteknisk. The design was specifically developed to deal with the present and future demands of offshore remote intervention, maintenance and construction support markets.
Overall length of Fugro Symphony is 130.2m and length between perpendiculars is 119.4m. Moulded breadth is 24m, while maximum draft of the vessel is 7.5m. Gross tonnage is 11,324t.
The vessel's main deck is made of 22mm steel plate and measures 65m in length and 22m in width. Its loading capacity is 10MT/m² and offers a working space of 1,400m².
The vessel also features a moonpool. It is located on aft deck and measures 7.2m in length and 7.2m in width. A helicopter deck is integrated into the hull of the ship. It is 26m in diameter and suitable for Sikorsky S61/S91 helicopter. Maximum landing load capacity of the helipad is 12,800kg.
An important feature of the vessel is the uniquely arranged two-part side door. The lower part can be lowered into a recess, while the upper part, after being folded, can be placed above the hanger gate on the ship side.
Accommodation and facilities onboard Fugro Symphony
Fugro Symphony can accommodate a total of 105 persons. The accommodation facilities include 31 one-man and 37 two-man cabins. The office and accommodation area is furnished as per Norwegian standards.
Offices and workspaces onboard the vessel include the main control room (144m²), offline survey room (84m²) and three client offices. The vessel also features a hospital, a 37m² conference hall and a 54-seat cinema hall.
Recreation facilities include two gymnasiums, two saunas, two lounge areas and internet cafe.
Deck equipments and ROV systems
Fugro Symphony is outfitted with two cranes. The main crane, manufactured by McGregor Hydramarine, is an active heave compensated (AHC) knuckle boom crane rated at 150t at 10m radius. Its main lift wire measures 3,000m in length and 70mm in diameter.
The second is an auxiliary subsea crane capable of lifting 10t at 15m radius. In addition, the ship is equipped with four mooring capstans, two of which are fitted aft.
The vessel is supplied with two FCV3000 ROV systems which can be operated using two Hydramarine launch and recovery systems (LARS). The LARS have a depth rating of 3,000MSW.
Navigation and communication
The vessel is equipped with a Simrad K Master dynamic positioning (DP) class-II control system. Its reference systems include differential global positioning system (DGPS), two HiPAP500 transceivers, a fan beam positioning sensor and a Seapath 300.
"An important feature of the vessel is the uniquely arranged two-part side door."
Other navigational equipment include three SGB Meridian gyrocompass, two Kongsberg motion reference units (MRU), two ARPA radars, a Furuno FE 700 echosounder, two Furuno GP150 global positioning systems (GPS), two Fugro Seastar DGPS receiver and a Furuno DS80 speed log system.
The onboard communications are supported by Dual KU-Band/C-Band satellite systems with maximum capacity to transmit 1Mb/s, a Furuno FS2570 MF/HF radio telephone and a Furuno FM 8800S / FM 2721 VHF radio telephone.
Diesel electric propulsion system
Fugro Symphony is powered by a diesel electric propulsion system. The ship is fitted with four Rolls-Royce Bergen B32:40L8A main engines. Each engine generates 3,840kW at 720rpm and drives a Siemens 1HSJ7 generator rated at 4,095kVA. In addition, there are four Hyundai HSJ7 805-10P generators, each rated at 3,685kW.
Propulsion is provided by two AGHC-94XF5/4E-4200N Kamewa Ulstein CP propeller units. Each unit is rated at 4,200kW.
The vessel is equipped with five Brunvoll side thrusters for smooth manoeuvring. The two FU-100-LTC-2750 tunnel thrusters are each rated at 2,000kW. The third one is a retractable azimuth thruster of 1,400kW. The other two are stern thrusters rated at 1,400kW each.