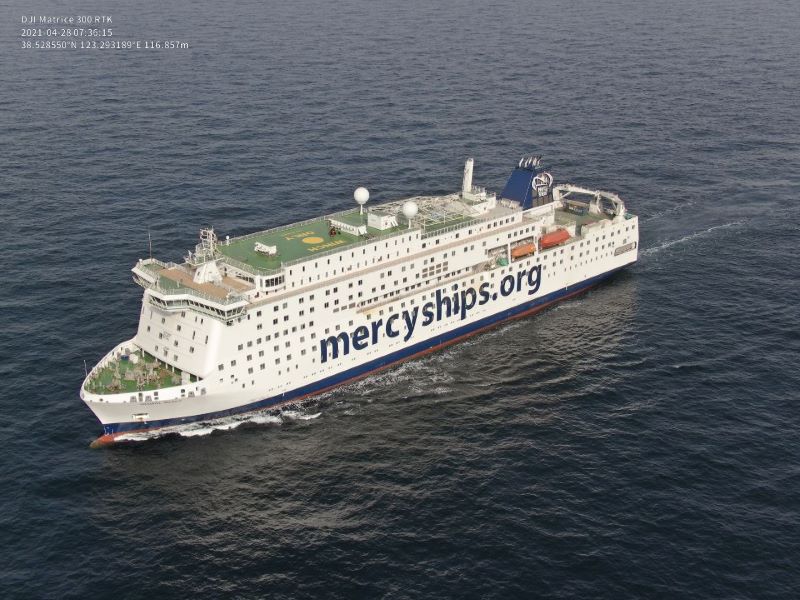 The Global Mercy is a purpose-built hospital ship and the largest civilian hospital ship in the world. Image courtesy of StenaRoro.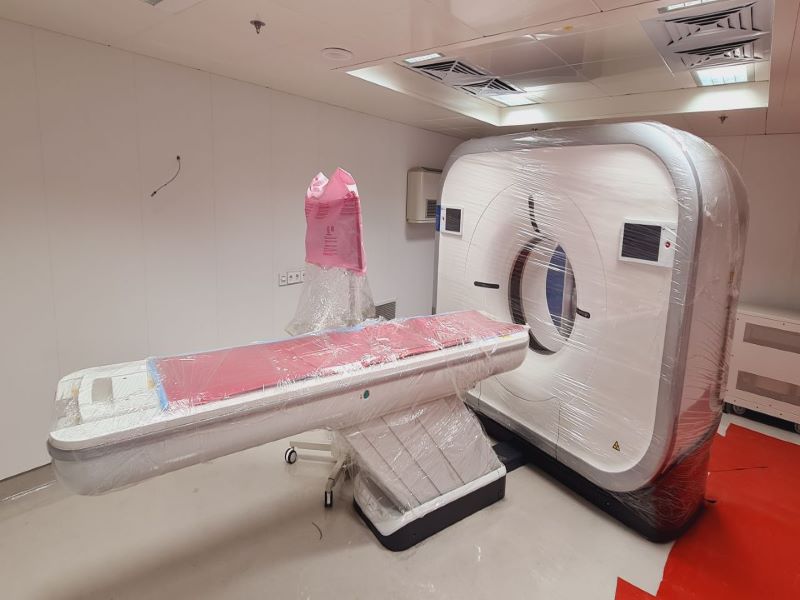 The deck four of the hospital ship will include a radiology facility equipped with X-ray facilities and a CT Scanner. Image courtesy of StenaRoro.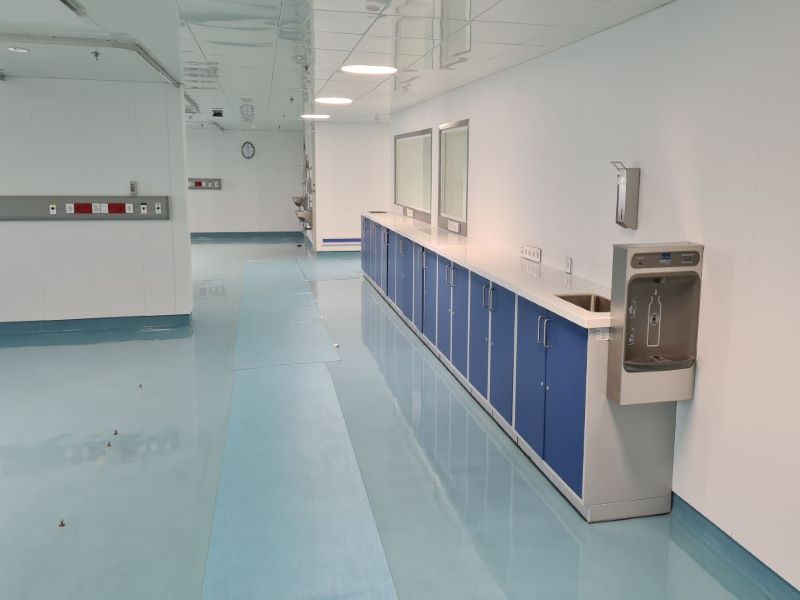 The onboard hospital facility will feature six general wards, an isolation ward, and an ICU. Image courtesy of StenaRoro.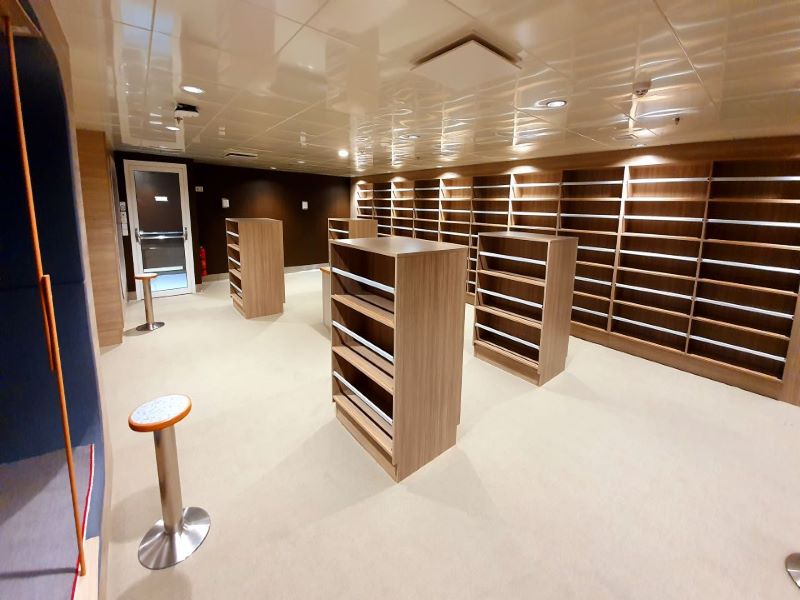 The Global Mercy ship will house an auditorium that can accommodate 682 persons. Image courtesy of StenaRoro.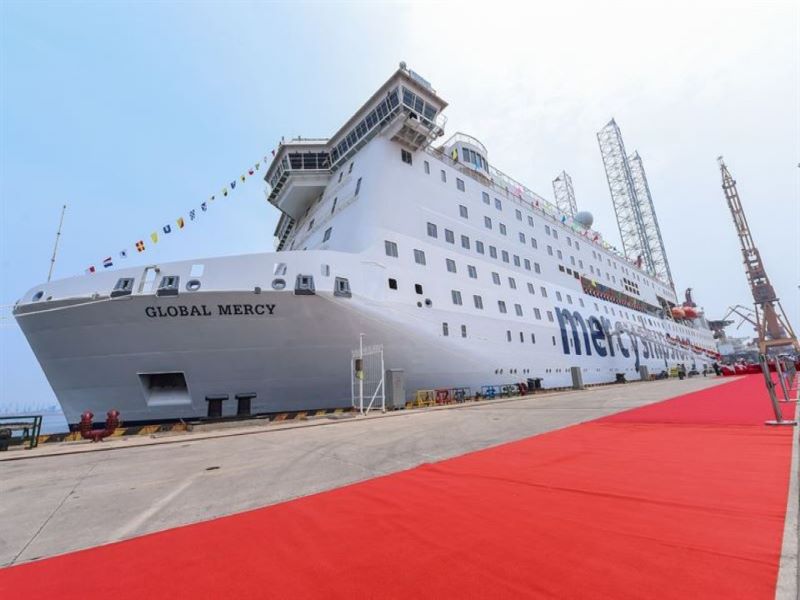 The Global Mercy hospital ship was successfully delivered in June 2021. Image courtesy of StenaRoro.
The Global Mercy is a new purpose-built hospital ship owned by Mercy Ships, a US-based international charity organisation focused on providing free healthcare to the world's poorest regions. It is the largest non-governmental hospital ship in the world.
The Global Mercy is designed and built to meet the specific needs of the organisation's humanitarian assistance operations.
The keel for the ship was laid in 2015 while sea trials were held between April 2021 and May 2021. The hospital ship was delivered to Mercy Ships following a ceremony at the Tianjin Xingang shipyard in northern China in June 2021.
The Global Mercy will sail on its maiden voyage to the Port of Antwerp in Belgium in the second half of 2021, where it will undergo final outfitting with IT and medical equipment and soft furnishings.
Open events will be conducted in Rotterdam in the Netherlands in the first quarter (Q1) of 2022, which will involve presenting the ship to sponsors, media, future volunteers, and other interested parties. The ship will embark on its first mission in Senegal in 2022.
Global Mercy design and features
The 174m-long Global Mercy ship has a beam of 28.6m and a draft of 6.1m. The hospital ship has a gross tonnage of approximately 37,000t and features 12 decks. Designed to provide surgeries, it has an expected service life of 50 years.
The vessel will have a smaller shoreside footprint with pre-and post-operative checks and rehabilitation appointments conducted on board for rapid deployment and pack-up during operational deployments.
The hospital ship can accommodate up to 950 passengers, including 641 crew members. It is a fully custom-built hospital ship outfitted with state-of-the-art technology and customised instruments.
Furthermore, the Global Mercy will feature training facilities such as a simulation lab with virtual and augmented reality, mannequins and other training tools and simulated post-operative care space. The training capability will allow trainers to simulate local conditions for training medical staff in low-resource environments.
Other facilities will include a student academy, a 682-seat auditorium, a library, a pool, a café, a shop and a gymnasium. The volunteer crew members will include surgeons, maritime crew, teachers, electricians, cooks, and host staff.
Medical facilities aboard Global Mercy
Spread across decks three and four, the ship's medical infrastructure will comprise the hospital wards and the surgical suite. The hospital area is estimated to be approximately 7,000m².
The onboard hospital will include six general wards, an isolation ward, an intensive care unit (ICU) and self-care beds. It will accommodate 200 hospital beds, including 102 acute care beds and 90 self-care beds. The deck four area will also house the outpatient department (OPD), along with a rehabilitation facility, a radiology facility with a computerised tomography (CT) scanner, and an eye programme facility.
The surgical suite, which will be located on deck three, will feature six operating rooms, two hospital supply rooms, a pharmacy, a biomed lab, and a simulation lab.
Global Mercy propulsion system
The Global Mercy hospital ship is equipped with four Wärtsilä 6L32 engines and two ABB Azipod propulsion units. Installed on the double resilient mounts, the engines are designed to meet the standards of the DNV VIBR vibration class notation.
The Azipod propulsion system has a 360° rotation, which will help the ship to navigate narrow passages and dock in shallow harbours while minimising noise and vibrations to provide a quieter stay for both crew and patients.
Contractors involved in the world's largest civilian hospital ship
China State Shipbuilding Corporation (CSSC) was awarded the contract to build the Global Mercy at the Xingang shipyard in Tianjin, China, in 2014. Swedish shipbuilding services company Stena RoRo was selected for the design, contracting and execution of the project. The project team also includes Barry Rogliano Salles for shipbroking services and Deltamarin for design.
Finnish marine technology company Wärtsilä was contracted to supply the ship's engines, while the propulsion units were provided by multi-national automation and technology firm ABB.
I-Tech, a biotechnology firm based in Sweden, was selected to provide its Selektope antifouling coating for the ship's hull. Other suppliers include Consilium Marine & Safety, Alfa Laval, Evac, Berg Propulsion, Scan Marine, and MacGregor.