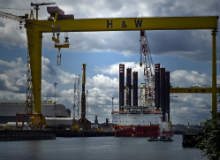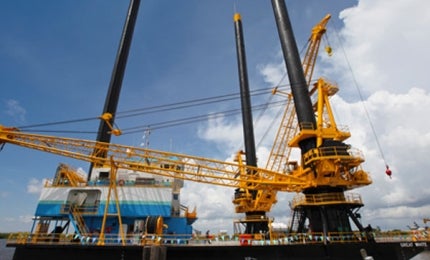 Great White is a new Class 250 Liftboat built by SEMCO Marine Engineering and Construction for All Coast, which operates the biggest fleet of liftboats in the US. It is among the few 250+ class liftboats serving the oil and gas industry in the Gulf of Mexico region.
In February 2014, All Coast placed a contract with SEMCO for the construction of a new 250ft-long liftboat with two 175t leg-mounted cranes.
"The Class 250 Liftboat Great White is a mono-hull vessel with a dual-leg installation for cranage."
The liftboat was launched at SEMCO shipyard in Lafitte in June 2015 and christened during a ceremony held in August 2015 at C and M Marina in Lafitte, US.
Class 250 Liftboat technical specifications
The Class 250 Liftboat Great White is a mono-hull vessel with a dual-leg installation for cranage. It is 76.2m-long, 32.6m-wide and 3.96m-deep, and offers a maximum working water depth of 56.38m.
The pad area of the liftboat is 12.19m-long, 7m-wide and 1.2m-deep. The length and width of the barge space are 44.1m and 30.4m respectively.
Deck equipment and onboard systems
The vessel offers 8,788ft² of deck space for cargo storage, of which usable area constitutes 6,262ft². The deck offers a maximum load capacity of 362.87t to accommodate heavy equipment and supports the carriage of equipment and supplies for a range of offshore operations.
---
---
Harvey Energy is the first vessel in North America to be powered primarily by liquefied natural gas (LNG).
---
The vessel is installed with two 175t cranes on leg mounts. Each leg has a length of 76.2m and diameter of 2.2m. The RAM 200KLRP-120 LE at portside and the RAM 200KLRP-120 crane at starboard side are fitted with lattice boom measuring 36.5m.
The liftboat also integrates a compass, GPS/GDPS, radars, a fathometer, a satellite phone and internet, a VHF radio, a cellular phone, a single sideband radio, an emergency position-indicating radio-beacon (EPIRB) and a loudhailer.
Tankage of Great White liftboat
The Great White liftboat is fitted with tanks for storing 169,586l of diesel fuel, 3,312l of lube oil, 15,142l of hydraulic fluid and 154,445l of potable water. The zero-discharge capable vessel is also equipped with a fresh water generation plant having a production capacity of 18,927l of fresh water a day.
Accommodation
The vessel is equipped with accommodation facilities to house 50 people. It features four VIP rooms allocated for customer representatives. Other support facilities include a fully equipped galley and dining area, conference room, movie theatre and laundry facility. All areas are equipped with air-conditioning / heating system.
Propulsion
The vessel is powered by two Cummins QSK 38 diesel engines, which develop a maximum power output of 2,600hp. The QSK38 engine is fitted with high-pressure injection system and electronic controls for achieving clean and efficient operation. Strategically placed sensors within the engine allow the electronic control module (ECM) to monitor engine performance for increasing the fuel-to-air mixture for optimal combustion.
The liftboat also integrates a hydraulically driven 250hp tunnel thruster for high-manoeuvrability in confined waters. Shipboard power is supplied by 425kW Cummins QSK 19 generators. The propulsion system provides an average speed of 5k.