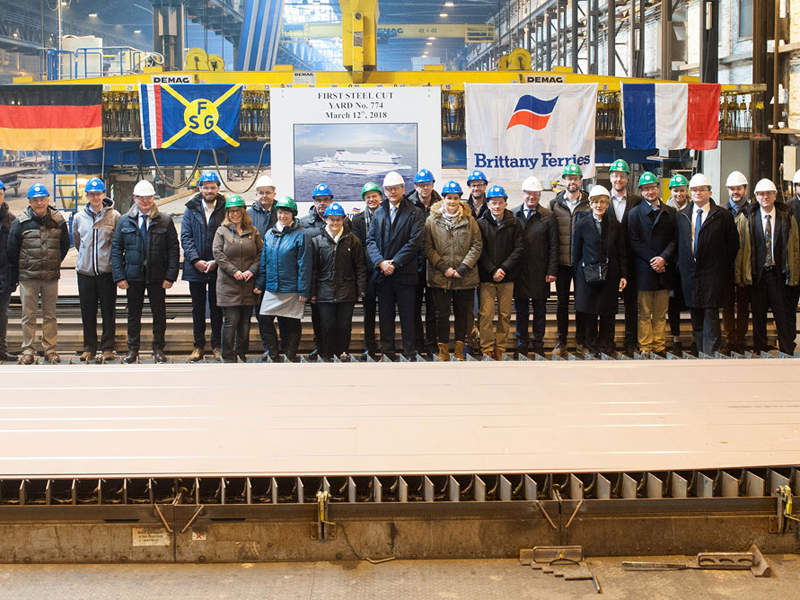 The steel cutting ceremony of Honfleur was held in March 2018. Credit: Brittany Ferries.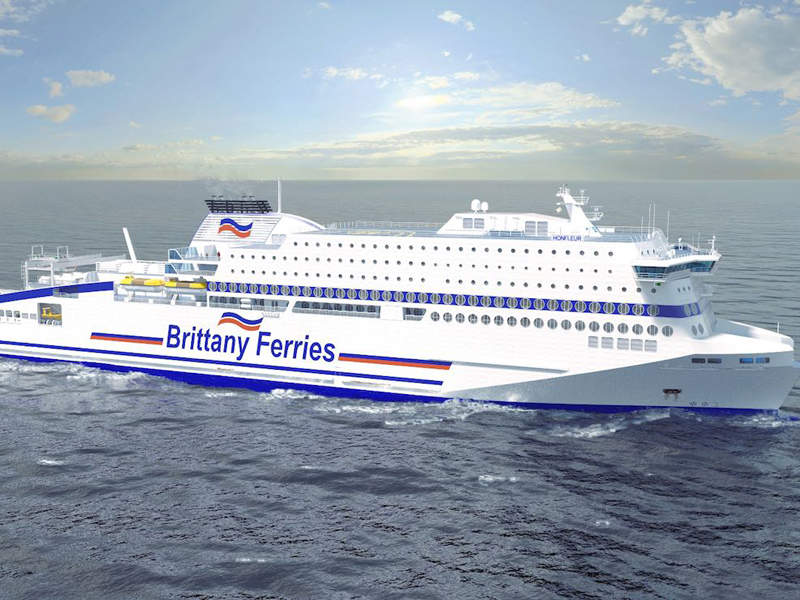 Being built by Brittany Ferries, Honfleur can carry both passengers and vehicles. Credit: Brittany Ferries.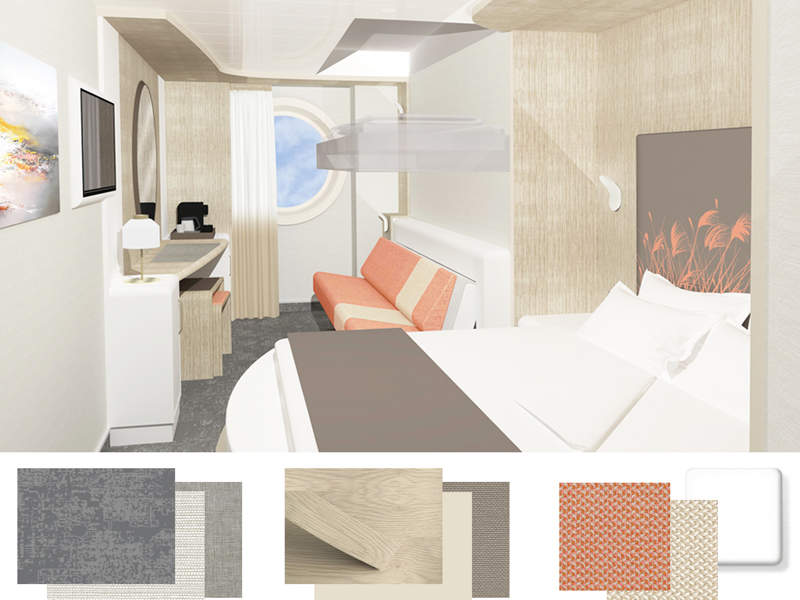 The cabins will feature large windows, which will provide spectacular view of the sea. Credit: Brittany Ferries.
Honfleur is a new cruise ferry being built by Flensburger Schiffbau shipyard in Germany for Brittany Ferries. The passenger and vehicle ferry will be powered by liquefied natural gas (LNG).
The vessel has been designed by Brittany Ferries' naval architect Brice Robinson. The first steel was cut for the ferry in March. The keel-laying ceremony is scheduled for August.
The vessel is expected to be launched in December for delivery in May 2019. It will sail on her maiden voyage in June 2019.
Honfleur operations
The Honfleur ferry will operate on Portsmouth-Caen route, which is the most popular route carrying approximately one million passengers, 300,000 cars and 100,000 freight units a year.
It will sail along with the Brittany Ferries' Mont St Michel and will replace Normandie cruise-ferry, which will be deployed on the Portsmouth-Le Havre route.
Design and features of Honfleur passenger and vehicle ferry
The Honfleur cruise ferry will be 187.4m-long, with a breadth of 31m, maximum draught of 6.6m and gross weight of 42,400t. It will feature 11 decks and offer a total passenger area of 5,200m².
It is capable of carrying 1,680 passengers and will offer 2,600 lane metres to accommodate 130 freight trailers, or 550 cars and 64 freight trailers.
Two large stairways in the centre of the ferry along with two elevators will allow passengers to move from garage to cabins and other areas of the ferry. The large windows fitted to the cabins will provide a wider view of the sea.
The vessel will have 261 cabins with different configurations and capacities. The exterior and interior cabins can accommodate up to four people, while family cabins can house six guests.
The ferry will also feature luxury cabins and dedicated cabins for people with reduced mobility. All the cabins will be pet-friendly and will have TV and Wi-Fi facilities.
Passenger and cargo handling facilities
The passenger spaces will feature a range of digital innovations, but will retain Brittany Ferries' traditions and principles including wellness, culture and relaxation.
"Large screens fitted in public areas will allow passengers to check services available on-board and the places to visit on arrival."
The ferry will provide two different dining options, including a full-service à la carte restaurant and a self-service facility with high-quality food. It will also have a cafe and a bar.
Passengers can watch the latest movies in two theatres, while the boutique shopping on-board the ship offers fashion and technology products. The ferry will also feature play areas and digital spaces for kids.
All the public spaces, cabins, exterior decks and car decks will have Wi-Fi provision. Passengers will be informed of the ship's progress through a screen showing a feed from front and rear cameras.
Large screens fitted in public areas will allow passengers to check services available on-board and the places to visit on arrival. The information desk will be completely digitalised in order to communicate easily and effectively.
The ferry will be fitted with cranes to lift 40ft LNG containers into their fixed positions. It will be the world's first passenger vessel to feature onboard cranes. Containers will be transported by trucks from an LNG terminal to Ouistreham and then placed on the ship next to the LNG storage tank.
Propulsion
The ferry will be equipped with four main engines, which will feed electric generators. The propulsion system will include two electric shaft propulsion motors with two fixed-pitch propellers.
The LNG-electric propulsion system fitted to the ferry will deliver quieter operation. It will avoid sulphur emissions and will also enable the ferry to significantly reduce nitrogen oxide and particulate matter emissions.
The propulsion system will provide a maximum service speed of 22k.