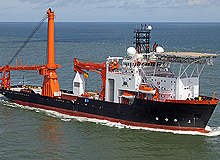 The HOS Iron Horse is a multipurpose offshore support vessel (MPOCV) built in accordance with the rules and regulations of Det Norske Veritas (DNV). It supports exploration and production activities carried out by the oil and gas industry. It is capable of providing deepwater services for offshore construction, installation and other operations in any part of the world.
In April 2007, Hornbeck Offshore Services awarded a contract to to IHC Merwede Offshore & Marine to design and build the vessel.
Hos Iron Horse design
The design of the vessel was based on Merwede's Type-22 ship series, which allows for a large and stable DP-3 platform with good sea-keeping features.
The deck area has a working space of 1,700m² and the deck load rating is 10MT/m².
The hold of the vessel is so large that it can be converted to accommodate carousels when required.
An anti-heeling tank is provided to minimise the heeling moment produced by the cranes when lifting a load. A Rolls-Royce active interring stabilisation system is fitted to reduce wave-induced periodic roll movements.
A large hinged hatch is provided to close off the moonpool at the bottom. A-frames are erected on either side of the remotely operated vehicle (ROV) hangar to launch ROVs over the side.
"Keel for the construction of the vessel was laid in July 2008 and it was launched a year later."
An aluminium helideck suitable for the regular operation of Super Puma helicopters is laid high above the foredeck. It has a diameter of 21.5m and is provided with facilities such as flood lights, landing lights, a fixed foam fire extinguisher and safety nets.
Deadweight at design draught is 6,850t, while at scantling draught is 8,850t. The vessel has a length overall of 131.70m and length between perpendiculars is 117.70m. The moulded breadth is 22m, depth to main deck is 9.50m, design draught is 6.25m and scantling draught is 6.75m.
Hos Iron Horse construction
Keel for the construction of the vessel was laid in July 2008. The launching ceremony was held in January 2009 at the IHC Merwede Offshore & Marine facility in Hardinxveld-Giessendam, the Netherlands. The naming and delivery functions were performed in July 2009 at the Wilhelminakade, Rotterdam.
Accommodation
Accommodation for a crew of 100 is provided on the foredeck. Galley, cold stores, a single mess, a gym and a laundry room are located on the main deck, while other crew recreation rooms are located on decks four and six.
A total of 30 crew members can be accommodated in 30 single cabins and 70 crew members in 35 double cabins. Each cabin is equipped with an individual bathroom.
Propulsion
For the generation of power, the vessel is built with two completely separate engine rooms, each of which is fitted with two MAN B&W diesel engines of type 9L27/38. A Caterpillar genset of the type C9 rated at 232kW at 1,800rpm is used as the emergency generator.
Propulsion for the vessel is provided by two Wärtsilä 3,000kW azimuthing thrusters. The two Rolls-Royce tunnel thrusters, each rated at 1,335kW, and a Wärtsilä 1,200kW drop-down azimuthing thruster are installed forward. All the thrusters feature controllable pitch propellers inside nozzles.
Equipment
The vessel is equipped with a heave compensated one offshore crane with safe working load of 400mt. Its radius is 16.50m and operating depth is 3,000m. Heave compensated Knuckle boom crane with safe working load of 120mt is the crane used by the vessel.
Two work class ROVs can be housed in a hangar.
Contractors / suppliers
The contract for supply of communication equipment was awarded to Marlink in December 2009. The air compressors were supplied by Sperre Rotterdam. A total of eight heat exchangers were supplied by AMW Marine.
"The design of the vessel was based on Merwede's Type-22 ship series."
Schat-Harding delivered the lifeboat davits and winches.
SEC Groningen had supplied mooring winches and windlasses.
A contract to install all the piping systems in the forward part of the vessel was awarded to IHC Piping.
Praxis provided the alarm and monitoring system.
Dynamic positioning equipment came from Kongsberg Maritime. Theunissen Technical Trading had supplied CS-3000 type fire detection system. Cofely was responsible for the integration of the complete electrical installation. An always-on satellite link used for onboard broadband internet was supplied by Marlink.
The watermaker, hydrophores, water treatment units and electric hot water calorifiers were supplied by Hatenboer Water. Rossmark Waterbehandeling delivered the oily water separator. Paint for the vessel was supplied by International Paints. An impressed current cathodic protection system and impressed current anti-fouling system for the protection of the hull and piping came from Corrosion & Water Control.