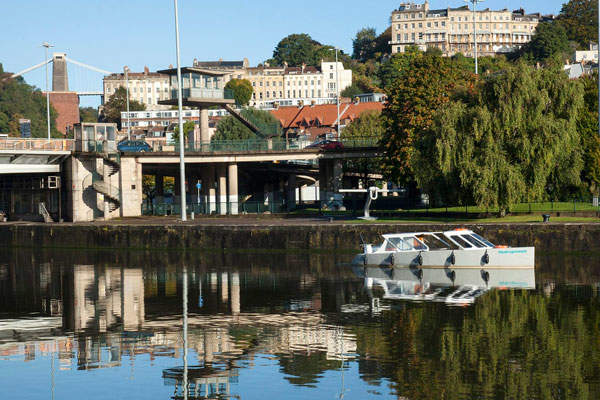 Hydrogenesis is the first hydrogen-powered ferry in the United Kingdom. Image courtesy of Chris Bahn.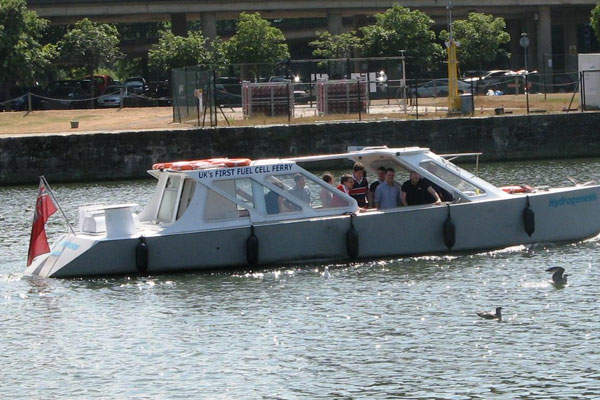 Hydrogenesis near an Air Products fuelling station.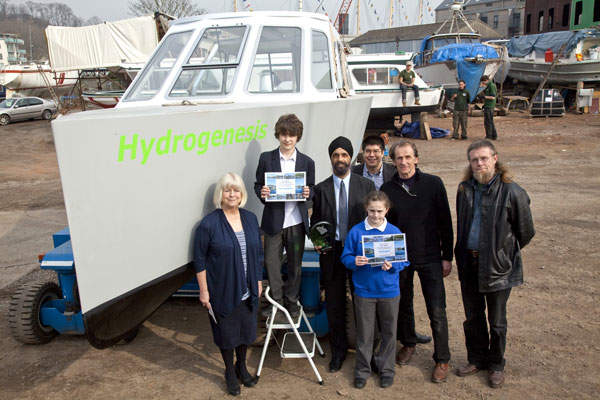 Adam Sidnell, a pupil from a local school, unveiled the Hydrogenesis ferry's name in March 2012.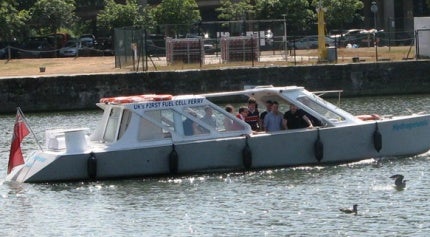 Hydrogenesis is the first hydrogen-powered boat to operate in the United Kingdom. The eco-friendly boat was ordered in 2010 by Bristol City Council as part of its Green Capital initiatives to make Bristol a low carbon city.
The official naming ceremony for the vessel was held in February 2012. The passenger ferry started initial operations in February 2013 and was officially launched for service in July 2013.
"The ferry produces zero direct emissions, with the only waste product being pure water."
The eco-friendly ferry was designed and constructed by Bristol Hydrogen Boats, a consortium comprising of Bristol Packet Boat Trips, Number Seven Boat Trips, and Auriga Energy. The construction of the vessel was realised using a £225,000 ($342,562) fund provided by Bristol City Council.
The ferry operates six hours a day between Temple Quay and the SS Great Britain. It produces zero direct emissions, with the only waste product being pure water. The hydrogen fuel incorporating SmartFuel modules and a dockside refuelling station in Bristol harbour are supplied by Air Products.
Background of the Hydrogenesis passenger ferry project
The hydrogen-powered ferry project formed a component of the various initiatives introduced by the Bristol government, making its bid for European Green Capital 2015 a reality. The European Green Capital Award rewards one city that achieves high environmental standards each year and further encourages it to set a model for other cities.
"The ferry was constructed to demonstrate the viability of hydrogen fuel cell technology."
The city will invest €500m ($657m) for transport improvements by 2015 and up to €300m ($394m) for energy efficiency and renewable energy by 2020. It witnessed a 4.7% growth in the green economy in 2012.
The ferry was constructed as a prototype model to demonstrate the viability of hydrogen fuel cell technology. The vessel provides a basis for permanent hydrogen fuel cell powered operations in Bristol's harbour. The vessel won the Environmental Innovation of the Year in 2011.
Construction of the fuel cell powered boat
The boat was constructed at Weston-super-Mare boatyard. Internal and electrical fittings were carried out at Bristol Marina.
The hull of the vessel is constructed of steel. The vessel features a retractable glass panel top. It is 11m long and 3.6m wide and provides a seating capacity for 12 passengers and two crew members. It can sail at speeds of 6kts to 10kts with a capacity to operate under all weather conditions.
Fuel cell technology
A fuel cell is an electrochemical cell that captures the electrical energy produced by a chemical reaction between fuels such as liquid hydrogen and liquid oxygen, and converts it into electric current.
The cell uses hydrogen as fuel, which is a cleaner, quieter, cooler and more reliable power source than combustion engines, and reduces pollution through zero emissions.
---
Related project
---
Spirit of France is the second of two car-passenger ferries built by STX Finland, a subsidiary of STX Europe, for the ferry operator P&O Ferries.
---
The ferry is powered by four Auriga Energy air-cooled fuel cells delivering up to 12kW unchanging continuous power at 48V. The Auriga Energy power management unit (PMU) controls the combined power delivery to the propeller via a twin permanent magnet DC motors.
Hydrogen is stored at up to 350bar in a purpose-built tank and refuelled from a purpose-built refueller. The hydrogen tank needs to be filled every four days. The hydrogen supplied for the ferry is a waste product from an Air Products plastic factory. Future plans are being weighed to generate hydrogen fuel from local renewable energies such as waste recycling, wind, solar, water and tidal power.
The fuel cells need about ten minutes to recharge, compared with conventional batteries which require about five hours to be fully charged.