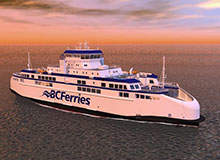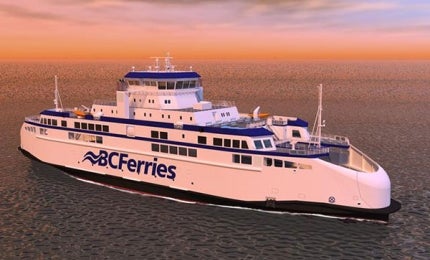 The Intermediate-Class Ferries (ICFs) are a series of three identical dual fuel car-passenger ferries being built by Remontowa Shipbuilding for Canadian company British Columbia Ferry Services (BC Ferries). Each ICF ferry is designed to carry up to 150 cars and 600 personnel.
BC Ferries placed a contract with Remontowa for the design and construction of three double-ended car-passenger ferries in July 2014. The new ferries will be the first vessels in BC Ferries' fleet to operate on dual-fuel (LNG / diesel).
First steel for the first of the three new ICFs was cut at the Remontowa Shipbuilding shipyard in Gdansk, Poland, in January 2015. Her keel was laid down in March 2015. The first ICF is scheduled to be delivered in August 2016 and will replace the 50-year old Queen of Burnaby ferry on the Comox-Powell River route.
"Due for delivery in February 2017, the third ferry in class will operate on the Southern Gulf Islands route during peak and shoulder season."
First steel was cut for the second ferry in April 2015. The vessel is scheduled to enter service in October 2016 to replace the 51-year old Queen of Nanaimo on the Tsawwassen-Southern Gulf Islands route.
Due for delivery in February 2017, the third ferry in class will operate on the Southern Gulf Islands route during peak and shoulder season.
Intermediate-Class Ferries design and features
The Intermediate-Class was designed by Design Office Remontowa Marine Design & Consulting. It will feature a monohull, which is symmetrical to main deck level. Its wheelhouse will be equipped with aft and fore navigation consoles, ensuring convenient navigation in both directions.
The ferry will include two continuous car decks, a passenger deck, two crew decks and a bridge deck. The lower car deck will be fully-enclosed by four deck ramps whereas the car deck at upper level will be an open type.
Each IC ferry will have an overall length of 107.4m, moulded breadth of 23.5m and design draught of 4.65m. The length between perpendiculars will be 104.6m whereas hull depth to main deck will be 6.6m. The vessel will have a deadweight of 619t and will carry a deck load of 390t, including 584 passengers and 16 crew members. The combined vehicle carrying capacity will be 100 cars, ten commercial vehicles and four tractor trailers.
The ICFs will comply with rules and regulations of Transport Canada and classification society Lloyd's Register.
Deck equipment and life-saving systems
The bow and stern of the ferry will be fitted with a hydraulically-operated visor. The bow / stern visors allow loading and unloading of vehicles. Other deck equipment will encompass two hydraulic anchor winches and two hydraulic mooring winches.
---
---
Stena Superfast X, a new fast Ro-Pax ferry, was launched for service between Holyhead and Dublin in March 2015.
---
The life-saving equipment aboard the ferry will constitute two complete LSA Marine Evacuation Systems for 600 passengers, two 5m-long Polaris rescue boats, lifejackets and life buoys.
Accommodation facilities
The passenger deck will encompass a lounge with 304 seats, 160-seat cafeteria, study cubicles with six seats, a gift store and children play area, galley, provision store, lockers, toilets, four staircases and two MES shafts. The cafeteria will offer hot and cold beverages, breakfasts, sandwiches and burgers.
The crew deck will include crew cabins, air-conditioning room and training /messroom / recreation room. Officer's cabins and the engine control room / damage control room will be placed on the officer's deck.
Dual-fuel propulsion system
The gas/diesel-electric propulsion system will integrate three Wärtsilä 8L20 dual fuel main engines driving two Schottel STP1515 azimuth thrusters on either ends. Each engine develops a power output of 1,350kWe at 1,200rpm, whereas each thruster has a rated power of 1,400kW at 207rpm.
The LNG storage tank will be placed in a section between the two engine rooms. The propulsion system will ensure a service speed of 15.5kt.
Shipboard electricity will be supplied by an emergency generator producing 350kWe of power at 1,800rpm.