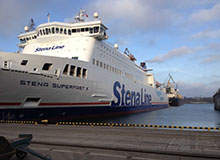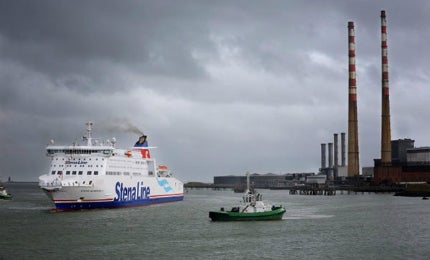 Stena Superfast X (formerly Dieppe Seaways), a new fast Ro-Pax ferry, was launched at Dublin Port, for service between Holyhead (UK) and Dublin (Ireland), in March 2015.
The ferry is pwned by Stena North Sea. It recently underwent a comprehensive refit and upgrade in Gdynia, Poland, for service on the new route, which is one of the important tourism and freight gateways between Britain and Ireland.
Superfast X is the last in the series of four identical ice-class fast conventional ferries. It was originally ordered for Superfast Ferries' new Baltic Sea services between Rostock port in Germany and Södertälje port in Sweden. It was launched in November 2000 along with its sister ships; Superfast VIII and Superfast IX. The construction was carried out at Howaldtswerke Deutsche Werft shipyard in Germany.
The ferry was later renamed multiple times by different owners before it was finally acquired by Stena Line in 2014.
Superfast X ferry conversion details
---
---
Hydrogenesis is the first hydrogen-powered boat to operate in the United Kingdom.
---
Stena Line awarded the conversion contract of Superfast X to MacGregor, part of Cargotec, in August 2014. The contract included conversion of RoPax ferry Dieppe Seaways (earlier name) to restore the original design of Stena Superfast X to suit operations across the new route between Holyhead and Dublin.
MacGregor supplied complete roll-on / roll-off (RoRo) cargo access equipment including the design, hardware and installation of bow doors, a bow ramp, a new water-tight door and a stern ramp. It also conducted feasibility studies to verify the interfaces between the onboard ramps and port-side equipment.
The vessel entered Nauta Shiprepair Yard in Gdynia, Poland, in December 2014. The shipyard renovated and modified the interiors in the public open spaces and renovated the cabins.
Also included in the conversion was alteration of cargo access equipment in the bow and stern, which involved the installation of bow and stern ramps, modification of the bow doors, and installation of a watertight door and a WT bulkhead in pipe tunnel that meets the UK stability regulations. Propeller blades for the main propulsion were renewed and a new livery was applied.
Design and engine details of Superfast X Ferry
The Superfast X ferry has an overall length of 203m, width of 25m, and draught of 6.4m. Its depth to main deck is 9.1m. The vessel offers approximately 2km of lane space to accommodate vehicles and freight traffic.
The ferry has ten decks, and can carry up to 1,200 passengers and 480 cars onboard, whilst the gross tonnage of the vessel is 30,285t.
"Superfast X is the last in the series of four identical ice-class fast conventional ferries."
Power for the Ro-Pax ferry comes from four Wartsila Sulzer 16ZAV-40S engines, which develop a combined power of 46,000kW. The propulsion system enables the ferry to sail at a speed of 22kt.
Facilities onboard Stena Superfast X
The Superfast X features a range of onboard facilities, including deluxe cabins, retail shopping, two movie theatres, a coffee house, Met Bar and Grill, a family lounge with children's play area and X-box stations, as well as a dedicated freight driver lounge, and other passenger areas, including Stena Line's premium lounge; Stena Plus.
Two types of cabin are offered on the ferry; regular or disabled. Both the cabins feature one double bed with desk area and en-suite facilities, such as a wash area, sink and shower. Disabled cabins offer more spacious layout compared to the regular cabins.
The Metropolitan grill aboard the ferry serves both vegetarian and non-vegetarian dishes and special gluten-free food for kids. The Met bar serves a wide variety of continental beer and wines.
The Stena Plus premium lounge service offers the enrolled passengers a range of menu choices, complimentary drinks and snacks, and personal butler service. It provides access to newspapers and magazines and also offers free Wi-Fi connectivity.