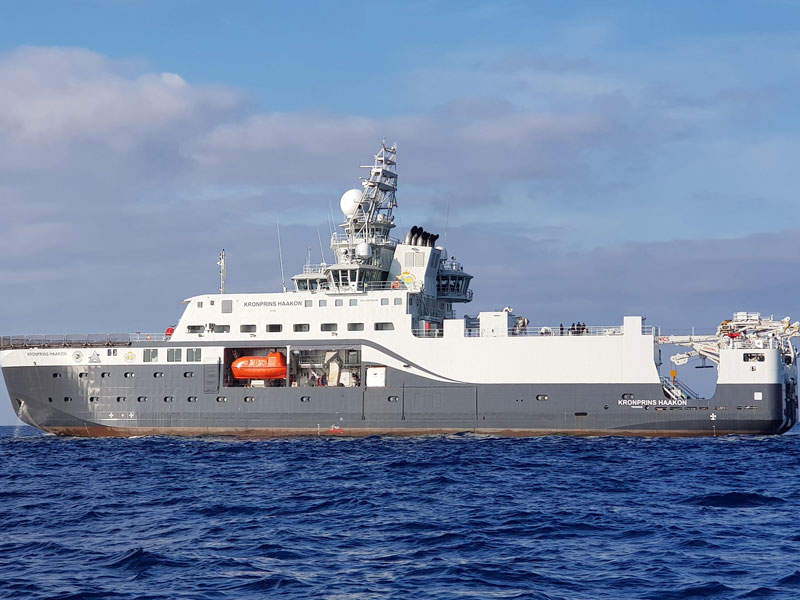 Kronprins Haakon icebreaking polar research vessel is one of the world's most advanced marine research ships.
Funded by Norwegian Government, the vessel was built by Fincantieri at Riva Trigoso shipyard in Muggiano, Italy under a Nkr1.4bn ($230m) shipbuilding contract signed in November 2013.
The keel for the ship was laid in September 2015 and the launching ceremony was held in February 2017. The vessel was delivered to Norway in April 2018.
The icebreaking marine research vessel is owned jointly by the Norwegian Polar Institute, Norwegian Institute of Marine Research (IMR), and Arctic University of Tromsø.
It will be operated by the Norwegian Polar Institute to conduct marine-based research operations in ice-covered Arctic and Antarctic areas.
Mission capabilities of the icebreaking vessel
The icebreaker can perform a range of research missions, including climate change, oceanographic and hydrographic, metrological studies, fishing stocks, marine biology, mapping and sampling of the seabed.
Kronprins Haakon icebreaker design and features
The Kronprins Haakon marine research vessel is based on Rolls-Royce Marine's NVC 395 POLAR design. The hull form is optimised for improved seakeeping, low noise and reduced resistance.
The ship is 100m-long and 21m-wide, with a gross weight of 9,000t. It can accommodate up to 17 crew members and 35 scientists in 38 single/double cabins. The vessel can also carry 1,180m³ of cargo and up to 20 containers.
Scientific operations are carried out on the main deck, while the large working deck at the stern is fitted with cranes and winches to support loading and unloading of marine equipment or cargo.
The vessel is equipped with towed vehicles, coring and trawling systems, as well as a MeBo drilling rig.
"The ship can operate in multi-year ice with pressure ridges, withstand extreme temperatures as low as -35°C and break 1.5m-thick ice."
A helipad on the ship's bow supports operation of a single rotorcraft such as NH-90 multi-role helicopter and Super Puma search and rescue (SAR) helicopter. A hangar is positioned at the bow section to house two small or medium-sized helicopters.
The ship also carries remotely-operated vehicles (ROVs) or autonomous underwater vehicles (AUVs) such as Kongsberg's HUGIN 3000 to aid scientific tasks.
Marine research facilities on-board the ship include 15 laboratories, three container laboratories, an auditorium, student training facilities, and four cooler and two freezer rooms for samples.
Scientific equipment aboard Kronprins Haakon research vessel
The Kronprins Haakon polar research vessel is outfitted with state-of-the-art scientific instrumentation to investigate the geology and morphology of the seafloor.
Equipment includes medium-depth bathymetric multi-beam echo sounder, deepwater bathymetric multi-beam echo sounder, single-beam echo sounder with transducer, scientific multi-beam echo sounder with transducer, and medium and long-range omnidirectional fisheries sonars.
Instrumentation also includes 2D / 3D multi-channel seismic surveying equipment, magnetometer and gravimeter.
Navigation and communications
Kongsberg Maritime Integrated Bridge offers crew with increased operational awareness for safer navigation in Arctic regions.
The oceanographic icebreaker uses Sea-Hawk polarimetric radar to detect and track surface targets, and dual integrated infrared camera systems for security and surveillance.
Satellite communication for the ship is provided by global maritime distress and safety system (GMDSS) Area A4-compliant VSAT communications system.
Kronprins Haakon propulsion
Rolls-Royce was contracted by Fincantieri to develop an integrated diesel-electric propulsion system for the Norwegian Kronprins Haakon marine research vessel in March 2015.
The propulsion system comprises two nine-cylinder Bergen B32:40L9ACD diesel engines, rated at approximately 5MW each, and two Bergen B32:40L6ACD diesel generating sets with a capacity of approximately 3.5MW each.
The ship also incorporates two US ARC 0.8 5MW azimuth main thrusters at the aft, two 1.1MW polar tunnel thrusters in the front, as well as automation and control systems.
Performance of Kronprins Haakon polar research vessel
The research vessel has a cruising speed of 15k and is capable of attaining a range of 15,000nm at speeds of 11k-12k. It offers a maximum endurance of 65 days when sailing at a speed of 15k.
The ship can operate in multi-year ice with pressure ridges, withstand extreme temperatures as low as -35°C and break 1.5m-thick ice.