An artist's rendition of the HiFlo-4 catamaran offshore construction vessel.
Cable laying and trenching works will be made easy with the new HF4 vessel. Image courtesy of Mojo Maritime Ltd.
The vessel is equipped to perform offshore installations. Image courtesy of Mojo Maritime Ltd.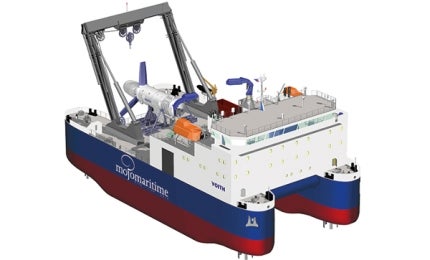 British marine renewable energy specialists Mojo Maritime signed a Memorandum of Understanding with Hammonia Reederei to finance and build the first High-Flow Installation Vessel (HF 4) in January 2014. The shipyard for the construction of the vessel is yet to be decided by both companies.
The tidal stream turbine installation ship will be the first of its kind, and will be equipped with a dynamic positioning system. It will adhere to the 'special purpose ships' safety code (SPS Code).
The catamaran was launched in March 2013 and construction is expected to begin in the first half of 2014. The vessel is scheduled to be delivered to its owners in the summer of 2015.
Mojo Maritime's team comprises Bauer Renewables for seabed drilling and Voith Turbo Marine Engineering and the University of Exeter to provide analysis and inputs. The project is also supported by the Technology Strategy Board's Marine Energy: Supporting Array Technologies (MESAT) programme.
Design of HF 4
Designed by Mojo Maritime, HF 4 has an overall length of 59.5m and a moulded breadth of 28.6m. The design drew inspiration from Mojo Maritime's work with Bauer on the BSD-3000 subsea drill vessel.
---
---
Olympic Boa is a subsea support and construction vessel owned by Olympic Shipping.
---
Mojo Maritime selected QinetiQ GRC's Paramarine software-V8 to support the design of the catamaran OCV. The software monitors the vessel's stability and assigns probabilities to the degree of damage.
HF 4 will have an open deck space of approximately 1,000m² with an option for further expansion. The vessel will also be outfitted with a cover for deck opening, which will increase the deck space. It will be equipped with an A-frame crane lift with a lifting capacity of 250t.
The state-of-the-art vessel is designed to carry operations in rough weather conditions at a low cost, reducing current installation costs by up to 80%.
A wide range of supportive tools such as heave compensated gangways will be fitted onboard the vessel for safe crew transfers. The OCV will be fitted with a walkway providing access to offshore structures. The vessel will have sufficient accommodation and leisure facilities onboard for up to 60 people.
HF 4 catamaran functions
The innovative vessel is being constructed to perform a wide range of offshore construction roles, such as installation of offshore wind turbines, cable laying and trenching, and seabed oil and gas interventions in extreme weather conditions.
HF 4 is designed to operate in high currents of up to 10k speed using dynamic positioning, providing easy accessibility and enhanced productivity during construction of tidal wind farms right from the installation of the support structure to turbine mounting. It will also ease repair and maintenance works in offshore wind farms.
The deck onboard the vessel will enable the carrying and installation of up to six inter array cables. The vessel will also feature advanced trenching equipment for cable trenching and laying. The vessel's thrusters will enable it to perform inter-array cable installation closer to offshore structures.
Engine and propulsion systems
"The state-of-the-art vessel is designed to carry operations in rough weather conditions at a low cost, reducing current installation costs by up to 80%."
HF 4 will be powered by four Schneider Propellers (VSP) including two in the forward and two at the aft. The propellers combine propulsion and steering in a single unit for accurate, safe and efficient manoeuvring. The VSP propellers will also reduce noise and flow speed to a considerable extent.
Contractors and suppliers
Peter Döhle Schiffahrts, a part of the Döhle Group, will provide its expertise in chartering, crew management and insurance services.
MeyGen, through its tidal stream project, installed three Acoustic Doppler Current Profilers (ADCP) on the Inner Sound seabed. The ADCPs will gather information on tidal resources available at the site, helping in the design of the HF 4 vessel.