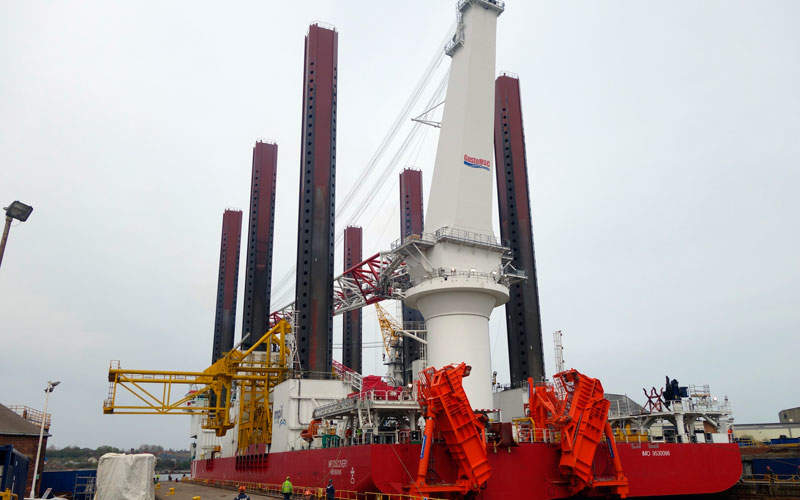 MPI Discovery is a turbine installation vessel owned by MPI Offshore. Image courtesy of A&P Group Limited.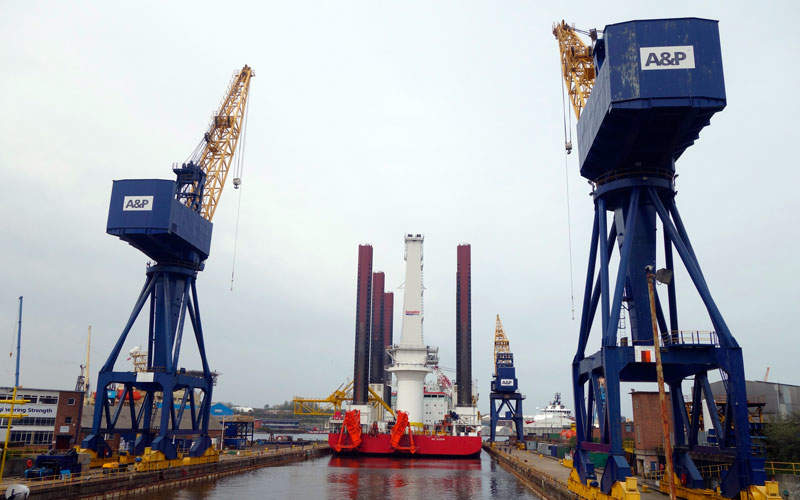 MPI Discovery is currently undergoing repair work at A&P's Tyne yard. Image courtesy of A&P Group Limited.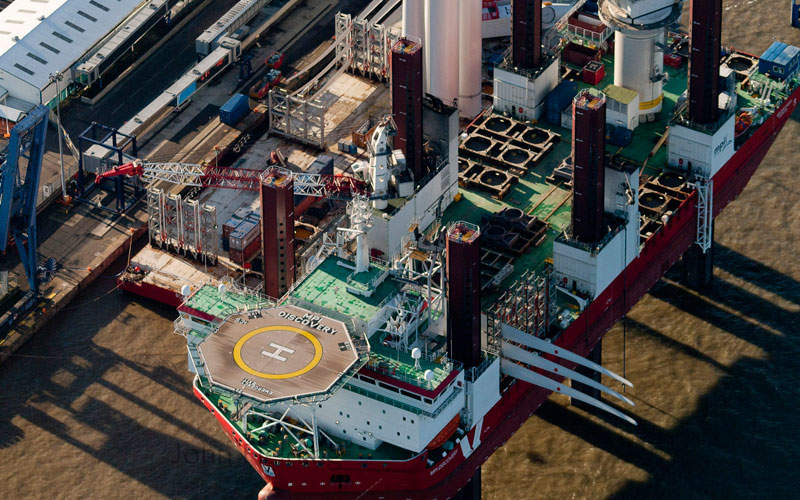 A sky view of the MPI Discovery turbine installation vessel. Image courtesy of John Fielding.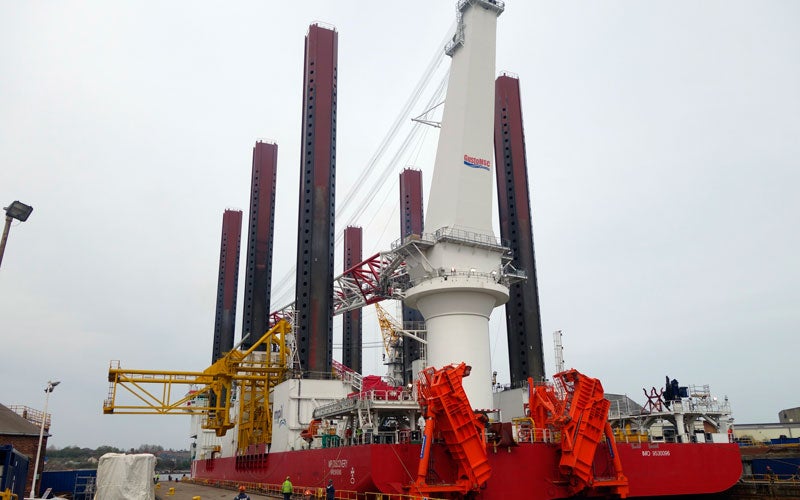 The MPI Discovery wind farm installation vessel, owned by MPI Offshore is currently undergoing repairs in A&P Group's Tyne yard. It is one of the world's most advanced and efficient wind turbine installation vessels.
Since March 2013, the vessel has been performing transportation and installation work along with its sister vessel MPI Adventure for E.ON's offshore wind projects under a six-year charter agreement.
MPI Discovery was deployed at E.ON's projects at Karehamn in Sweden, Humber Gateway in the UK and Amrumbank West in Germany.
The vessel has been classified under the DNV-GL 1A1 self-elevating wind turbine installation unit notation. The cranes installed on-board the vessel are classified under Heldk Crane EO Dynpos-Autr Clean.
Details of the repair works on MPI Discovery
A&P Group's specialist repair works team will inspect and repair the azimuth thrusters and tunnel thrusters on the vessel. Two new main SW isolation valves and external scupper pipes will also be installed as part of the repair.
MPI Discovery design and features
The vessel is 138.55m long, 40.80m wide and 10m deep, and has a minimum operational depth of 4.09m. The lightship weight of the vessel is 13,704t.
The vessel has a maximum deadweight of 6,541t and includes a 3,600m² cargo area. It has six decks, comprising a tank top deck, the tween deck, the main deck, an A-deck, a Bridge deck and a helideck.
It offers accommodation for 112 persons in 12 single and 50 double cabins on its A-deck. The mess room and cafeteria are located on the tween deck, along with the engine control room and thruster room.
A switchboard room, main engines and pumps, a workshop, a store, hydraulic powered pumps and cranes are located on the tank top deck.
The vessel also features five offices, a hospital, a conference room, a coffee shop, a mess room, a gymnasium, a sauna and separate locker rooms for male and females, as well as toilets and utilities for up to 200 passengers on-board.
Deck equipment details
The vessel is fitted with a main crane and an auxiliary crane. The main hoist of the Gusto MSC GCC-100-HD pedestal mounted main crane can lift 1,000t at 25m radius, while its auxiliary hoist has a lifting capacity of 160t at a radius of 70m. It is certified to lift up to 3t at a radius of 72.5m. The trolley hoist of the crane can lift a maximum weight of 25t.
The Liebherr MTC 2600-50 auxiliary crane can lift up to 50t at a radius of 26m.
The ship also features a Model PK5000 2MGs3s/2010 crane from Palfinger India to lift 747t at a radius of 20m. The on-board cranes can operate at a wind speed of 21m/s.
In addition, the vessel can be instantly converted to a platform with the help of six IHC Gusto 73.56m high jack-up legs.
Assisted by 48 hydraulic cylinders, the tensile steel legs lift the vessel completely out of water at a jacking speed of 1m/min, thus allowing the vessel to act as a stable platform for efficient and safe installation of wind turbines.
The vessel uses Gusto's patented double-cylinder jacking system, which has a lifting capacity of 3,750t/leg, a pre-drive capacity of 7,500t/leg and a holding capacity of 6,200t/leg.
"The vessel has been classified under the DNV-GL 1A1 self-elevating wind turbine installation unit notation."
Positioning and navigational equipment on the MPI Discovery
The vessel is installed with a Kongsberg K-POS DP21 dynamic positioning system, which is operated by an independent joystick with four remote controls.
It is also equipped with three gyro compasses, two motion reference units, two differential global positioning systems and a fanbeam.
Propulsion and performance
The propulsion system includes six 2,560kW Rolls Royce main engines, three 3,250kW stern thrusters and three 1,500kW bow thrusters.
The vessel can operate at a maximum operating depth of 40m. It can endure at sea for 75 days at a transit speed of 11.7kt with a small crew, and for 45 days with a large crew.