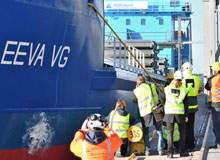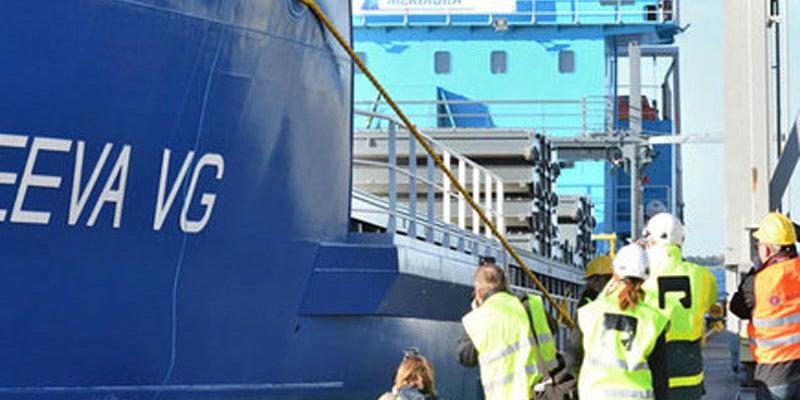 M/S Eeva is the first of two dual-fuelled dry cargo carriers based on the VG EcoCoaster design, and jointly developed by Meriaura Group, Foreship, and Aker Arctic Technology.
The order for the construction of the dual-fuelled vessel was placed in January 2015 and the vessel was launched in February 2016. It was delivered in October 2016 and completed maiden voyage in the same month.
Its sister vessel, Mirva VG, was launched in March 2016 and is scheduled for delivery in late 2016. Meriaura Group further plans to replace half of its fleet with EcoCoasters by 2020.
M/S Eeva VG is equipped to carry heavy cargo and holds class notations, including BV I HULL MACH, ICE CLASS 1A, AUT-UMS, GRABLOADING, CLEANSHIP, BWE, SYSNEQ-1, STRENGTHBOTTOM, and MON-SHAFT.
M/S Eeva VG design and facilities
M/S Eeva VG is 103m long and has a breadth of 13.6m, a draught of 6.1m, a gross deadweight tonnage of 5,019t, and a deadweight cargo capacity of 4,850t.
It has a cargo holding capacity of 216,000ft³ and an air draft of 23.5m in ballast or loaded conditions.
The vessel has a ballast capacity of 2,311t and is equipped with two ballast pumps with a rated capacity of 200m²/h each.
Selected from 45 options during the concept stage, the ship's hull design incorporates a long and narrow bow, which enhances the vessel's manouevrability in ice channels, while its flare angles help to minimise resistance from waves.
Eeva VG is equipped with ACO Marine's Clarimar MF-1 wastewater treatment system, central heating, air conditioning, cargo hold washing solutions, pontoon type hatch covers, and light emitting diode (LED) lighting.
Water and ice model tests for the vessel were performed by Aker Arctic Technology at its test basin in Vuosaari, Finland, while the hull design was provided by Foreship.
Propulsion of Meriaura Group's dual-fuelled dry cargo carrier
"Water and ice model tests for the vessel were performed by Aker Arctic Technology at its test basin in Vuosaari, Finland."
Eeva VG is equipped with an Anglo Belgian Corporation (ABC) 8DZC medium-speed main engine, which runs on biofuel and marine gas oil (MGO). The engine has a rated capacity of 1,650kW.
The vessel is also equipped with two auxiliary engines with a rated capacity of 500kW each, as well as a bow thruster with a rated capacity of 500kW.
The propulsion machinery of the vessel enables it to sail at a service speed of 10.5k.
Biofuel for the vessel is sourced from a refinery operated by VG-Shipping, a Finland-based subsidiary of Meriaura Group. The vessel specifically uses the proprietary EcoFuel produced from biodegradable wastes and recycled oils at the refinery.
Contractors involved
The vessel was constructed by Royal Bodewes in Papenburg, Germany. Subsea Industries coated the vessel's hull with its environmentally friendly Ecospeed coating system, and applied its proprietary Ecoshield coating system to the vessel's thruster tunnel.