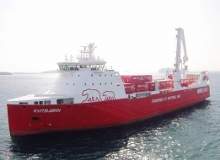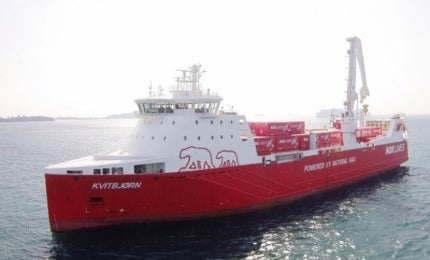 M/S Kvitbjørn (translated as White Bear) is a new liquefied natural gas (LNG) powered cargo vessel owned by Nor Lines. It was constructed by Tsuji Heavy Industries in China based on Roll Royce's Environship concept, which boasts of reducing CO2 emissions by up to 40% compared with diesel-powered vessels.
The vessel completed the world's longest journey solely on LNG at sea in March 2015, during which it sailed from Tsuji Heavy Industries shipyard in Jiangsu, China, via Singapore to Cochin, India, and Cartagena, Spain, before finally reaching Bergen, Norway. It was christened in April 2015.
M/S Kvitbjørn and its sister vessel M/S Kvitnos (white-beaked dolphin), which was delivered in July 2015, have now replaced certain old vessels in Nor Line's fleet, reducing the number of vessels in its fleet from nine to seven, without reducing the company's overall cargo capacity.
"The vessel completed the world's longest journey solely on LNG at sea in March 2015."
The two sister ships will operate in the waters of Netherlands and Germany, sailing via the Oslo fjord, to Hammerfest, and back.
The vessel is assigned the DNV + 1A1, EO, Gas-fuelled, DK(+), Ro-ro, TMON, General cargo carrier, RM (-270 C / 320 C sea), DG-P and Ice C-class notations.
M/S Kvitbjørn design specifications
M/S Kvitbjørn has an overall length of 119.95m, beam of 20.8m, draft of 5.50m, deadweight of 5,000t, gross tonnage of 9,132t and net tonnage of 2,740t. It has a capacity to carry cargo that is equivalent to 200 truck loads.
Based on Rolls Royce's Environship concept, the cargo vessel integrates a vertical stem, a straighter bow shape and an extended waterline. Its wave piercing bows allow the ship to cut through waves, reducing resistance by up to 8% and enabling the vessel to sail at constant speed without using additional fuel.
Deck plan
The cargo vessel features four decks, comprising the weather deck covering an area of 1,560m², the main deck with an area of 1,640m², the tween deck covering an area of 828m² and the lower deck covering an area of 800m².
---
---
Tallink's new liquefied natural gas (LNG)-fuelled fast ferry is being constructed by Meyer Turku shipyard.
---
The latter two decks are reefer compartments providing separate temperature zones.
Equipments
The vessel is equipped with an onboard 80t crane, two pallet elevators weighing 5t each, a roll-on/roll-off (ro-ro) ramp trailer elevator, 25 reefer plugs, forklifts and a side door.
Rolls Royce's engine and propulsion machinery for M/S Kvitbjørn
M/S Kvitbjørn is fitted with a Bergen B35:40 gas engine, which has a thermal efficiency of more than 49% and generates approximately 17% lesser CO2 compared to diesel engines. The engine, in combination with a hybrid shaft generator (HSG), drives a combined Promas rudder and pitch propeller.
The combination of the rudder and propeller into a single system improves the vessel's efficiency by between 5% and 8%. The HSG, on the other hand, optimises the use of electrical power, enables the propeller and engine to operate at their optimal design points, and is also capable of operating as an auxiliary engine in harbour mode.
The propulsion machinery provides the vessel a service speed of 15.5k.
Contractors involved
Schlüter Marine Solutions was contracted to perform the drawing approval and the new-building supervision for the two sister vessels.