MS Spitsbergen was christened in July 2016 following reconstruction. Image courtesy of Eivind Lande.
The exploration vessel offers sailings along the Norwegian coast and polar waters. Image courtesy of Tor Farstad.
The interiors of MS Spitsbergen were designed by Tillberg Design. Image courtesy of Tor Farstad.
MS Spitsbergen offers multiple accommodation options for guests. Image courtesy of Tor Farstad.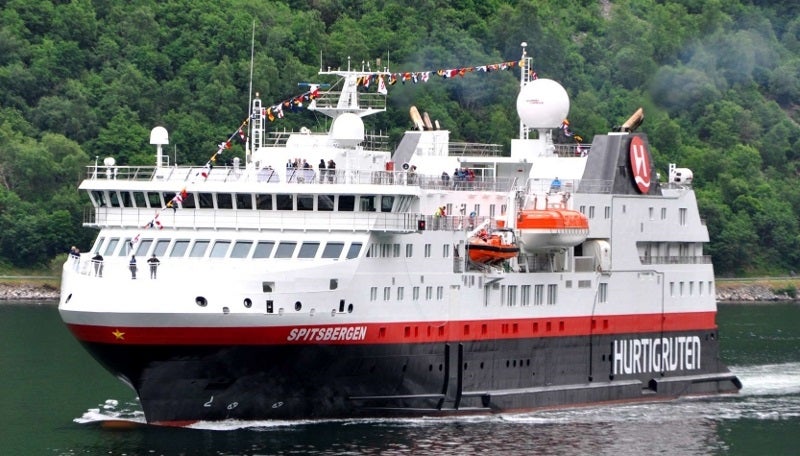 Named after the Norwegian archipelago of Spitsbergen, Hurtigruten's MS Spitsbergen is an expedition vessel that was first built in 2009. The vessel has been fully reconstructed by Fosen Yards at Rissa, Norway, and christened in July 2016.
The ice-class RoPax vessel was converted into explorer passenger vessel of DNV-FL 1C class and its interiors were completely converted into Arctic-style. Hurtigruten took delivery of the vessel in June 2016, approximately after six months of reconstruction. The conversion enabled the vessel to sail under polar conditions.
MS Spitsbergen is now one of the four Hurtigruten vessels that offer explorer sailings in Arctic and Antarctic waters, and also offers tours along the Norwegian coast. It will offer expedition sails along the coast during the 2016/2017 season, while polar expeditions will also be added in the 2017/2018 season.
MS Spitsbergen design and interiors
MS Spitsbergen now features a Scandinavian design with contemporary interiors featuring wood, slate and leather and fire themes. Natural and earthy materials and colours derived from the Norwegian Sea have been used. The public areas have been designed to be more comfortable and the interiors have been modernised.
Technical improvements have been made to the vessel to lower emissions and fuel consumption in order to make the vessel environment-friendly.
The vessel has a length of 97.58m, a beam of 18m and a gross tonnage of 7,025GRT. It has a passenger capacity of 335 with 243 beds. The vessel sails at a speed of 17.4k.
Accommodation onboard MS Spitsbergen
MS Spitsbergen features eight decks in total, with accommodation facilities on decks 4, 6 and 7, whereas deck 3 is expedition landing deck and deck 8 is the sun deck.
Accommodation is provided in suites and cabins of four classes namely Expedition suites, Arctic Superior cabins, Polar Outside cabins and Polar Inside cabins.
Located on deck 6, Expedition suites are the most luxurious accommodation on the vessel and feature one or two rooms, along with a seating area, TV and mini-bar, while a private balcony is also provided in some suites. Mini expedition suites, which are designed for two guests, feature a double-bed, TV and mini-bar.
Arctic Superior cabins, located on both upper and middle decks (6 and 7), feature double beds, TV and tea and coffee-making facilities.
Polar Inside cabins, located on all decks, feature double beds and a TV and come in three configurations, namely standard size with standard inside cabins, spacious size with spacious superior inside cabins with a double-bed, and standard inside cabins with bunk beds featuring lower and upper berths.
Located on all decks but mostly middle (deck 7) or lower deck (deck 4), Polar Outside cabins have either double or separate beds or upper and lower berths.
"It will offer expedition sails along the coast during the 2016/2017 season, while polar expeditions will also be added in the 2017/2018 season."
Polar Outside cabins are offered in six categories – large outside, standard outside, category L, which features portholes and separate beds including one that can be converted into a sofa, standard cabins with bunk beds featuring upper and lower berths, limited view cabins that feature bunk beds and offer limited view, and limited view cabins that offer double beds with either no or limited view.
Passenger facilities
A hospital is located on deck 4, and a Jacuzzi and fitness centre are located on deck 7. Deck 5 features a restaurant, bistro, bar, luggage area, and a lounge.
Contractors involved with MS Spitsbergen reconstruction
Fosen Yard, a shipyard based in Norway, was contracted through an international tendering process, to convert and rebuild the vessel along with makeover of four other Norwegian coastal vessels MS Polarlys, MS Kong Harald, MS Nordkapp and MS Nordnorge.
The vessel's interiors have been upgraded to the new look named New Arctic Interior. The interior design was provided by Tillberg Design, a marine architecture and interior design company based in Sweden.
Amia was contracted by Fosen Yard and Elpro Electro to supply manpower for the welding, fitting and electrical works.
Information technology (IT) consultancy and managed service company, ICE ICT provided services to ensure smooth running of the IT systems on the vessel.