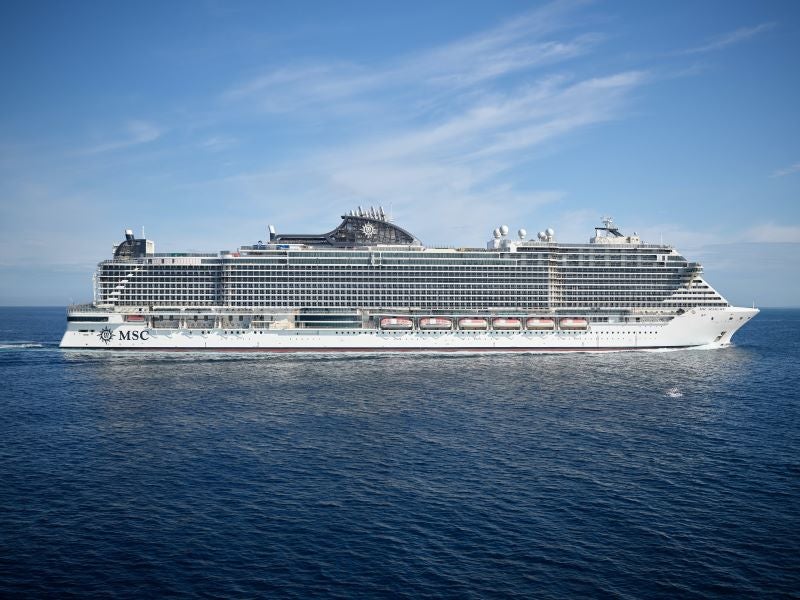 MSC Seascape, a new Seaside-EVO class ship, will join MSC Cruises' fleet in November 2022. Credit: MSC Cruises SA.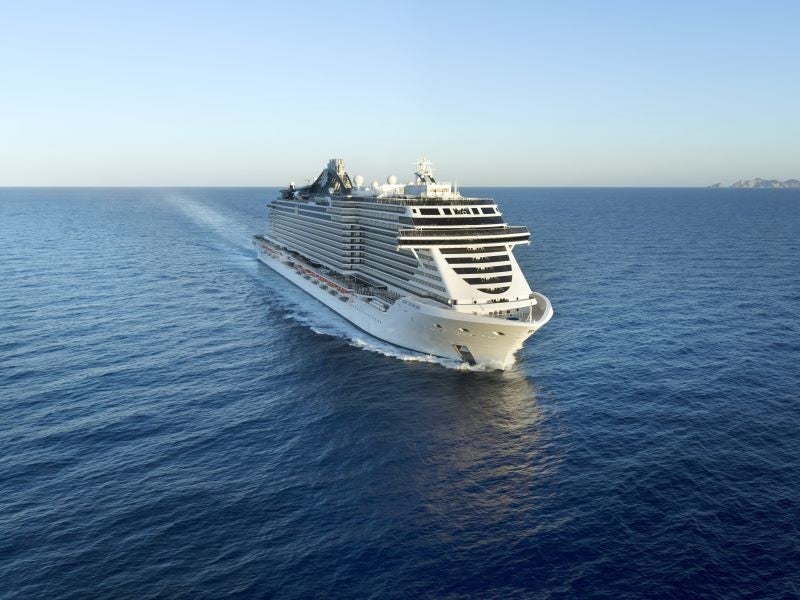 The first sea trials for the new vessel were completed in August 2022. Credit: MSC Cruises SA.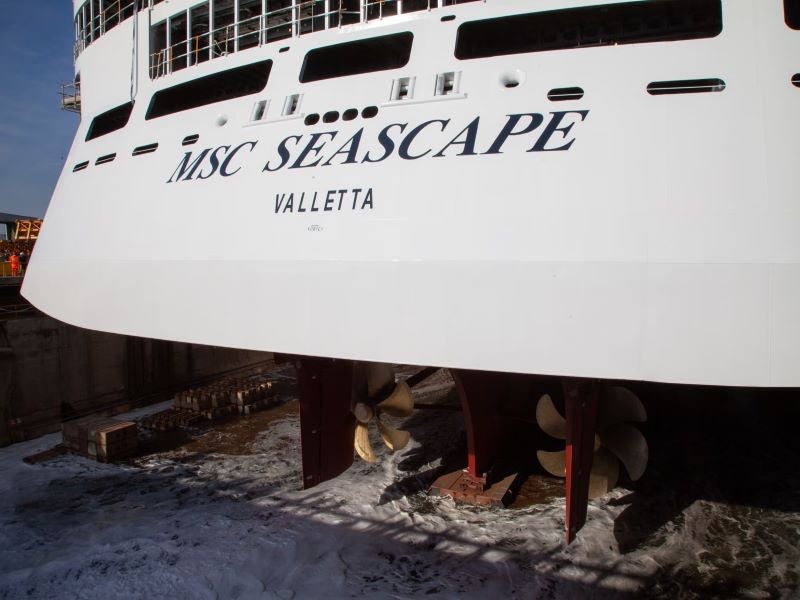 MSC Seascape will begin its inaugural season from the port of Miami, Florida, US. Credit: MSC Cruises SA.
MSC Seascape is a new Seaside EVO-class ship that will be operated by Switzerland-based cruise brand MSC Cruises, part of the MSC Group.
The vessel was built by Fincantieri at its Monfalcone shipyard in Italy and was floated out in November 2021. It completed its first intensive sea trials in August 2022 and is set to be delivered in November 2022.
The ship's naming ceremony is scheduled to be held at the Manhattan Cruise Terminal in New York City, US, in December 2022 and will serve as the official start of its inaugural season.
MSC Seascape will join MSC Seashore, its sister ship and the first Seaside EVO-class ship, which left for its maiden voyage in August 2021.
MSC Seascape design and features
With a length of 339m, MSC Seascape will be the longest vessel in the fleet. The vessel has a total of 20 decks and gross tonnage of 169,400t. It will be able to accommodate 5,877 passengers.
The ship's overall design, public areas and names of on-board facilities draw inspiration from New York City. The ship features a 3m-tall replica of the Statue of Liberty at the heart of its casino. The expansive Times Square retail and entertainment area features an 8.5m-high LED wall, spanning four decks, that projects the iconic skyline of Manhattan's Times Square.
The vessel offers 13,000m² (139,930ft²) of outdoor space with design features that include a glass-floored Bridge of Sighs on deck 16, 22m above the Infinity Pool on deck 8, along with panoramic elevators at the aft of the ship. Waterfront promenades with glass floors line both sides of the ship.
On-board accommodation
The on-board accommodation features 12 different cabin and suite categories with balconies, including coveted aft suites. The ship will feature a total of 2,270 cabins.
The MSC Yacht Club will provide ocean views from the foredecks of the ship. It features suites in five categories.
The MSC Yacht Club Owner's Suite on deck 19 is the largest on the vessel, with 98m² of indoor space and a 25m² balcony, which has a private whirlpool bath and outdoor living area.
Located on deck 16, the MSC Yacht Club Royal Suite provides 62m² of living space and a 33m² balcony with a private whirlpool bath and dining table.
The MSC Yacht Club Grand Suites, Deluxe Suites and Interior Suites are spread over decks 16 to 19. These suites range between 21m² and 43m², with the Grand and Deluxe suites featuring private balconies.
The two-bedroom Grand Suite Aurea rooms, located on decks 11 to 14, each provide 49m² of space with a 17m² balcony. The Grand Suite Aurea rooms on decks nine to 13 will each be 49m² with balconies ranging between 10m² and 21m² in size.
The Premium Suite Aurea category on decks nine to 15 has a surface area of 32m² with balconies of up to 14m². The Junior Suite Aurea, located on deck nine, is the smallest of the Aurea category rooms with a surface area of 17m² and a 16m² balcony.
The Premium Suite Aurea with Whirlpool on decks nine to 15 features 28m² of space with a 7m² balcony that features a private whirlpool bath. The Premium Suite Aurea with Terrace on deck nine has a surface area of 28m² with a large 38m² balcony.
The Deluxe Balcony Aurea and Deluxe Balcony suites on decks nine to 15 have a surface area of 17m². The Ocean View cabins on deck five feature 17m² of space, while the Interior cabins have surface areas of either 14m² or 28m².
Restaurants and bars
A total of 11 eateries will be featured on board the cruise ship. The dining options will include three main restaurants along with the Yacht Club restaurant, a dedicated Aurea restaurant and a 1,169-seater buffet.
The ship will also feature five speciality restaurants, including the Butcher's Cut, HOLA! Tacos and Cantina, Ocean Cay fish restaurant, and Kaito Teppanyaki and Sushi Bar.
Guests on board the MSC Seascape will have a selection of 20 distinct speciality bars as well as a wide choice of outdoor venues.
Entertainment and other amenities
MSC Seascape will feature a rollercoaster at sea combined with a personalised DJ music experience known as the Robotron. The state-of-the-art robotic arm has an attached gondola with seating for three people. The Robotron arm flies 53m above the sea, flips riders upside down and in different directions, and provides a unique 360° view of the horizon.
The Pirates Cove Aquapark offers an expanded kids area and waterpark. It will be equipped with virtual reality (VR) to provide an interactive water attraction at sea. The high-tech Chora theatre will feature spectacular Broadway-style shows.
MSC Seascape will also offer Immersive XD Cinema, a Formula Racer virtual simulator, VR motorbikes and a VR 360° Flight Simulator.
The Baby Club, designed in partnership with Chicco®, will offer activities and games for children from one to three years old.
The Mini and Junior clubs, available for kids between three and 11 years of age, will include activities and events, such as the LEGO® Experience On Board event, which offers a day of LEGO bricks and activities for children and parents.
Two teenagers' clubs will be available for age groups 12-14 years and 15-17 years, respectively. Additionally, a teens-only area will serve as a cinema, gaming room and disco.
The Marina Pool on deck 18 is the main pool. It has two different depths, a central 360° water fountain island and a new lounge area located within the pool. It also connects with the aquapark, creating an extensive water area. The Jungle Pool sits below a magrodome, which can be closed to create an indoor pool area.
Guests can get wellness and beauty treatments, including Balinese massages, at the MSC Aurea spa. The facility also features a thermal area, beauty salon and nail boutique.
Engine and emission control systems
MSC Seascape is powered by four Wärtsilä 14V 46F engines, which are equipped with selective catalytic reduction (SCR) systems to achieve a 90% reduction in nitrogen oxide emissions.
The technology reduces environmental impact by converting the gas into nitrogen and water. The vessel is also equipped with a hybrid exhaust gas cleaning system to remove 98% of sulphur oxide from emissions.
The vessel features advanced waste management and ballast water treatment systems, as well as the latest technology for preventing oil discharges from machinery spaces.
It also incorporates energy-efficient measures, such as heat recovery systems and LED lighting. The ship has an underwater radiated noise management system fitted to reduce its potential effect on marine environments.
Itinerary
MSC Seascape will sail to Miami, Florida, for its inaugural season in the Caribbean, where it will offer two different seven-night itineraries.
The Eastern Caribbean itinerary will call at the Ocean Cay MSC Marine Reserve as well as Nassau in The Bahamas, San Juan in Puerto Rico, and Puerto Plata in the Dominican Republic. The Western Caribbean itinerary will also call at the Ocean Cay MSC Marine Reserve, along with Cozumel in Mexico, George Town in the Cayman Islands, and Ocho Rios in Jamaica.