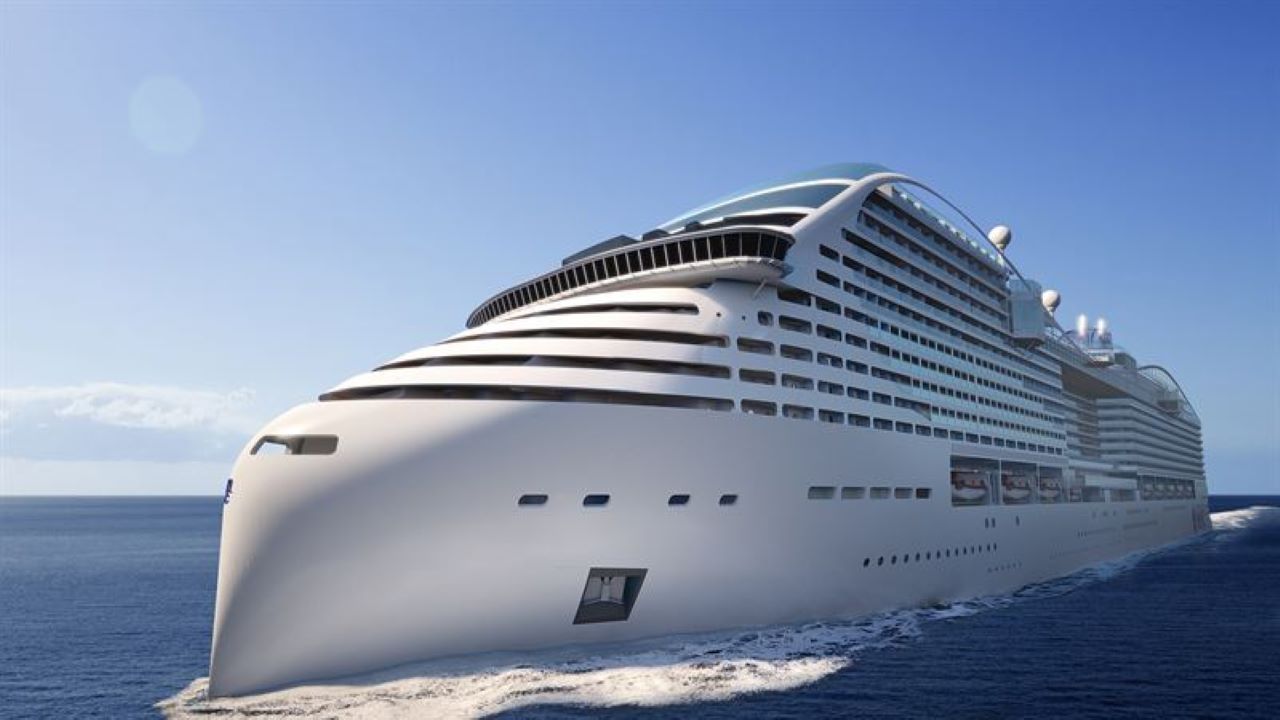 The MSC World Europa will be the first ship of MSC Cruises to feature environment-friendly LNG-powered engines. Credit: Wartsila.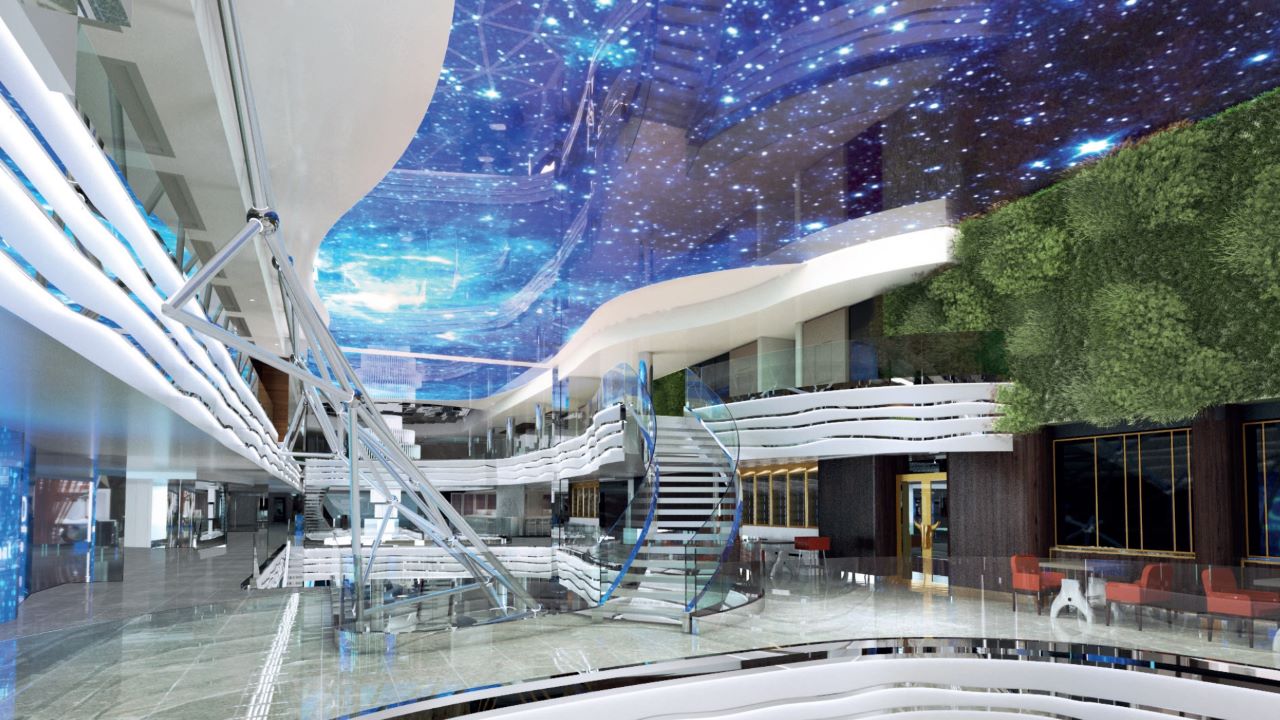 The Europa Promenade will feature a half -covered LED-sky screen roof with tailor-made displays throughout the day. Credit: MSC Cruises.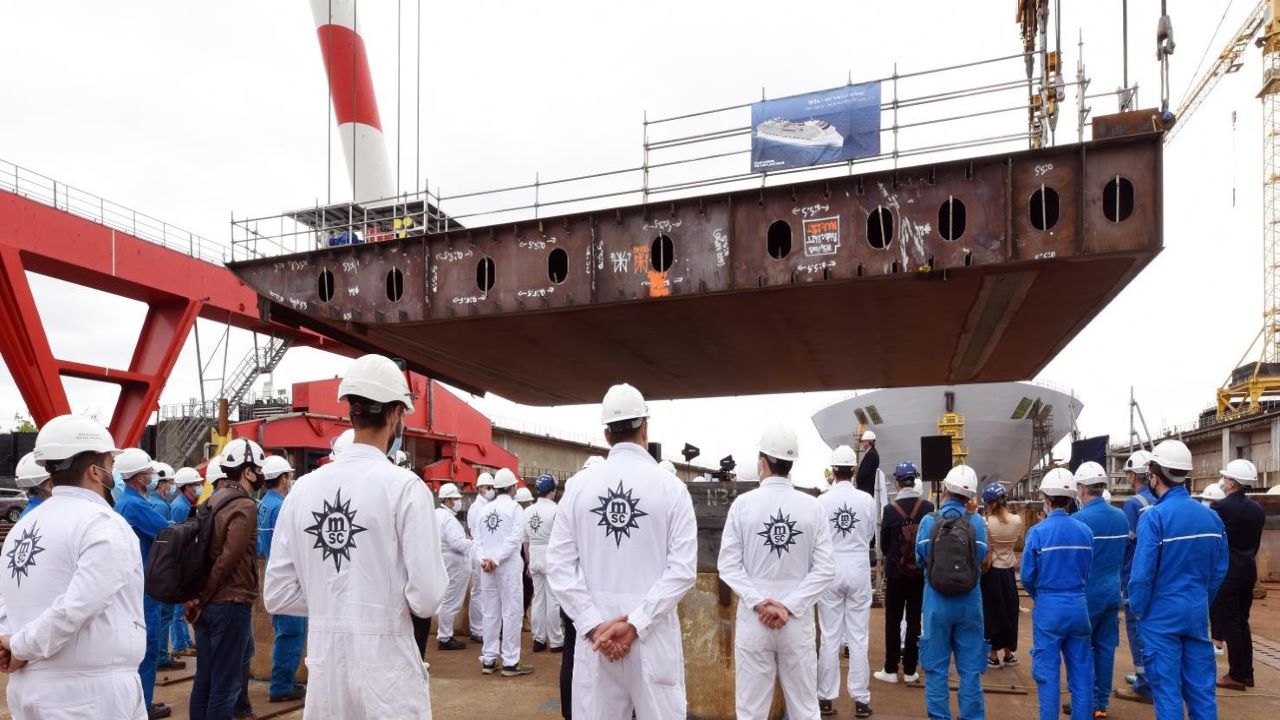 The construction of the vessel is being carried out at Chantiers de l'Atlantique's shipyard in Saint-Nazaire, France. Credit: MSC Cruises.
The MSC World Europa is the first MSC World Class cruise ship being built by Chantiers de l'Atlantique for Swiss-​based cruise line MSC Cruises.
The cruise ship will be the first LNG-powered vessel among the MSC Cruises fleet. The steel cutting ceremony for the vessel was held in October 2019. MSC Cruises opened bookings for MSC World Europa on 31 May 2021 and the ship is expected to enter service in December 2022.
MSC World Europa will be one of the two MSC cruise ships to accommodate fans during the FIFA World Cup Qatar 2022, under a charter agreement signed between Qatar's Supreme Committee for Delivery & Legacy (SC) and MSC Cruises in November 2019.
MSC World Europa design and features
The 333m-long MSC World Europa will feature 22 decks and offer 40,000m² of public space. It will have approximately 161,000ft² of dedicated outdoor spaces. The vessel will accommodate up to 6,774 passengers across 2,630 cabins, including 16 suites. It will be manned by 2,126 crew members.
MSC World Europa has a noticeable Y-shaped architecture with a striking futuristic silhouette and a signature 90-degree plumb bow shaped like an arrow. The Y-shaped aft opens onto the 104m-long Europa Promenade with a half-covered LED-sky screen roof that will feature tailor-made displays throughout the day. One of the key features of the promenade is The Spiral, the longest stainless-steel slide at sea, which spans 11 decks.
The size of the cruise ship allows for completely distinct zones for different moods and experiences, including a tranquil adults-only zen district, shops and bars, and a separate family zone that houses about ten kids facilities, creating a vibrant cosmopolitan environment for the varied guest experience.
The MSC World Europa will offer six stunning pools and 14 whirlpool baths. The Aquapark, Kids' Club, MSC Sports Plex, Bumper cars and rollerblades arena and video arcades will also offer endless activities for all ages.
Accommodation on board MSC World Europa
The MSC World Europa cruise ship will offer an extensive range of accommodation with 19 different cabin categories, while 65% of cabins will have balconies.
The cruise ship will feature seven new and innovative cabin types, which will include balcony suites and cabins overlooking the promenade. The luxurious duplex MSC Yacht Club suites will feature large balconies and a private hot tub, as well as an open living and dining room area.
The Aurea family suites come with a spacious balcony and private hot tub and can accommodate up to six persons. The Infinite Ocean view cabins will feature a panoramic sliding window that serves as a glass balustrade when open.
The ship also offers family cabins that combine two connecting cabins each with a bathroom and a balcony. For solo travellers, the ship offers the ocean view studio and the interior studio each with a large single French bed.
Bar and dining venues on MSC World Europa
The MSC World Europa will feature 13 dining venues, including six speciality restaurants such as the American style steakhouse Butcher's Cut and Asian style Kaito Teppanyaki Grill and Sushi Bar. It will also have Hola! Tacos & Cantina, a new fast-casual street food concept inspired by Latin American & Mexican street food.
The ship will also offer two new dining venues called the Chef's Garden Kitchen that focuses on microgreens and the La Pescaderia, a traditional seafood grill with alfresco seating. Guests can also choose three ample restaurant buffets, including a brand-new location that will remain open 24/7.
The Masters of the Sea Pub to be located across two decks will offer brew craft beer. The other venues include the Elixir – Mixology Bar, a South Asian-style tearoom, an authentic Emporium coffee bar, The Gin Project inspired by a real distillery, a juice bar and a gelateria.
Propulsion of MSC Cruises' first LNG-powered ship
The cruise ship will be fitted with five LNG-powered, 14-cylinder Wartsila 46DF dual-fuel engines. The power plant will also be equipped with nitrogen oxide reduction (NOR) units, two Wartsila LNGPac fuel storage and supply systems, seven thrusters and two fixed pitch propellers.
The vessel will additionally feature selective catalytic reduction (SCR) systems, shore-to-ship power connectivity, advanced wastewater treatment systems designed in line with the International Maritime Organization's MEPC 227(64) guidelines, underwater radiated noise management system and a range of energy-efficient equipment to reduce and optimise engine usage.
MSC World Europa itineraries
The MSC World Europa will start its inaugural season with a special four-night sailing from Doha, Qatar to the new homeport in Dubai, United Arab Emirates. The vessel will depart from Dubai on 25 March 2023, and head to the Mediterranean Sea.
The cruise ship will offer seven-night cruises from Dubai to Abu Dhabi and Sir Bani Yas Island.
In summer 2023, it will offer seven-night cruises calling at the Italian ports of Genoa, Naples and Messina, as well as Valletta in Malta, Barcelona in Spain and Marseille in France.
Contractors involved
Chantiers de l'Atlantique was contracted to build the ship at its shipyard in Saint-Nazaire, France.
Chantiers de l'Atlantique subcontracted the technology group Wartsila for the supply of a comprehensive package of integrated solutions for the propulsion systems of the two MSC World Class vessels, including MSC World Europa.