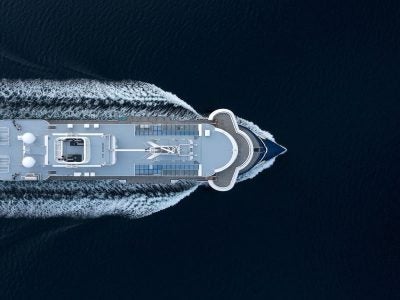 National Geographic Resolution features a distinctive X-Bow that provides powerful wave-slicing effect. Credit: uavpic.com.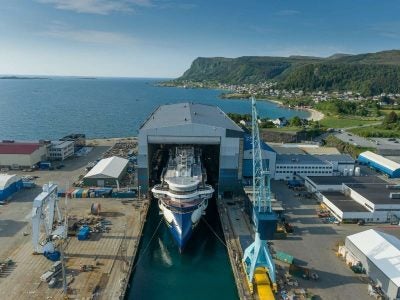 The polar expedition ship was constructed at the Ulstein Verft shipyard in Norway. Credit: Ulstein Group / Per Eide Studio.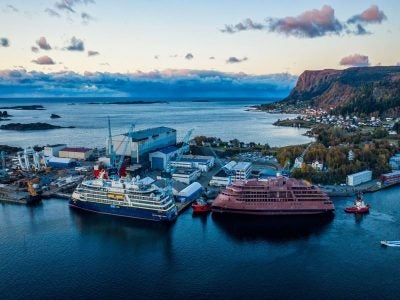 National Geographic Resolution will join its sister ship National Geographic Endeavour. Credit: Oclin.
National Geographic Resolution is a new polar expedition vessel built by Norwegian shipbuilding company Ulstein Group for an alliance between Lindblad Expeditions and National Geographic Partners.
The vessel was named in honour of British explorer Captain James Cook and his ship MS Resolution.
Lindblad Expeditions signed a contract with Ulstein to build the ship, in February 2019. The first steel was cut at the CRIST shipyard in Gdynia, Poland, in May 2019, while the keel-laying ceremony was held in September 2019. The hull of the ship arrived at the Ulstein Verft shipyard in Norway in October 2020.
National Geographic Resolution completed its sea trials and was delivered to Lindblad Expeditions in September 2021. It will join its sister ship National Geographic Endurance and sail on maiden polar voyage to Antarctica, South Georgia, and the Falklands in November 2021.
National Geographic Resolution design and features
National Geographic Resolution is a purpose-built, Polar-class 5 (PC5) vessel based on the CX104 design of Ulstein Design & Solutions.
The expedition vessel features Ulstein's distinctive X-BOW® solution that provides powerful wave-piercing action for reduced bow impact and extremely smooth ride even in adverse sea conditions. It also reduces spray on deck to minimum weather-related damages to the forebody. The large fuel and water tanks on the polar navigation ship enable extended operations in remote areas.
The expedition vessel has a length of 124.4m and a width of 21m. It has a deadweight of approximately 1,250t and a maximum speed of 16.5k. It can accommodate 126 passengers and 112 crew members and has an additional capacity of 22 persons.
Accommodation aboard National Geographic Resolution
National Geographic Resolution features 69 spacious outside-facing passenger cabins, of which 53 cabins have private balconies. The cabins come with large windows, private bathrooms, and other amenities such as individual climate control, Wi-Fi, and an expedition command centre with tablets and USB docking stations.
The category one cabins located on the foredeck offer 183ft² (17m²) space with two large windows and alcove seating. The category two cabin is a 205ft² (19m²) standard cabin, while cabins of category three, four, and five come with private balconies and a sofa.
The category six junior balcony suites on the bridge deck provide 344ft² (32m²) space with a large balcony and a sofa bed. The category seven balcony suites, the largest of the suites, have 430ft² (40m²) space with a large balcony, sofa bed, bathtub, and a walk-in closet.
The ship also provides solo suites, namely Category Solo A and B. Each suite offers a 140ft² (13m²) space, featuring a balcony and furnished with a sofa.
Dining and other amenities
The National Geographic Resolution Restaurant comprises three dining venues, of which Restaurant 270º provides wrap-around views. The other two dining areas offer lighter and intimate dinners for small groups. A Bistro bar is located on the observation deck while a full-service bar is located at the main lounge.
The ship also includes health and wellness amenities such as a glass-enclosed yoga studio, gym, treatment rooms, and a full-time doctor. A spa area is available on the observation deck. The vessel provides high and low-heat saunas with ocean views.
Other amenities on board the ship include an internet café, laundry rooms, and infinity-style outdoor hot tubs at the rear of the observation deck with adjacent igloos. A B&H Photo locker and a photography workshop area, an onboard broadcast studio, science hub, and an expedition base equipped with locker facilities to store expedition gears are also available.
Equipment carried by the polar-class vessel
The ship carries expedition tools including a fleet of Zodiac motorised landing craft, kayaks, snowshoes, and cross-country skis.
Other equipment includes a remotely operated vehicle (ROV) and underwater video camera for polar undersea access, hydrophone, an aerial remote-controlled camera, and a video microscope.
Contractors involved
ABB was engaged to deliver a full power, distribution, control, and automation package for the ship.
All the systems are integrated in the ABB Ability™ 800xA control system. The company also provided twin 3.5MW electric Azipod® DO propulsors.