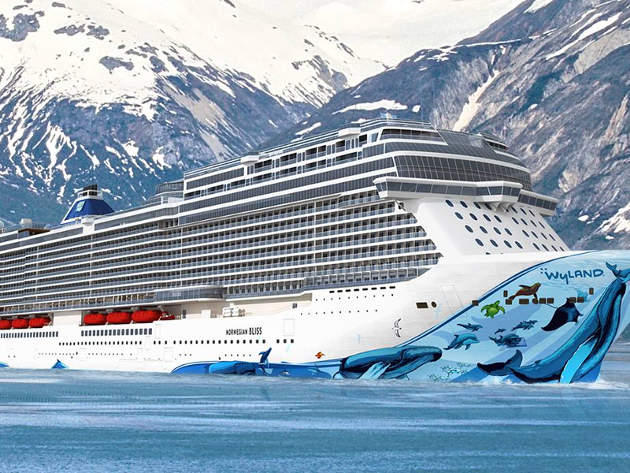 Norwegian Bliss is the third ship in the Breakaway Plus-class built by Meyer Werft in Papenburg, Germany, for American cruise operator, Norwegian Cruise Line (NCL). Norwegian Bliss is the 16th ship in NCL's fleet and is home-ported in Miami. Its sister ships include the Norwegian Escape and the Norwegian Joy.
Construction of Norwegian Bliss commenced in October 2016 and the vessel was floated out in February 2018. The ship embarked on its maiden voyage in April 2018.
Norwegian Bliss design
Capable of accommodating 4,000 guests, Norwegian Bliss has an overall length of 324.6m, width of 41.4m, and gross tonnage of 167,800t. The ship is designed specifically for Alaskan cruises.
Hull art for the ship has been rendered by marine life artist, Wyland, and features images of humpback whales, dolphins, sea lions and sea turtles.
Accommodation on the new cruise ship
The Norwegian Bliss  features a range of accommodations for solo travellers, families and high-end guests.
The top of the ship  includes The Haven, a private access three-storey complex featuring 80 luxurious suites. Spread across decks 17 through 19, the complex features a private restaurant and lounge, an outdoor area, a courtyard, a pool, whirlpools, spa treatment rooms, and a sunbathing deck.
Suites in The Haven feature luxurious furnishings with custom stonework, nightstands, vanities and exquisite linens. Exclusive services are provided, including butler and private concierge services, priority reservations, and exclusive reserved seating at the ship's theatre.
The types of suites in The Haven include owner's suites, a two-bedroom family villa, a courtyard penthouse, a deluxe spa suite, forward and aft-facing penthouses, and the Haven suite.
The Norwegian Bliss also includes 308 mini-suites featuring bigger bathrooms with a bathtub and a balcony. The ship's 1,088 balcony staterooms feature luxury décor, vanity and desk areas, a sofa, and a coffee maker. The ship's 111 Oceanview staterooms feature picturesque windows with views of the sea.
There are 374 inside staterooms, each featuring two lower beds that can be converted into a queen-sized bed. For solo travellers, the ship includes 82 studio staterooms with access to a private lounge and a full-size bed.
Facilities on-board the Breakaway Plus-class ship
One of the ship's striking features is the 180° observation lounge located on deck 15. Covered with floor-to-ceiling windows and spanning 20,000ft², the lounge offers spectacular views of the sea.
The lounge features a silver and grey colour scheme covered with furnishing in rich wood tones. It is fitted with modern seating facilities such as couches and chaise loungers. A 360° polished aluminium and quartz-topped bar offers alcoholic drinks for guests.
The ship also features the Bliss Theatre, which hosts Broadway shows and musicals. In addition, a comedy and nightclub venue called the Alibi hosts comedy shows, while a music venue called the Cavern Club features live performances.
Other facilities on the ship include a casino, fitness and kids area, a spa, pool, and other outdoor areas.
"The highly-efficient Azipod XO technology helps to minimise vessel lifecycle costs and increase the ship's profitability."
Norwegian Bliss propulsion system
Norwegian Bliss is fitted with the ABB Azipod XO electrical propulsion system, which includes an electric-drive motor housed inside a submerged pod.
Highly-efficient Azipod XO technology helps to minimise vessel lifecycle costs and increase the ship's profitability.
The ship is also fitted with exhaust gas scrubbers, which help to reduce sulphur emissions by 99%.
Contractors involved
Notholt has been contracted to provide lighting design for various areas of the ship, including restaurants, the theatre, stair cases, lobby and suites.
Antti Marine supplied accommodation and interior doors for the ship.