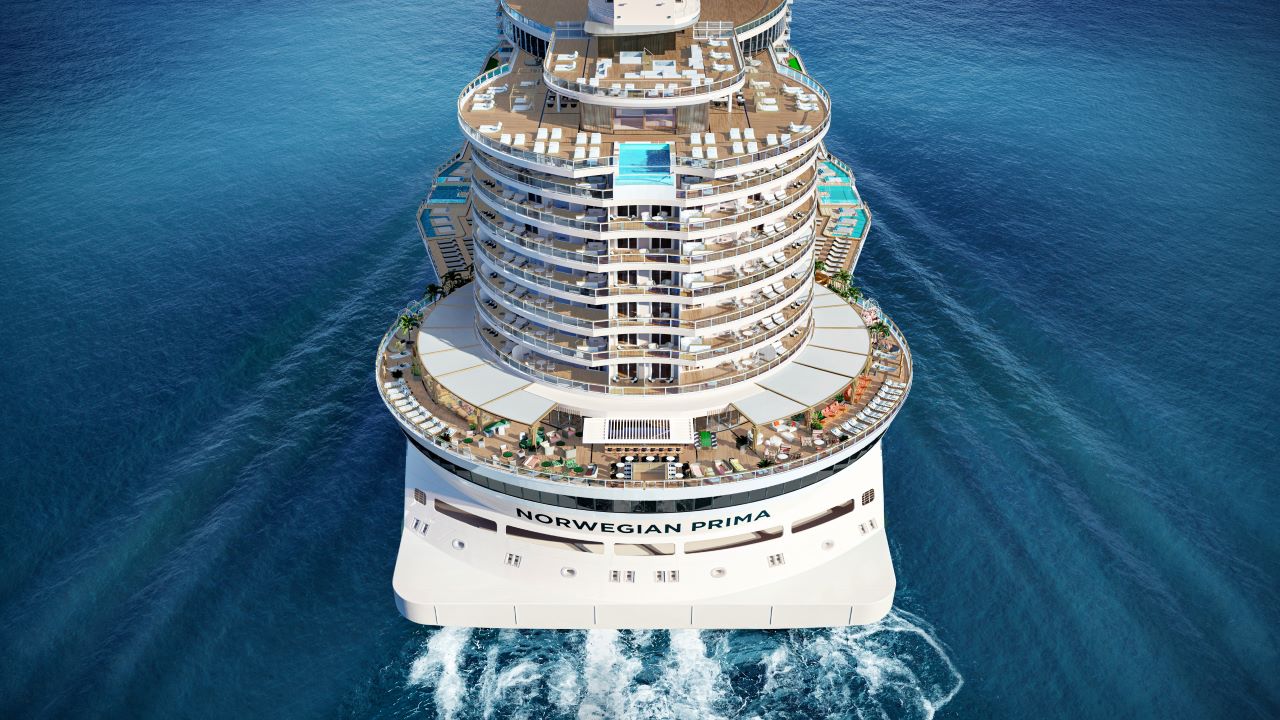 Norwegian Prima is the first in a series of six new Prima-class cruise ships to be introduced by Norwegian Cruise Line, a global cruise company based in the US.
The cruise ship is currently under construction and will embark on its maiden voyage from Marghera, Italy, in August 2022.
The cruise bookings for the ship opened in May 2021, creating new records for single-best booking day and best initial booking week sales in Norwegian Cruise Line's 54-year history.
Norwegian Prima design and features
Norwegian Prima will measure approximately 294m long with a gross tonnage of 142,500t. The ship will be able to accommodate up to 3,215 guests at double occupancy and offer wide-open spaces. It features hull artwork designed by Italian graffiti artist Manuel Di Rita, which extends to the forward superstructure of the ship.
The cruise ship will have the highest staffing levels and space ratio in the contemporary and premium cruise categories. It will offer the highest number of suite categories available at sea. The Norwegian Prima will also feature the most outdoor deck space of any new cruise ship including more total pool deck space among the ships in Norwegian Cruise Line's fleet.
The ship will feature a revamped version of Norwegian Cruise Line's Waterfront outdoor promenade deck concept by doubling the space. The 44,000ft² Ocean Boulevard on deck eight will offer a range of experiences and dining options. Wrapping around the entire deck, it will allow guests to walk around the entire ship and participate in outdoor activities. The Ocean Boulevard will feature infinity pools and offer views of the ocean.
The ship will introduce NCL's first-at-sea feature The Concourse, an outdoor sculpture garden with an art wall designed by well-known artist David Harber. The garden will also include six installations designed by American sculptor Alexander Krivosheiw. The Concourse will have immersive artwork inspired by contemporary abstract forms and ancient mythology.
Other indulgences include the Infinity Beach which will feature two infinity pools, located on either side of the ship and close to the ocean surface. Two Oceanwalk glass bridges will provide guests with a feeling of walking on air over the water. An open-air lounge called the La Terraza will offer a quaint retreat, allowing guests to enjoy forward-facing sea views.
Accommodation on board Prima-class cruise ship
The Norwegian Prima cruise ship will offer 13 suite categories including the largest three-bedroom suites of any new cruise ship. It will also feature the largest-ever inside, oceanview, and balcony staterooms among the cruise line's fleet.
The Haven, which will span eight decks of suites and public spaces, will offer the brand's most exclusive and centralised suite complex. It will provide a ship-within-a-ship experience with ultra-premium keycard-only access, private amenities, dedicated services, and the most luxurious accommodations onboard the ship.
All the 107 Haven suites to be located at the aft will be served by private elevators that will offer direct access to The Haven public areas on decks 16 and 17. The Haven Courtyard will be revamped into an expansive Haven Sundeck with an infinity pool overlooking the ship's wake and a new outdoor spa equipped with a glass-walled sauna and cold room.
The other accommodation categories include the Club Balcony Suite and the Balcony suite, each with its private balconies, and the Studio suite that is specifically designed for solo travellers.
Bar and dining venues of Norwegian Prima
The Ocean Boulevard will feature Indulge Food Hall, Norwegian Cruise Line's first-ever upscale open-air marketplace. The food hall will house 11 culinary venues that will offer a variety of menu items and include indoor and outdoor seating.
The dining spaces will include Coco's, Q Texas Smokehouse, Starbucks, Seaside Rotisserie, Tamara, Nudls, The Latin Quarter, Tapas Food Truck, Garden Kitchen, Just Ice Cream, and Just Desserts.
Three additional dining venues that offer both indoor and outdoor seating will include Onda By Scarpetta, the Los Lobos, and The Local Bar & Grill which will offer an upscale beach club atmosphere with live music.
Norwegian Prima itineraries
The Norwegian Prima will sail from 17 August 2022 to 13 September 2022 on a series of eight-day voyages from Amsterdam, the Netherlands, and Copenhagen, Denmark, as well as across northern Europe, Norwegian Fjords, and the Baltic regions.
The ship will sail on Western Caribbean Voyages homeporting from Port Canaveral in Orlando, Florida, from 11 December 2022 to 19 March 2023 and a mini-season roundtrip to Bermuda from 28 March 2023 to 07 May 2023. The Norwegian Prima will head back to Iceland and northern Europe to embark on a northern Europe voyage between spring and summer of 2023.
Contractors involved in the lead ship of Prima-class
Italian shipbuilding company Fincantieri received an order from Norwegian Cruise Line for the construction of four new-generation cruise ships in February 2017. An additional order was awarded to the shipbuilder for two more ships in the class in July 2018.
The design of Norwegian Prime was prepared by Italian designer Piero Lissoni and architecture companies including SMC Design, Rockwell Group, Tillberg Design of Sweden, YSA Design, and Studio Dado.
The architects prepared the concept and aesthetic designs of restaurants, staterooms, and public areas onboard the cruise ship.