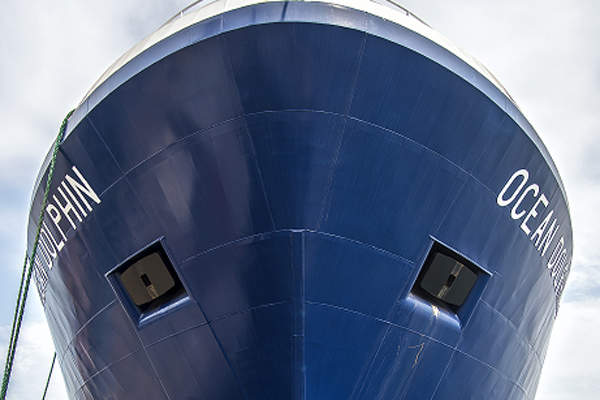 A close view of the bow section of the Ocean Dolphin SSV. Image courtesy of Cemre Shipyard.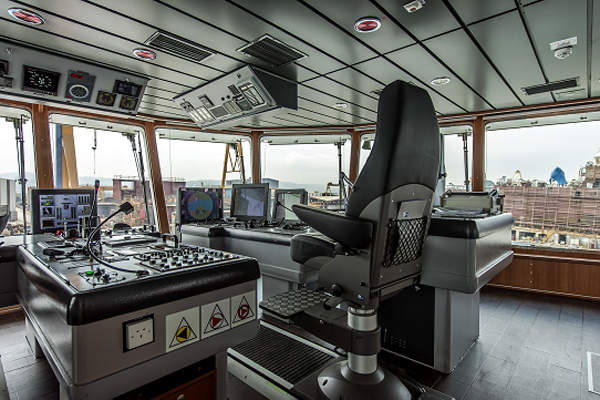 The Ocean Dolphin is fitted with a range of navigation and communication equipment and systems. Image courtesy of Cemre Shipyard.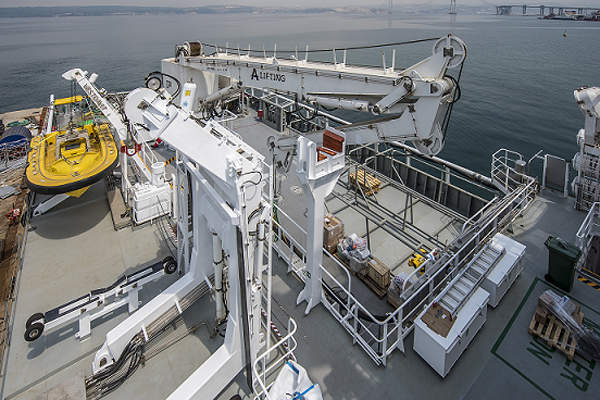 A view of the deck equipment aboard the Ocean Dolphin seismic support vessel. Image courtesy of Cemre Shipyard.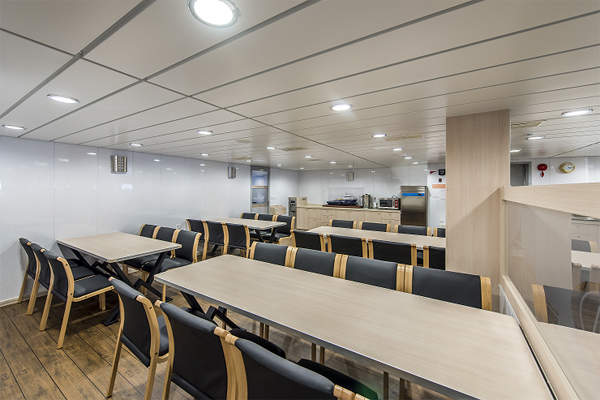 The mess room on the Ocean Dolphin is outfitted for 30 people. Image courtesy of Cemre Shipyard.
Ocean Dolphin is the first of two seismic support vessels (SSVs) built by Turkish company Cemre Shipyard for Norwegian shipping company Norfield. The vessels are intended to meet the demanding needs of the seismic industry and will be operated by Vestland Offshore.
Norfield placed an order with Cemre Shipyard for the construction of two seismic support vessels in December 2013.
The first vessel, NB 35 (New Build 35) was launched during a ceremony that took place in March 2015. It was delivered to Norfield in August 2015, while the second vessel is expected to be handed over later this year.
"Norfield placed an order with Cemre Shipyard for the construction of two seismic support vessels in December 2013."
On her maiden project, Ocean Dolphin was mobilised at Malta in the Mediterranean Sea under a five-year time charter with Dolphin Geophysical.
Ocean Dolphin design and development
Ocean Dolphin is a high-capacity SSV based on the SALT 450 SSV design. It was developed by Salt Ship Design in cooperation with Vestland Offshore. Vestland Offshore is responsible for the project management and construction supervision as well as full technical and commercial management of the vessel.
The purpose-built vessel has a length of 69.8m, moulded breadth of 17m, and deadweight of 2,800t at 6.2m draught. The vessel can carry up to 60 personnel, including crew and clients, and is classified by Bureau Veritas.
Deck equipment and systems
The vessel has a working deck area of 500m² that offers a load capacity of 1,000t with a vertical centre of gravity (VCG) of 1m above the deck. The cargo rooms on Deck 1 provide additional carrying capacity to the vessel.
---
---
Polarcus Amani is the seventh 3D seismic vessel to join the Polarcus fleet and the third vessel in the Polarcus fleet featuring the ULSTEIN SX134 design.
---
The seismic equipment aboard the vessel includes two remotely-operated bunker hose reels, Barovane lifting and storing arrangement, gun winches and arrays, a 12t knuckle boom crane with a maximum outreach of 17m, a streamer reel with capacity for 8,000m streamer cable, and a towing hook with a safe working load (SWL) of 65t.
Navigation and communications of Ocean Dolphin
The onboard navigation equipment includes a Furuno DS-80 Doppler speed log, two Furuno GPA 150 dual DGPS, a Furuno FE-700 echo sounder, an Anschuts Nautopilot 5500, two Anschuts Double 22 gyro compasses, Anschuts gyro repeaters, Furuno X- and S-band radars, Telko dual electronic chart display and information system (ECDIS), a Furuno VR-3000 voyage data recorder (VDR), Kongsberg C-Joy, and Alphatron anemometers and wind sensors.
The communications are supported by a Furuno NX-700A Navtex, a Furuno TRON SART 20 radar transponder, a Furuno FA-150 AIS (automatic identification system), long-range identification and tracking (LRIT) system, a Furuno RC-1800 T radio station, Felcom-500 satellite communication, intercom, and VHF and UHF systems.
Ocean Dolphin SSV tank capacities
The seismic support vessel is fitted with storage tanks for carrying 500m³ of marine diesel oil (MDO), 2,000m³ of heavy fuel oil, 180m³ of fresh water, 65m³ of grey water, 25m³ of slop and 25m³ of bilge water. The vessel is also fitted with a box tank below bridge for roll reduction.
Accommodation facilities
The onboard accommodation facilities include two single cabins for clients, four single cabins for officers, as well as 12 single and six double cabins for crew. The cabins are provided with enclosed toilet/shower.
Other work and leisure facilities include a seismic instrument room, a seismic workshop, a hospital, a fully outfitted office, a mess room, a TV lounge, a gymnasium, and a dayroom and in-cabin entertainment.
Ocean Dolphin propulsion
Ocean Dolphin is equipped with diesel-electric propulsion integrating four Yanmar 6EY22LW main generators and two 1,500kW Berg conventional controllable pitch (CP) propellers. Each engine delivers a maximum power output of 1,000kW at 750rpm.
The vessel is also fitted with a 600kW retractable azimuth thruster, a Pyro 870kW auxiliary boiler, two exhaust gas boilers and a Scania 200kW emergency generator.
The propulsion system provides a bollard pull capacity of 55t and a maximum speed of 13.5k. The vessel consumes 2.5t of fuel in 24h when sailing at a speed of 5k, whereas the fuel consumption at 12k speed is 10.7t in 24h.