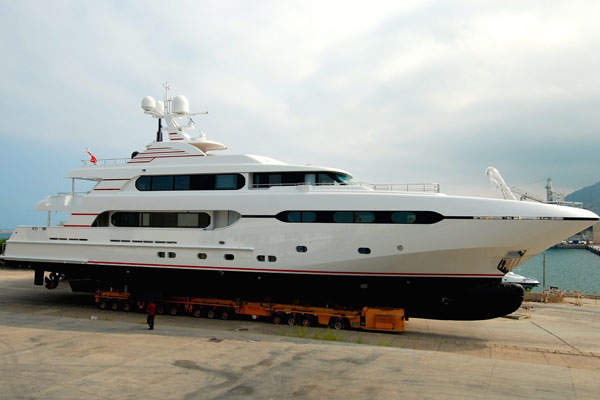 Sunrise Yachts launched the second Sunrise 45m series vessel in August. Image courtesy of Sunrise Yachts.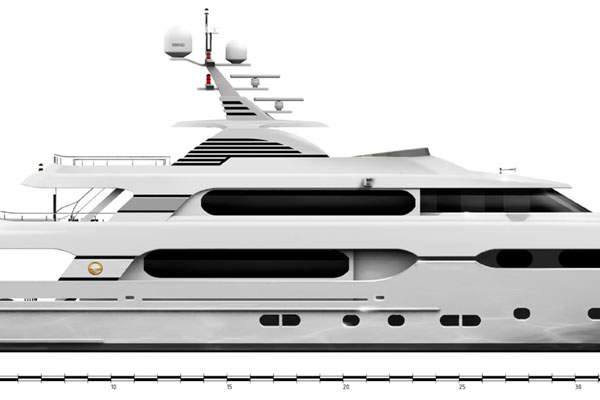 The Project 'Sunset' yacht will be used privately or chartered to operate worldwide. Image courtesy of Sunrise Yachts.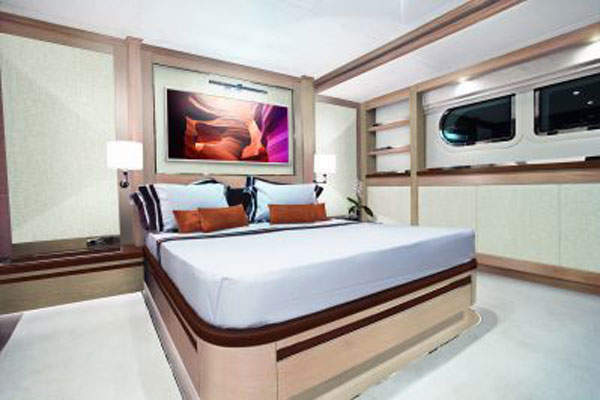 The interiors of the Project 'Sunset' yacht were designed by Franck Darnet Design. Image courtesy of Franck Darnet Design.
Sunrise Yachts, a yacht builder based at Antalya, Turkey, launched a new motor yacht of the Sunrise 45m Series, tentatively named Project 'Sunset', in August. The vessel was ordered by an undisclosed North-American yachtsman in July 2013, after the successful run of her sister vessel M/Y Africa, which was delivered in 2009.
The new luxury yacht, which has been custom built for private use by the client, will be on display at the Fort Lauderdale International Boat Show in October.
Design and features of the luxury motor yacht
Sunrise Yachts along with Karatas Yacht Design is responsible for the naval architecture of the Sunrise 45m series. The concept and hull design was provided by Studio Scanu of Italy, while technical installation of the vessel was completed by Valentijn Design.
The new Project 'Sunset' motor yacht features a full displacement hull made of high-tensile steel and an aluminium superstructure. The yacht has an overall length of 45.02m, breadth of 8.93m and a maximum draught of 2.7m. The luxury motor yacht also features a full-length technical tunnel that starts from the engine room to the bow-thruster compartment allowing easy accessibility to the tanks and systems at the bilge deck level.
The gross tonnage capacity of the vessel is 499t and displacement is 380t. The yacht is fitted with tanks for holding approximately 60,000l of fuel and 13,500l of water.
The vessel is built to comply with UK Maritime & Coastguard Agency (MCA) standards and Lloyd's Register of shipping certification. The yacht has received the LY2 class notations from Lloyd's including Lloyd's, + 100A1 SSC yacht mono G6, + LMC.
Project 'Sunset' interiors and accommodation facilities
---
Related content
---
Sauter Carbon Offset Design (SCOD) unveiled the design of its largest and most eco-friendly luxury yacht, Ocean Supremacy.
---
The interior designing of the yacht was completed by Franck Darnet Design in France. The layout presents an extensive three-deck interior providing great stability, comfort and quality on-board. The yacht features the latest trends in interior designing, which includes light veneers and bright colouring.
Unlike the M/Y Africa that used dark tropical woods for interiors, Project 'Sunset' yacht incorporates elegant and sophisticated materials such as fine leather mosaics, mother-of-pearl and stainless-steel inlays to create a stunning and refreshing ambience suitable for modern times.
The motor yacht has a passenger capacity of 11 and guests are accommodated in five cabins, including one master cabin, two double-bed cabins, and two twin-sharing cabins, plus an extra Pullman berth. The yacht has five more cabins dedicated for nine crew members.
The Sunrise 45m Series yacht's engine and propulsion
Project 'Sunset' yacht is powered by two MTU 12V2000 M70 diesel engines, with each engine producing a rated power of 788kW at 2,100rpm, connected to a ZF 2350 gearbox. The ship also features a Quantum Zero Speed electro-hydraulic fin stabiliser system.
The yacht is equipped with 65kW hydraulic bow thrusters from Torkmaster.
The highly fuel-efficient propulsion system of the luxury motor yacht, which generates less noise and vibrations, allows the vessel to sail at a maximum speed of 15k. The vessel can perform transatlantic crossings at a speed of 12k with a range of more than 4,000nmi.