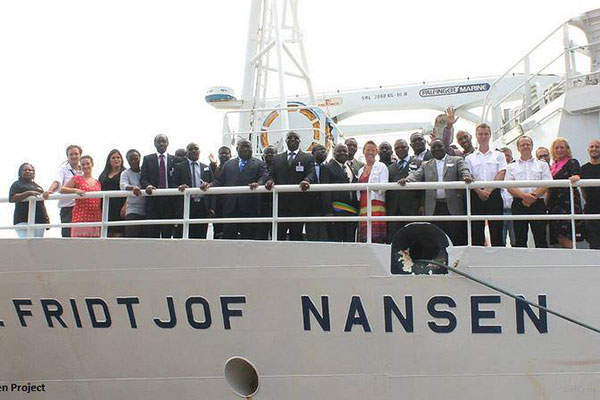 Dr Fridtjof Nansen will perform marine research for the EAF-Nansen Project.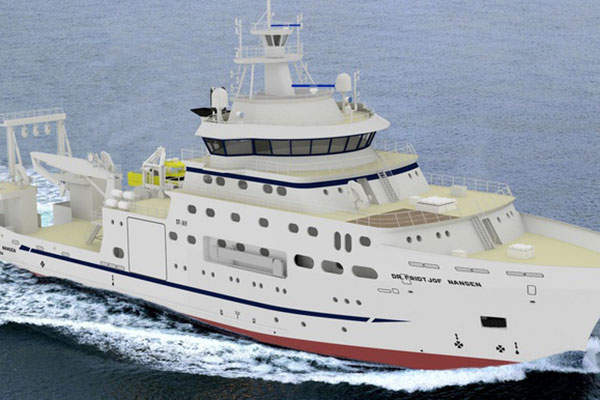 The research vessel has been designed by Skipsteknisk.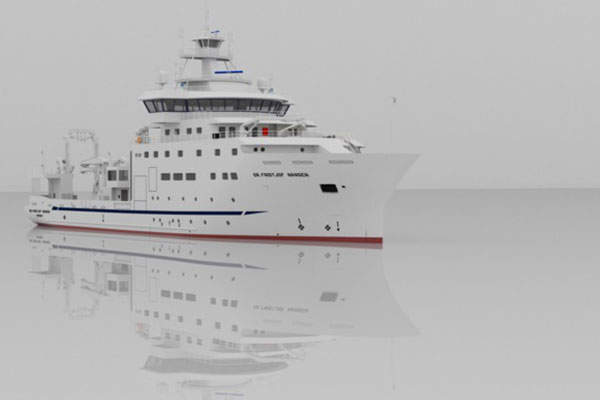 The new vessel was delivered in January 2017.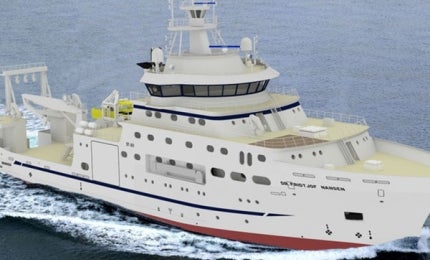 The new marine research vessel RV Dr Fridtjof Nansen is owned by the Norwegian Agency for Development Cooperation (NORAD). The vessel was built as part of the United Nations' (UN) Food and Agriculture Organization (FAO) project and is jointly operated by the Institute of Marine Research (IMR) and the University of Bergen (UIB) to help developing countries improve their fisheries management.
In March 2013, Norwegian ship designer Skipsteknisk was awarded the contract to design the vessel under the designation ST-369. The construction contract was awarded to Spanish shipyard Astilleros Gondan in March 2014.
The new fishery and oceanographic research vessel was delivered in January 2017 and launched in May 2017. It replaces an old vessel of the same name, which has been navigating the African coast since 1993, carrying out in-depth research in the marine ecosystems for the EAF-Nansen Project.
Dr Fridtjof Nansen is equipped for operations in developing countries in Africa, Asia and Latin America. Her primary duties include ecosystem studies, emphasising fishery research operations.
Dr Fridtjof Nansen features
Dr Fridtjof Nansen was built according to ICES standards, which limit underwater radiated noise from research vessels. IMR and Skipsteknisk worked together on the specifications and drawings of the vessel.
The overall length of the vessel is 74.5m, moulded breadth is 17.40m and length between perpendiculars is 66.10m.
The vessel has been assigned the class notation DNV + 1A1, E0, ICE-C, SPS, DYNPOS-AUT, NAUT-AW, COMF-C(2)V(2), BWM-T, TMON and Recycable by Det Norske Veritas.
Laboratories and scientific equipment
Dr Fridtjof Nansen features specialised laboratories, including a wet lab, also known as the fish lab, a plankton sampling lab, also called Benthos/Plankton lab, a dry lab for oceanographic studies, a foto lab, and climate and seawater labs. To conduct marine research, the vessel is equipped with a spacious operation centre with offices and a library, a CTD lab with a 27m² CTD hangar and a 53m² main scientific hangar.
---
---
The proposed ocean liner Titanic-II is a dream project of Australian billionaire Clive Palmer.
---
Scientific equipment on-board the ship includes a CTD Rosette water sampling system, a fully equipped weather station, a data acquisition system and a scientific computer system network.
It also includes scientific split-beam echo sounders, two acoustic doppler current profilers (ADCP) of 75Hz and 150Hz, an ocean surveyor, one omni-directional (intermediate range) fisheries sonar and two bathymetric multi-beam echo sounders, one for intermediate range (2,000m) and one for deepwater (5,000m).
In addition, the vessel features a synchronising system for all acoustic instruments, four hydrophones for trawl geometry system, two hydrophones for catch monitoring system and two hydrophones for multi-sampler, all mounted in drop keels. Two forward-looking low-light high-definition (HD) video cameras are fitted to observe air bubbles.
Navigation and communication facilities
Navigation equipment on-board the vessel includes automatic identification system (AIS), electronic chart display and information system (ECDIS), and a separate electronic charting system. The ship also includes differential global positioning systems (DGPS) and gyro and attitude reference system units.
Accommodation and tank capacities
The research vessel can accommodate 45 people, including 15 seamen and 30 scientists. On-board tanks are capable of carrying 490m³ of marine diesel oil (MDO) and 175m³ of freshwater.
A passive anti-rolling tank system is also installed.
Winches and deck cranes
"The propulsion system allows the vessel to cruise at a maximum speed of 14.5kt."
Dr Fridtjof Nansen is equipped with electric driven fishery and scientific winches, which were supplied by RAPP HYDEMA. It includes two mooring winches with a capacity to trawl 40t each, one outhaul winch at the cod end with a capacity of 3t and one CTD winch. Other fishing winches include one pelagic net drum of 40t capacity, two trawl winches of 40t, one combined Gilson and wire winch of 11t, and a multi-purpose deep sea instruments winch.
It is also equipped with one pelagic net drum (40t) and one bottom traul split net drum (26t), as well as one benthos sledge winch.
Cranes and handling equipment were supplied by Triplex, including four deck cranes with a safe working load (SWL) ranging from 3t to 8t, one CTD L-frame with a capacity of 3t, one A-frame at stern with SWL of 10t and another main hangar telescopic A-frame with a capacity of 10t.
Power and propulsion systems
Dr Fridtjof Nansen features a diesel electric propulsion plant comprising two DC electric motors working in tandem, each with a power rating of 1,500kW. The propulsion system allows the vessel to cruise at a maximum speed of 14.5kt.
The power plant consists of two Mak nine-cylinder diesel generator sets and one Mak six-cylinder diesel generator set.
Propulsion includes five-bladed, fixed pitch propeller (FPP) thrusters, an 880kW retractable azimuth thruster in the bow, two 600kW tunnel thrusters, one double tunnel at the bow and one in the stern.