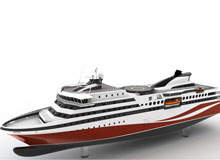 San Sha 1 Hao is the first Ro-Pax (roll-on / roll-off passenger) vessel custom-built in China for operations in the Chinese market. The Ro-Pax cruiser was built by Bohai Shipbuilding Heavy Industry (Bohai Shipyard), for the government of Hainan Province.
The vessel was delivered in September 2014 and began commercial operations on 1 January 2015.
The conventional Ro-Ro Passenger vessel operates out of Hainan Island in the South China Sea. It will offer unrestricted service for transporting passengers and wheeled cargo, containers and trailers to and from the Xisha, Nansha and Zhongsha islands governed by the city of Sansha.
San Sha 1 Hao will shorten the voyage time between Qinglan Port in Wenchang city, Hainan Province and Yongxing Island of Sansha City from 16 hours to approximately nine hours.
Design details of the Ro-Pax carrier
---
---
The world's largest roll-on / roll-off vessel.
---
Danish company Knud E Hansen along with CS Marine provided the concept and tender design for the Ro-Pax carrier on behalf of the Bohai Shipyard in China. In addition, Knud E Hansen also designed the hull lines and steel structural design for the passenger ship. The scope of work also included outfitting and machinery, safety and stability as well as computational fluid dynamics (CFD) analysis.
The Ro-Pax carrier is designed to transport vehicles and containers on a single cargo deck complying with the Chinese Classification Society Rules and Chinese Flag regulations.
The vessel has an overall length of 120m and a length between perpendiculars of 107m. It has a moulded breadth of 21m and design draught of 5.3m. The depth of the vessel to decks three (car deck) and five is 7.8m and 14m respectively. The deadweight of vessel is 2,400t.
San Sha 1 Hao Ro-Pax vessel cargo capacity
The vessel's cargo capacity allows it to effectively transport cargo loads comprising 350 lane metres of cars and trucks, approximately 1,200t of containers or a combination of both onboard the car deck. The ship is equipped to carry 20 trailers and 140 cars onboard.
The cargo will be rolled in and out of the vessel through a quarter ramp located on the starboard side. San Sha 1 Hao is outfitted with extra large capacity tanks for storing FW and HFO (Heavy Fuel Oil), which allows it to supply cargo to some smaller islands too.
The vessel can sail normally against BF 8 wind and carry nine times more cargo than that of Qiongsha No. 3, the existing transport vessel for Sansha City.
A helicopter landing deck is also fitted out in the vessel for island patrolling, and maritime rescue during emergency.
Accommodation
"The Ro-Pax vessel is powered by a single diesel engine, which generates 8,660kW of power."
San Sha 1 Hao carries 444 passengers complemented by a crew of 91 members. On-board facilities include a sun deck, an internet café, a cigar bar, library, conference rooms, and cinema. Additional facilities on-board the vessel include an exclusive VIP dining area and a cafeteria providing seating arrangements for 200 people.
The vessel is outfitted to perform regular ferry services between ports and can also be converted into a long term cruise vessel for voyages of 30 days.
Engine and propulsion
The Ro-Pax vessel is powered by a single diesel engine, which generates 8,660kW of power. It is also fitted with a bow thruster supplied by Nanjing High Accurate Marine Equipment, a subsidiary of NGC Marine Group.
The propulsion system is of twin screw configuration and the propeller shaft is a three-bearing support structure with the total length of the shafts reaching up to 23m.
The strong propeller and propulsion system generate very less noise and vibrations. It allows the Ro-Pax vessel to attain a maximum navigational speed of 19k.