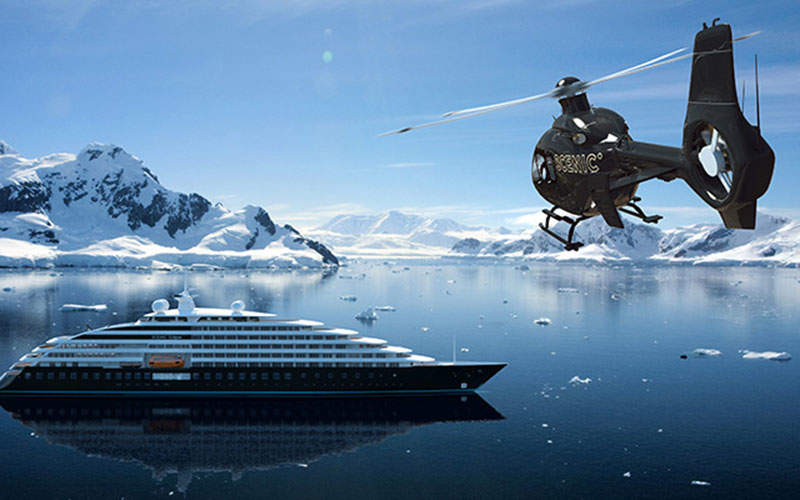 Scenic Eclipse features two helicopters onboard. Credit: Scenic.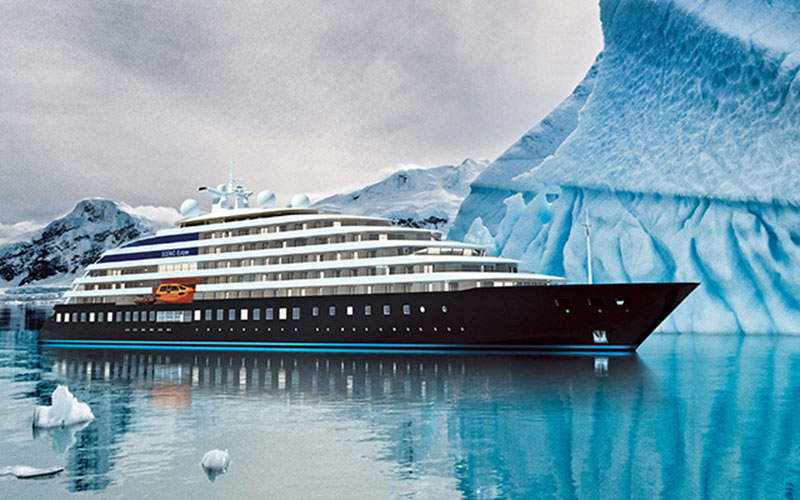 The yacht is designed to navigate through Arctic and Antarctic waters in the summer. Credit: Scenic.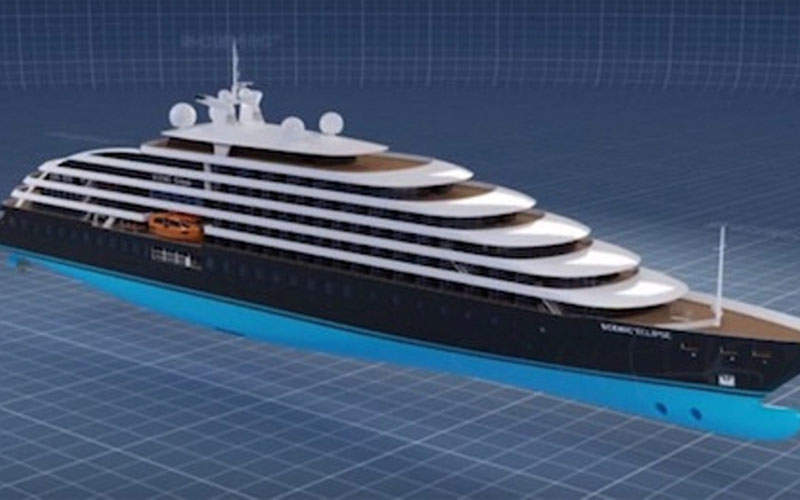 Scenic Eclipse features eight decks. Credit: Scenic.
Scenic Eclipse is a six-star, ultra-luxury mega yacht owned by Australian river cruise operator Scenic. It is the first ocean cruise ship for the company, which specialises in luxury river cruises.
The yacht is designed for an Ice Class 1A Super rating that enables it to navigate through Arctic and Antarctic waters in the summer. It also has the Polar Class 6 rating, the highest passenger ship ice-class rating, to navigate in challenging seas safely.
Scenic announced the launch of the vessel in January 2016 and awarded the construction contract to the Uljanik Group based in Croatia. The vessel's delivery was, however, delayed due to financial challenges faced by the Uljanik Group. In February 2019, DIV Group and Fincantieri came to the rescue of Uljanik Group by purchasing an interest in the company and, subsequently, led the construction of Scenic Eclipse.
The yacht was finally delivered in  August 2019, followed by a christening ceremony in September 2019. The shipbuilding contract also includes an option for a second ship to be delivered in 2020.
Scenic Eclipse ship embarked on her maiden voyage from Reykjavík to Quebec in August 2019, followed by discovery voyages to the Americas, Antarctica, Europe and the Mediterranean, as well as the Arctic and Norwegian Fjords.
Scenic Eclipse yacht design

"The vessel's design incorporates state-of-the-art engineering and external design inspired by the sleek contours of a mega yacht."
Designed by Finnish ship designing and engineering company Foreship, Scenic Eclipse is the world's safest and most technologically advanced discovery yacht.
The vessel's design incorporates state-of-the-art engineering and external design inspired by the sleek contours of a mega yacht. It has a total length of168m, moulded breadth of 21.5m and draught of 5.3m. Its gross tonnage is 17,085t and cruising speed is 17kts.
Scenic Eclipse ship deck plan
The luxury yacht features eight decks, deck three to deck ten. The first deck houses mud rooms for easy zodiac entry, tender entrance and a self-service guest laundry.
Deck four comprises of a welcome lobby and reception, main lounge, lobby bar, Pan Asian restaurant, Italian and steak restaurant, boutique, theatre, excursion centre and a library.
The fifth deck features a contemporary fine dining restaurant, ocean café and lounge, observation lounge and bar, and an open viewing deck at bow and guest suites.
Deck six houses a spa sanctuary, shallow plunge pools and guest suites. The seventh deck features indoor / outdoor Al fresco restaurant, indoor / outdoor pool, a beauty salon, gym, yoga and pilates studio, outdoor terrace and guest suites.
Deck eight is equipped with a helipad and hangars, as well as guest suites. The ninth deck has a helicopter hangar, spa and penthouse suites, while deck ten features a sun terrace.
Scenic Eclipse suites and accommodation

The yacht carries 228 guests (restricted to 200 in Polar regions) in 114 all-veranda suites. It carries a crew of 172 for normal regions and 182 for Polar regions.
None of the veranda suites are smaller than 32m² with the biggest suite having an area of 233m², which is bigger than a tennis court.
Available suites include 66 verandah suites, 28 deluxe verandah suites, 14 spa suites, grand panorama and owner's penthouse suites.
Veranda suites are 32m² in size and offer a private veranda, separate bedroom and living area with floor-to-ceiling windows. It features a pillow menu, mini-bar, deluxe furnishing, HDTV and climate control.
At 38m², deluxe veranda suites are larger than veranda suites and feature larger bedroom and living areas.
Spa suites, located on decks eight and nine, are 48m² in size and have living and bedroom areas with luxury amenities. They feature spa baths and offer space to relax and views from the veranda.
Grand panorama suites are located on decks six and eight at the front of the yacht. At 56m², the suites offer curved verandas on deck six, and a veranda with 43m² terrace on deck eight.
Owner's penthouse suites are located in a prime position on the ninth deck at the bow of the yacht. Featuring a 125m² area, the suites offer luxury facilities available in both suites and master suites, and also feature a 60m² terrace.
Combining the owner's penthouse suite with a spa suite will create a two-bedroom penthouse suite with an area of 233m², which offers the best of all facilities.
The interior design for the suites, inspired by leading luxury hotels, was provided by Karen Moroney.
Dining options on the six-star yacht
The yacht offers six onboard dining options, from casual to fine dining, at Elements, Yacht Club, Koko's, Lumière, Azure Bar & Café, Epicure
Options include a contemporary French fine dining restaurant with a capacity for 44 people, Pan Asian restaurant with 100 seats, an Italian and steak restaurant with the same capacity, an al fresco indoor/outdoor restaurant for 125 people, and an Ocean café and lounge with a capacity of 40.Food is prepared using locally sourced produce and includes regional cuisines drawn from the regions the yacht cruises through.
The yacht features a Whisky Bar at the main lounge displaying the ship's 110 varieties of whisky.
Entertainment and relaxation on Scenic Eclipse cruise ship

The luxury yacht features a 5,000ft² spa that offers an extensive menu of luxury treatments, indoor and outdoor jacuzzis and plunge pools. Other relaxation areas include an indoor heated pool, which features a retractable roof, plunge pool, gym and a separate yoga and pilates studio.
Sun deck jacuzzis offer guests another area to relax, as well as spacious bars and lounges.
Guests can be entertained in the 240-seat theatre that offers programmes and lectures by an onboard discovery team. The team, which includes dedicated Antarctic and Arctic experts in their fields, keep guests updated with a range of subjects and interests.
Excursions offered by Scenic Eclipse

The yacht offers in-air, underwater, and shore excursions to guests. It features two six-seater, twin-engine helicopters, one seven-seater submarine and 12 zodiacs and kayaks onboard.
Excursions will take guests to inaccessible places by flying low over the dramatic crags of the Scottish Isles, the volcanic wonders of Italy or the coral cays of the Caribbean.
The submarine is custom-built for optimal sightseeing to rarely visited places such as the underwater ruins in Greece and Turkey, as well as kaleidoscopic coral reefs in the Caribbean.
Through scuba diving, guests can experience a variety of underwater wildlife and colourful coral reefs.
Guests can also enjoy shore excursions on zodiacs and kayaks in the Arctic and Mediterranean seas. A unique mudroom enables guests to embark and disembark for their excursions quickly and easily.
Technology used
Scenic Eclipse is built with the latest technological advancements to ensure the highest safety. It features custom-built stabilisers that are 50% larger than other ships and an ice-strengthened hull.
State-of-the-art fins that can adjust themselves enable the ship to handle the strongest water movements and to remain stable, even at zero speeds.
Unlike other vessels that use traditional anchors, Scenic Eclipse is fitted with a dynamic positioning system that uses GPS to accurately maintain the vessel's position, which is also an eco-friendly way to control the ship.
The vessel also features other environmentally sustainable systems, including advanced water treatment systems and efficient low-impact engines.