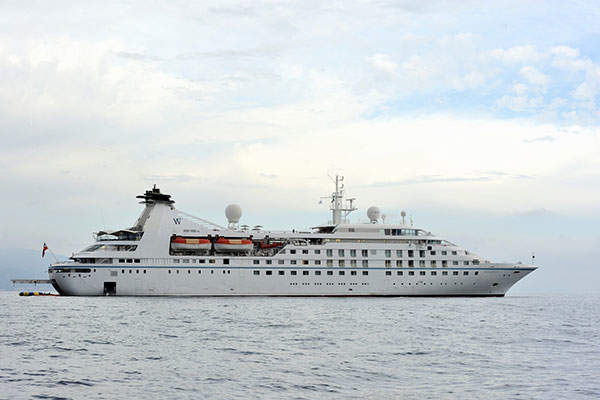 Star Breeze is the second luxury yacht in Windstar Cruises' all-suite power yacht fleet. Image: courtesy of Windstar Cruises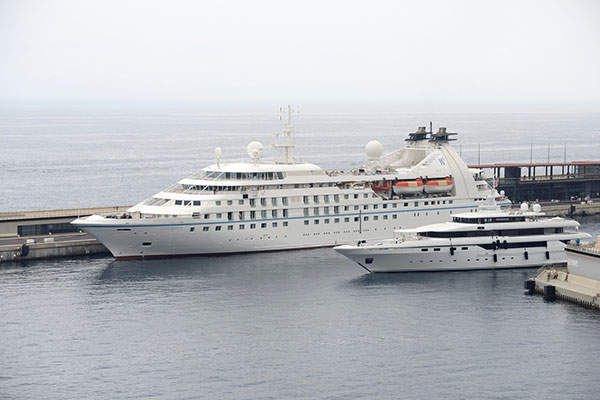 Star Breeze along with Star Legend joined Star Pride, marking the completion of the acquisition. Image: courtesy of Windstar Cruises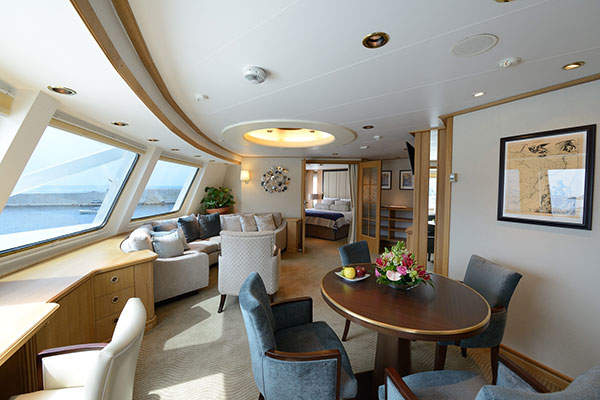 Star Breeze features two owner suites on deck 6. Image: courtesy of Windstar Cruises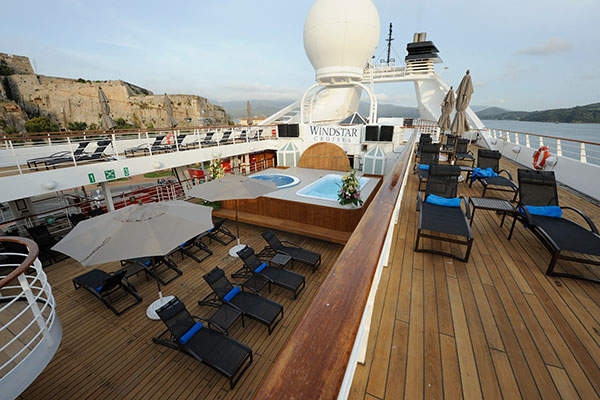 Deck 8 is the top deck of the Star Breeze yacht. Image: courtesy of Windstar Cruises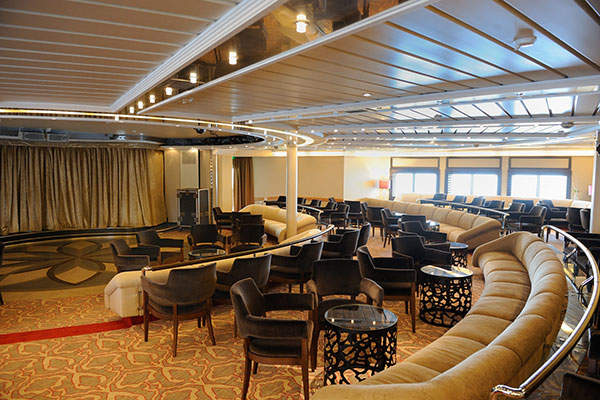 Compass Rose, earlier a club space, has been redesigned. Image: courtesy of Windstar Cruises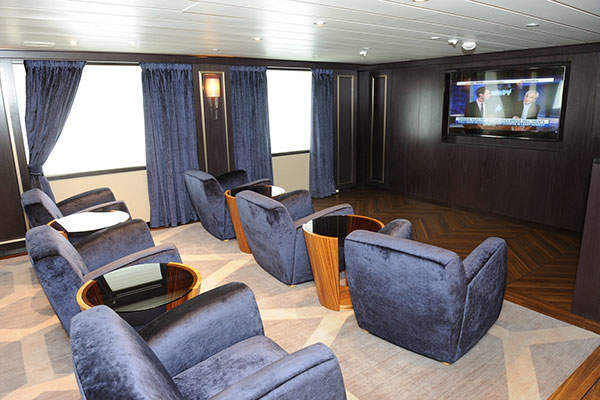 The star screening room aboard Star Breeze, where guests can view movies. Image: courtesy of Windstar Cruises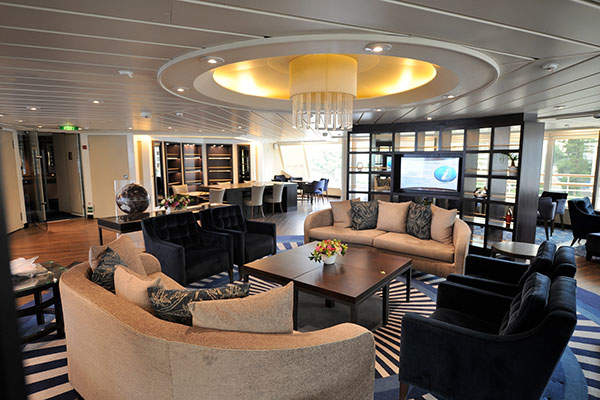 Star Breeze's top deck features a Yacht Club. Image: courtesy of Windstar Cruises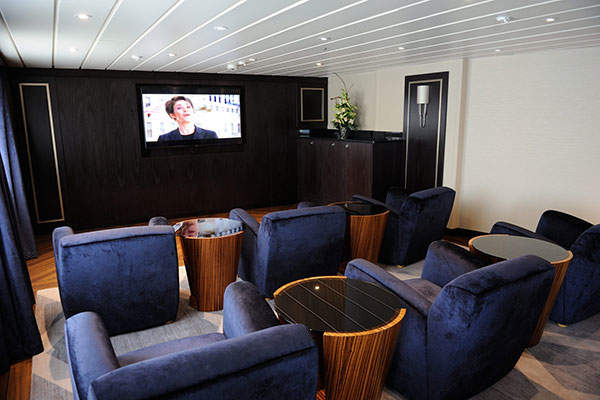 The Movie Room onboard the Star Breeze luxury yacht. Image: courtesy of Windstar Cruises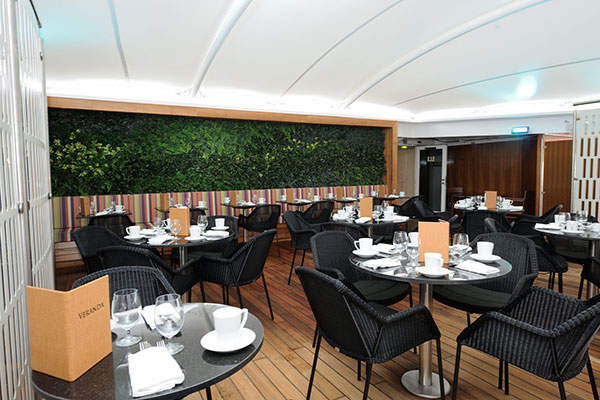 The restaurant at the aft has been renamed the Veranda. Image: courtesy of Windstar Cruises
Star Breeze (formerly Seabourn Spirit), is the second luxury yacht in Windstar Cruises' all-suite power-yacht fleet. The yacht sailed on her inaugural voyage through France, Monaco, and Italy in May 2015.
Windstar Cruises signed an agreement with Seabourn to buy the latter's three smaller cruise ships Seabourn Pride (now Star Pride), Seabourn Legend (now Star Legend) and Seabourn Spirit in February 2013. The purchase doubled Windstar's fleet of luxury sailing yachts from three to six, making it one of the biggest small cruise ship operators.
Star Breeze and Star Legend underwent an $8.5m, full stem-to-stern, three-week renovation in the San Giorgio del Porto shipyard in Genoa, Italy.
Star Breeze was delivered to Windstar in April 2015, and was christened in May 2015. Star Legend also entered into service in May 2015. The two ships joined their sister ship, Star Pride, marking the completion of the acquisition.
---
---
Polarcus Amani is the seventh 3D seismic vessel to join the Polarcus fleet and the third vessel in the Polarcus fleet featuring the ULSTEIN SX134 design.
---
Star Breeze technical specifications and deck details
The yacht is 134m-long, 19m-wide, and 5m in draft, and has a capacity of 9,975t. It is powered by four Bergen marine diesel engines driving a twin propeller. The yacht can cruise at a speed of 15kt.
Star Breeze features a total of six passenger decks, designated 3, 4, 5, 6, 7, and 8. The renovated decks were expanded by 4ft on each side, providing more space for guests to relax in lounge chairs.
Deck 3 features the Amphor A restaurant, a water-sports platform, a galley, a medical facility, and accommodation for officers. Deck 4 has 38 ocean-view suites and officers' accommodation. Deck 5 features two classic suites, 12 balcony suites, 16 ocean-view suites, reception, screening room, and a lounge.
Deck 6 has two owner's suites, 10 ocean-view suites, 16 balcony suites, two classic suites, a signature shop, a library / business centre, a casino, and compass rose. Deck 7 houses a bridge, windspa, fitness centre, counter-current pool and whirlpool, courtyard and veranda. It also has a beauty salon and radio room. The top deck, or deck 8, features a Yacht club, a star bar and a lounge.
Accommodation on-board Star Breeze
Star Breeze offers 106 suites that accommodate 212 guests. The suites are categorised into two owner's suites, four classic suites, 36 balcony suites and 64 ocean-view suites. The owner's suites extend over an area of 575ft2, while the classic suites offer a floor area between 400ft2 and 530ft2.
"Star Breeze offers 106 suites that accommodate 212 guests."
The newly-refurbished guest suites feature new carpets, linens, chairs, mattresses, couches, curtains, and headboards, in the latest colours, including vibrant blue hues, rich brown tones and opulent greys.
The suites offer a range of facilities, including a queen size bed with luxurious linens, a flat-screen TV with DVD player, a fully-stocked mini bar, a direct dial phone, wi-fi connectivity, a walk-in closet, ample drawer space, and bath area with granite countertop, full size tub and shower.
Renovated public spaces on the luxury yacht
As part of the renovation, public places on the ship were upgraded with a new decor, more modern upholstery, lighting, wall covering, carpeting, ceiling finishes, window treatments, and floors. The sand and marine colours used in the decor contrast with the warmth of wood finishes, creating a nautical feel.
"The suites offer a range of facilities, including a queen size bed with luxurious linens, a flat-screen TV with DVD player, wi-fi connectivity, and a walk-in closet."
The observation lounges on the top deck have been transformed into a coffee bar and lounge, where guests can enjoy espresso and light bites. The lounge area has been completely renovated with new flooring furniture and an open layout offering a shoreline view. The reception area has new carpets in Windstar's signature blue, along with new accent lighting and art.
The club space is transformed into Compass Rose by redesigning the space with modern furnishings. The Star Bar has been expanded with teak decking, new stools, new canopy, and lighting.
Dining aboard Star Breeze
The dining venues aboard Star Breeze carry casual elegance and offer comfortable ambience, making guests feel free to sit and eat. The Amphor A restaurant on deck 3 is a formal dining restaurant redesigned with Murano glass mirror panels, new soft lighting, wall coverings and art work. It features a new seating layout and offers contemporary, international menus and fresh local dishes.
Veranda is another dining space, offering an inviting breakfast and lunch buffet with outdoor seating options. It serves a variety of recipes with local ingredients.
At night, Veranda is transformed into Candles, which offers a unique dining experience with table service under the stars. Guests can also avail the 24-hour in-room dining service aboard the ship.
Star Breeze itineraries
After completing the inaugural voyage, Star Breeze will cruise in the Mediterranean during the summer season. In the Mediterranean autumn, it will perform an ocean-crossing and will set out for a new Caribbean itinerary, the Icons of the Dutch Caribbean. It will sail in Panama and Costa Rica during the winter.