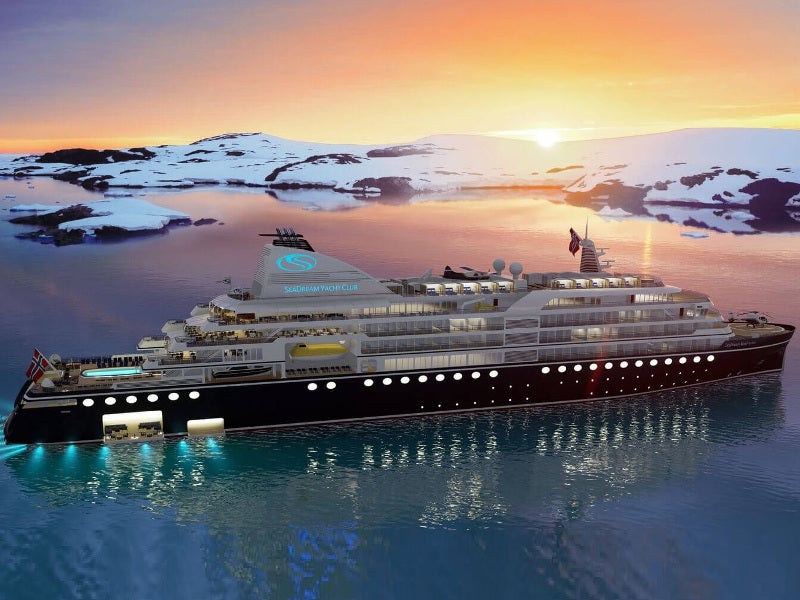 SeaDream Innovation is an ultra-luxury yacht being developed by SeaDream Yacht Club, a family owned cruise line.
The revolutionary yacht will launch the global yachting concept and is expected to sail to polar and tropical destinations in all seven continents during its inaugural season.
The yacht will be built by Damen Shipyards Group at its new Mangalia shipyard in Romania. The vessel's design is targeted at achieving the ice-class Polar Code 6 notation.
Construction of the yacht is expected to begin in October 2019, while delivery is scheduled in September 2021.
SeaDream Innovation yacht design details
SeaDream Innovation is claimed to be the world's most advanced hybrid ship and will sail to the most remote and unique destinations across the globe.
The yacht will integrate environmentally friendly design features. It secured a $1.8m grant from Enova, which is owned by the Norwegian Ministry of Climate and Environment.
The vessel will have a total length of 164.5m, a breadth of 21.4m and a gross tonnage of 15,600t.
Deck and accommodation details
The luxury yacht will have nine decks, including four passenger decks. Passengers will be served by 210 on-board crew members.
The yacht will accommodate 220 guests in its ocean-view suites. It will offer the best experience to its passengers with a one-to-one guest-to-crew ratio.
SeaDream Innovation will feature six types of suites offering ocean views. Deck four will have 22 discovery suites, each built in a 29m² area with sitting areas, a walk-in closet and entertainment system.
Deck five will feature Archer and Sverdrup suites, which are 46.8m² and 55.8m² in size respectively. Deck six will house Eriksson and Heyerdahl suites, which will be the largest suites on board.
Journey suites will be available in decks five, six and seven. Each suite will be 29m² in size and will feature a veranda. All eight 42.3m² adventurer suites will be located on deck seven.
Entertainment and dining facilities
The luxury yacht will provide a number of entertainment activities, including films on a large outdoor screen, a yacht-top bar, outdoor Balinese dream beds, as well as a library and casino.
It will feature a pool area, seaplane, spa, chaise lounge area and whirlpool bath area, as well as a dedicated space for a helipad and helicopter.
SeaDream's Thai spa will offer body, face, hair and nail treatments. Outdoor activities offered by SeaDream will include mountain bike trips, exotic and isolated beach trips and food market visits with the chef.
"SeaDream Innovation is claimed to be the world's most advanced hybrid ship and will sail to the most remote and unique destinations across the globe."
The guests will have the opportunity to explore polar regions with trained expedition crew. The vessel will also feature an on board marine laboratory for resident scientists.
SeaDream Innovation will have an international menu comprised of local flavours. It will feature a five-star gourmet kitchen with a range of wines in its fully stocked wine cellar.
The Dining Salon and the Topside Restaurant will have an à la carte menu, including introductory first courses to decadent desserts. The yacht will also provide vegan, vegetarian and plant-based dishes, and a raw food menu.
The yacht will offer a range of water sports equipment, including personal watercraft, laser sailboats, Hobie Cat catamarans, kayaks, a banana boat, snorkelling gear, zodiac rides and stand-up paddle boards.
SeaDream Innovation propulsion
The luxury yacht will be powered by four modern diesel engines and two podded propellers. It will burn distillate marine gas oil (MGO).
The yacht will be equipped with 4MWh large batteries, which enable silent sailing and emission-free voyage for up to three hours.
The air-conditioners, pool and freshwater systems will be powered by an extensive heat recovery system. The organic rankine cycle (ORC) system on board the vessel can generate up to 150kW power.
SeaDream Innovation itineraries
SeaDream Innovation will embark on its 70-day inaugural voyage from London, UK, to Ushuaia, Argentina, in September 2021.
The yacht will then sail on a 20-day trip to the Falklands, South Georgia and Antarctica in November 2021.
It will also visit other regions, including the Arctic, Mediterranean, North and South America, Europe, Africa, Asia, Oceania and the South Pacific and the Caribbean.
Contractors involved
ALMACO was contracted by Damen Shipyards to deliver all cabin and catering areas, including galleys, provision stores and laundry in June 2019.