SeaOrbiter Marine Research Vessel
SeaOrbiter is an oceanic exploration vessel and a universal scientific laboratory designed by the architect Jacques Rougerie.
Project Type
Ocean exploration vessel
Architect
Jacques Rougerie
Expected Start of Operations
2016
Expand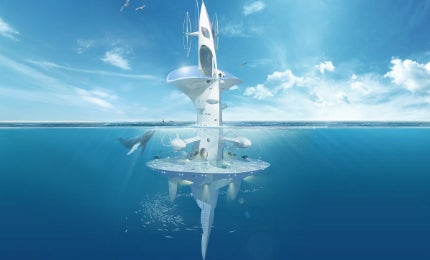 SeaOrbiter is an oceanic exploration vessel and a universal scientific laboratory designed by the architect Jacques Rougerie.
The floating vessel will be the first facility to provide explorers the capability to conduct oceanic underwater missions 24/7 at a stretch of six months and more.
The project is being developed by SeaOrbiter SAS, a company comprising an international team of experts headed by Jacques Rougerie and supported by a number of industrial, academic, technological, scientific, educational and media partners.
Following completion of construction in 2016, the vessel will undergo six months of sea trials in the Mediterranean Sea, perform exploratory missions in the same sea for roughly a year and will later be deployed for long-term missions in the Atlantic Ocean.
Construction of SeaOrbiter
"A lookout post will provide a platform for marine life observation from the surface."
Construction of the first component of the ocean exploration vessel, the Eye of SeaOrbiter, was completed in May 2015. The 18m high component will accommodate the vessel's lookout post, communication systems and an attached wind turbine.
It was constructed at a cost of €325,000 (approximately $363,283), using donations from KissKissBankBank, a crowdfunding platform, and was constructed at the shipyard of ACCO.
Sealium, a recyclable aluminium brand created and patented by Constellium, is being used as the main material for constructing the vessel.
SeaOrbiter design specifications
The vertically aligned vessel will be 58m high, weigh 550t and have a displacement of 2,600t. It will be positioned partly 27m above the water line and partly 31m below the water line.
It will provide accommodation facilities for up to 22 people and will be supplied with daily provisions by boats. Crew members will comprise six people for vessel operations, four scientific operators or researchers, two multimedia operators, and six aquanauts for developing specific programmes in the vessel's hyperbaric laboratory.
SeaOrbiter will be capable of accessing ports by folding up its 180t keel and readjusting its ballast system, reducing its draft to 8m.
Deck plan for the oceanic research vessel
---
---
The vessel operates globally and provides an opportunity for researchers to focus on some of the world's most serious environmental concerns, such as underwater earthquakes and landslides.
---
The vessel will comprise 12 decks, six of which will be located underwater and six above water. The lowest deck will house a technical zone and a dive pit for submarines, the second deck will house living quarters in pressurised mode, an underwater garage and a diving zone, and the third deck will house living quarters in atmospheric pressure.
Deck four will have a communication zone and sanitary area, while the fifth deck will house a bunker area and a VIP cabin. The sixth deck will feature a bunker area and the captain's room.
The seventh deck, the first deck above water, will include a multidisciplinary modular laboratory, a medical zone and a fitness area.
Deck eight will have a command bridge, deck nine will house a diving room and a scientific wet lab, while the tenth deck will featureengine rooms and storage areas. The next two decks will respectively have a boats storage area and the lookout post.
Equipments and facilities aboard SeaOrbiter
The vessel will be equipped with its own wind turbine and a 350m² solar facility to meet its electricity needs.
Other areas and facilities aboard the vessel include an outside deck equipped with two handling cranes, an above-water, retractable, rear access ladder that can be lowered to the sea and a winch and abyssal platform.
The vessel will also feature diver platforms equipped with portable inflatable chambers and platforms for mini-submarines (diving drones), as well as autonomous underwater vehicles (AUVs).
The vessel will be capable of deploying various exploratory devices under water and operating in silent mode.
A lookout post will provide a platform for marine life observation from the surface. The first 50m beneath the surface can be explored by divers living within the atmospheric pressure.
Dives at depths between 10m and 100m can be performed by saturation divers, water depths between 150m and 1,000m can be explored by deploying ROVs and submarines, and depths of up to 6,000m can be explored by deploying AUVs.
The hyperbaric laboratory will be specifically designed as a space simulator, where Nasa and European Space Agency (ESA) can perform experiments and train astronauts.
SeaOrbiter project partners
The official partner for the project is Rolex, while industrial partners include Technip, ABB, Constellium, Bureau Veritas and Ponant.
Scientific and education partners for the project include Infremer, CNRS (the French National Centre for Scientific Research), ESA, Muséum national d'histoire naturelle (MNHN), University of Cincinnati, University of Hawai'i in Manoa, World Ocean Network, Nausicaá la Mer est sur Terre, the TerraMar Project, Musée océanographique de Monaco, and Fondation Prince Albert II de Monaco.
Technological partners include DCNS, Marintek, Cervval, Airbus Group, Microsoft, Tietronix Software, Artcode, Suboceana and Audionaute, while media partners include National Geographic and OCEAN71 Magazine.
Academic partners include Global Forum, Cluster Maritime Français (CMF), Institut Français de la Mer (IFM), Pôle Mer PACA, Region Pays de la Loire, United Nations Educational, Scientific and Cultural Organization (UNESCO) and IUCN.
Cote d'Opale is the latest E-Flexer-class roll-on/roll-off passenger (RoPax) ferry operated by Det Forenede Dampskibs-Selskab (DFDS), a Danish international shipping…