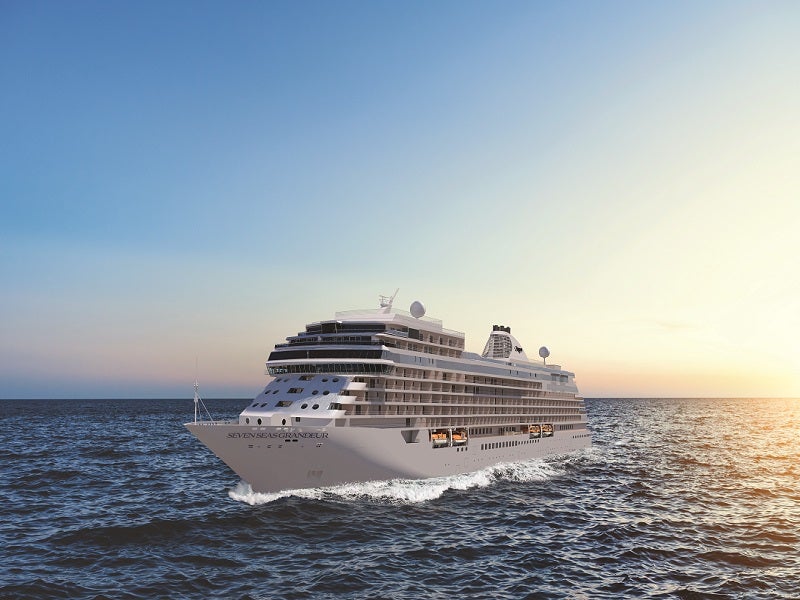 Seven Seas Grandeur is the third luxury cruise ship being built by Fincantieri for Regent Seven Seas Cruises. Credit: Regent Seven Seas Cruises.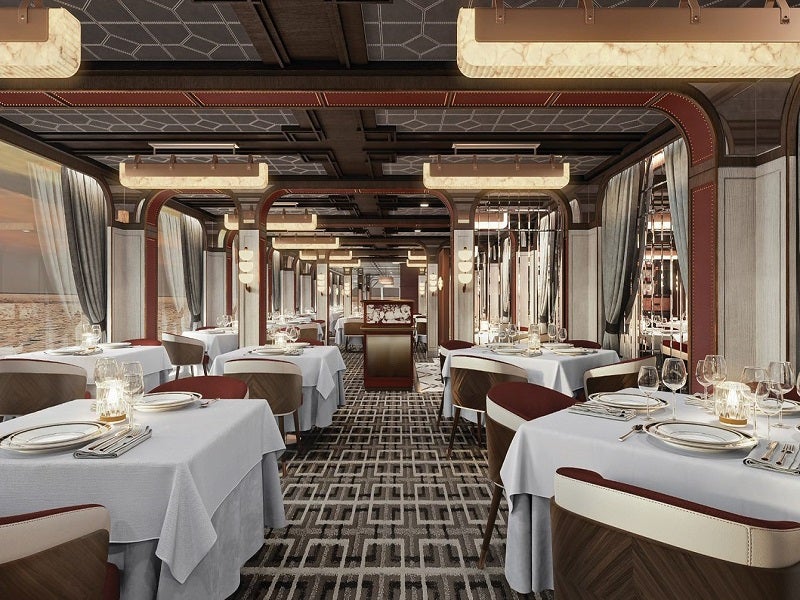 The luxury vessel is expected commence inaugural sailings in November 2023. Credit: Regent Seven Seas Cruises.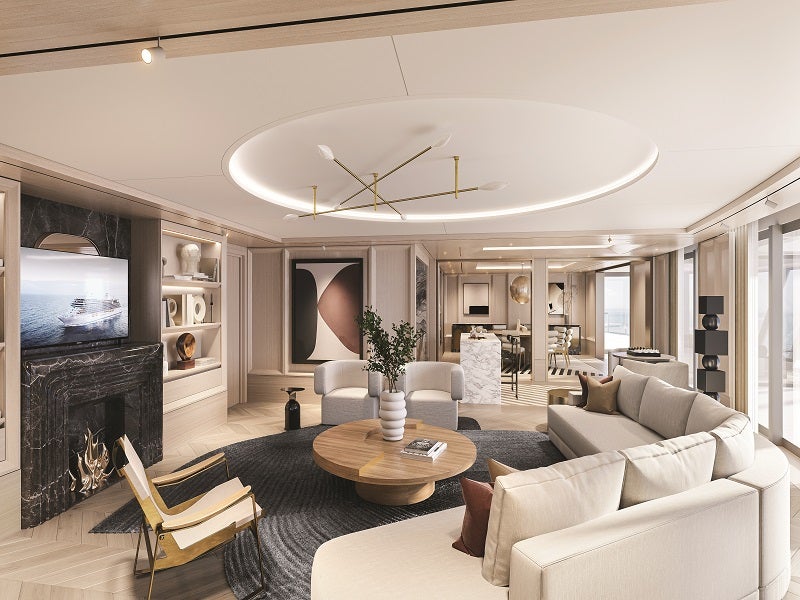 The Seven Seas Grandeur will accommodate up to 746 guests across 373 luxurious suites. Credit: Regent Seven Seas Cruises.
Seven Seas Grandeur is the third luxury cruise ship Fincantieri is building for Regent Seven Seas Cruises, a luxury line owned by Norwegian Cruise Line. The vessel is a sister ship to Seven Seas Explorer and Seven Seas Splendor.
The steel-cutting ceremony for Seven Seas Grandeur was held in November 2021, while the keel-laying ceremony was held in July 2022 at Fincantieri's shipyard in Ancona, Italy. The vessel was floated out from the dry dock for the first time in January 2023.
Following delivery in November 2023, the vessel will set sail on its maiden voyage the same month.
Seven Seas Grandeur cruise ship design and features
The Seven Seas Grandeur will measure 735ft (224m) long and 102ft (31m) wide. It will have a gross tonnage of 55,500t with 14 decks and accommodate 746 guests across 373 suites. The ship will also host 548 crew members, which is among the highest staff-to-guest ratios in the industry.
The interior design was handled by Studio DADO. The cruise ship will feature several suites, an observation lounge on the top deck and a large atrium that spans two decks.
Regent Seven Seas Cruises collaborated with Fabergé, a globally revered jewellery maison, to create a rare, first-of-its-kind Fabergé Egg that will permanently reside at sea onboard the Seven Seas Grandeur and titled Journey in Jewels.
Accommodation aboard the Seven Seas Grandeur
The Regent suites on deck 14 will have an area of 292.7m2 with a 120m2 balcony. The suites feature two spacious bedrooms, bathrooms, a living room with customised bar set-up and a dining room. They also feature a private in-suite spa offering treatments, a sauna, a steam room and a jetted bathtub.
The Master suites on decks eight and nine will feature 98.9m2 to 103.5m2 of space with balconies varying in size from 77.2m2 to 92.4m2. Each suite will feature two spacious bedrooms and two bathrooms. The cruise ship will have four Master suites in total.
The Grand suites will have 79.3m2 to 94.1m2 of living space with 25.7m2 to 85.1m2 private balconies and feature a bedroom and two bathrooms. The vessel will feature eight Grand suites. The 18 Grandeur suites will feature 60.9m2 of living space with 15.4m2-24.4m2 balconies, a living room, a bedroom and one and a half bathrooms. The two suites will be spread across decks seven to 12.
A total of four Seven Seas suites will be located on decks seven and eight with an area of 53.6m2 and a 22m2 balcony. The suite will feature a spacious bedroom, marble bathroom and living room.
The cruise ship will feature 55 Penthouse suites, with 41.8m2 of living space with private balconies. Penthouse suites will have a separate seating area, with amenities such as butler service, daily canapés, in-suite windows tablet and Bose Bluetooth speakers.
The Concierge and Superior suites will feature 38.6m2-43.1m2 of space including balconies. The Veranda and Deluxe Veranda suites will have 28.5m2-33.5m2 of space including the veranda.
Dining venues
The cruise line's signature specialty restaurant Compass Rose will be on deck four, where guests can uniquely curate their own dining experience. The restaurant will offer daily specials and a wide vegan and vegetarian menu.
The Chartreuse on deck 10 will offer to feature a classic French fine dining experience with a modern twist and amazing ocean views. Deck 10 will also house the Prime 7 steakhouse.
Guests of the Regent suite on Seven Seas Grandeur will have exclusive access to The Study, a private, ornately decorated dining room with seating for up to 12 guests.
Pacific Rim on deck five will offer a diverse Pan-Asian dining experience and a wide selection of sweet desserts.
The Sette Mari at La Veranda on deck 11 will be a Mediterranean coastal landscape-inspired dining venue serving meals inspired by the flavours of Italy. The restaurant's design is inspired by the Amalfi Coast.
Entertainment and other amenities
Seven Seas Grandeur will feature two boutiques on deck four, including a casino and the Grandeur lounge. Deck five will host the Coffee Connection café, the Meridian Lounge and a spa and wellness centre.
Guests can find a fitness centre offering yoga and aerobics classes, including spinning bikes, dumbbells, treadmills, Technogym strength machines, workout mats and step benches on deck six.
Deck 11 will feature a library and a Culinary Arts Kitchen with 18 cooking stations. It will also feature an observation lounge, where guests can immerse themselves with live music, a pool bar, a pool deck and a pool grill. A large theatre called the Constellation Theatre will be located on the lower level of deck four.
Itineraries
Seven Seas Grandeur is expected to set sail on her maiden voyage in November 2023 on a 14-night cruise from Barcelona, Spain to Miami, Florida, calling ports at Seville (Cadiz), Funchal (Madeira) and Bermuda.
The vessel will then embark on a seven-night sailing from Miami, exploring the Western Caribbean on visiting the cruise line's private island, Harvest Caye, Belize.