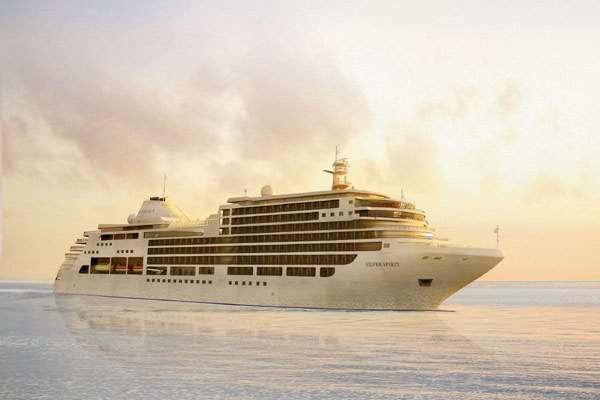 Rendering of the Silver Spirit, the fifth ship in the Silversea fleet.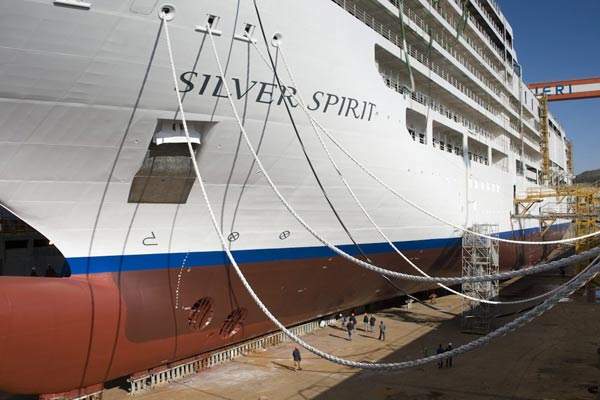 Silver Spirit under construction at the Ancona shipyard.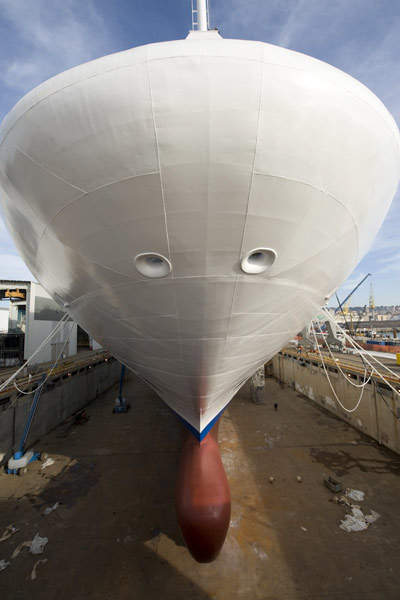 Silver Spirit's gross tonnage is 36,000t and it is 195m long. It has a moulded breadth of 26.5m and a maximum speed of 21kt.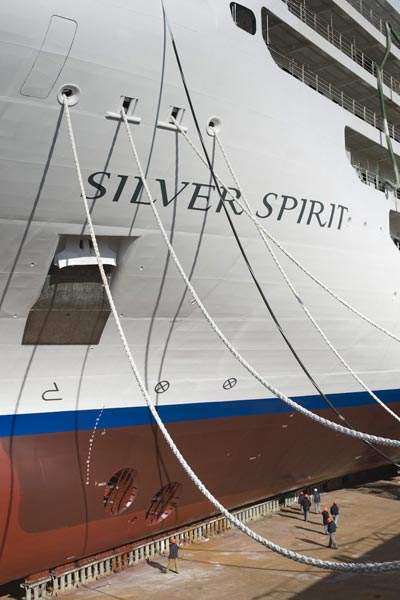 The ship will have a formal naming ceremony in the US before setting off on its Spirit of South America voyage.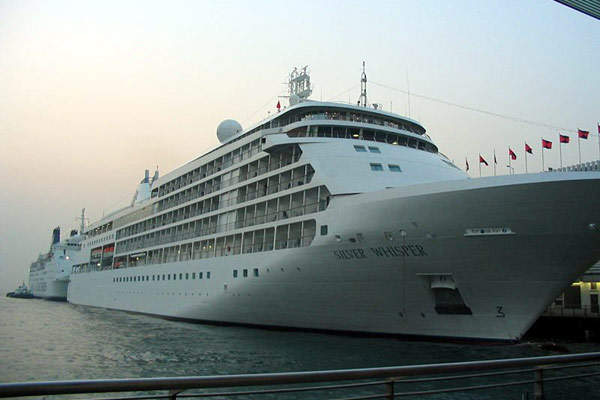 Silver Spirit's sister ship, Silver Whisper.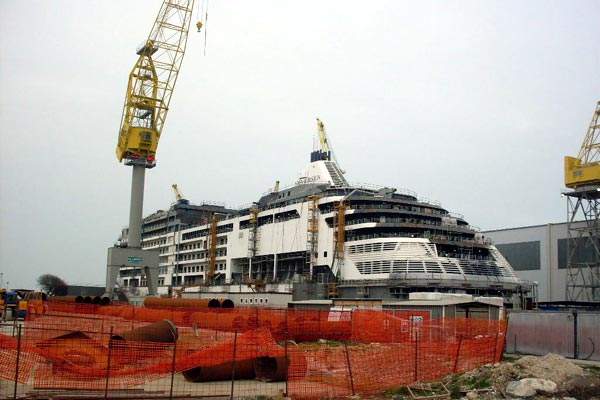 Construction on Silver Spirit in January 2009.
Silver Spirit is the latest addition to the Silversea Cruises fleet and sailed on its maiden voyage in December 2009. The sixth ship in the Silversea fleet, it sailed on an inaugural 11-day 'holiday spirit' trip from Barcelona to Lisbon on 23 December 2009. The ship, then undertook a 16-day maiden crossing across the Atlantic to Fort Lauderdale for a formal naming ceremony on 21 January 2010.
Silver Spirit construction
Silver Spirit was built by Fincantieri and in February 2009 it floated out of Ancona shipyard in Italy to begin the final stages of construction. The build of Silver Spirit was the first of its kind at Ancona and brings the total of Fincantieri shipyards involved in medium-sized cruise ship construction to four. The others are Montefalcone, Marghera and Genoa-Sestri Ponente.
"Silver Spirit was built by Fincantieri."
The ship was given its name in March 2008 and is the largest in the Silversea fleet – although it is small for a ship of its kind. It is Silversea Cruises' first new build since 2001's Silver Whisper. The ship's gross tonnage is 36,000t and it is 195m long. It has a moulded breadth of 26.5m and a maximum speed of 21kt.
The ship features two bow anchors, one spare anchor and two bow thrusters with controllable pitch propellers. There are also four electrically driven winches and the tank capacity is about 1,350m³.
There is a diesel electric power plant satisfying the ship's total electrical requirements in addition to ship propulsion. It is powered by two 8.5kw main propulsion electrical motors and two shafting lines each with a fixed pitch propeller. There is also one emergency generator diesel engine.
Special attention was paid to the design and construction of the vessel to limit noise generation and transmission.
Safety equipment
Silver Spirit is equipped with two partially enclosed diesel driven lifeboats, which can reach 6kt and each have a capacity of 150-people. There are also two cruise tender boats with 150-person capacity and two partially enclosed rescue lifeboats each with a 60-person capacity. There is lifesaving equipment, life-rafts and lifebuoys for a maximum of 960 people.
There are fire alarms and extinguishable water mist systems for passenger, officer, staff and crew accommodation, public rooms, stairs, gallery, laundry and machinery spaces. There is an analogue smoke detection system and one forward anti-heeling tanks system.
Cruise ship facilities
Silver Spirit features 270 ocean-view cabins with a maximum capacity of 540 passengers. All but 14 of the suites have a balcony and 26 are classed as Silver Suites, six Grand Suites and two Owner Suites. All passenger rooms have a separate seating area, a marble bathroom and a flat-screen TV and DVD player. These cabins also have day and night lighting settings.
"Silver Spirit was given its name in March 2008 and will be the largest in the Silversea fleet."
The cruise liner is decorated throughout in an art deco style and has one of the highest space-to-guest ratios, with 6,700ft³ for each passenger. There is a spa measuring 8,300ft with indoor and outdoor teak-decked pools with three whirlpools. There are also nine treatment rooms, a sauna and steam rooms.
A fitness centre with two aerobic studios, weight-training equipment and a climbing wall, offers an array of classes. The public spaces also include a library, internet cafe, duty free
shops and, in a first for Silversea, a children's programme.
Silver Spirit boasts six dining venues that include some Silversea regulars as well as two new eateries. The established offerings include the simply titled Restaurant – offering international breakfast, lunch and dinner menus by Relais & Châteaux, La Terrazza – a buffet style restaurant with ocean views, Le Champagne – a six-course experience in a romantic setting and the Pool Grill.
In addition, the ship also has the Stars Supper Club that offers supper accompanied with live music and dancing and, for an extra fee, guests can dine in the Asian-inspired Seishin Restaurant.
There is a show lounge, with seating for 330, a conference room with a maximum capacity for 25 and an observation lounge for 80 people. There is also a casino and sports bar which can accommodate 80 passengers.
There are six automatic passenger lifts (14-person capacity), four crew / service lifts and two cargo lifts. Every cabin has 100% fresh air supply. Passenger and officer cabins and offices utilise a single duct system. Crew cabins use a single duct with a 60% fresh air supply.
"Silver Spirit will come equipped with two partially enclosed diesel driven lifeboats."
Spirit of South America voyage
After its initial voyages it departed for a 91-day 'Spirit of South America' voyage. The route encompassed 20 different countries and islands on its trip, from Fort Lauderdale to Los Angeles and back to New York. It visited Rio de Janeiro during Carnival before cruising around Cape Horn, taking in the Mexican Riviera and the Panama Canal with overnight stops at Buenos Aires, Punta Arenas, Callao and Acapulco.
After this mammoth trip, Silver Spirit was relocated to cover the Mediterranean during its summer months before travelling back over the Atlantic to spend the rest of the year in the Caribbean.