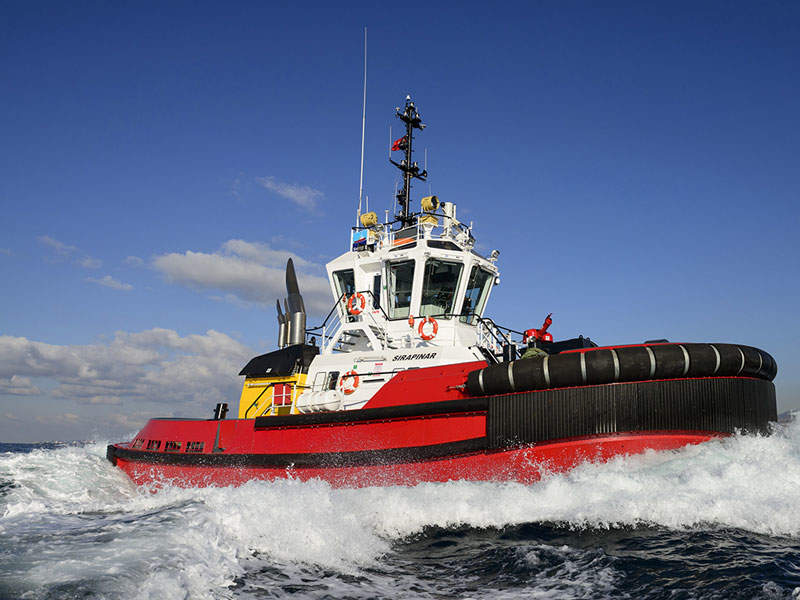 Sirapinar-class azimuth stern drive (ASD) tug is based on Robert Allan's RAmparts 2200 design. Image courtesy of Sanmar A.Ş.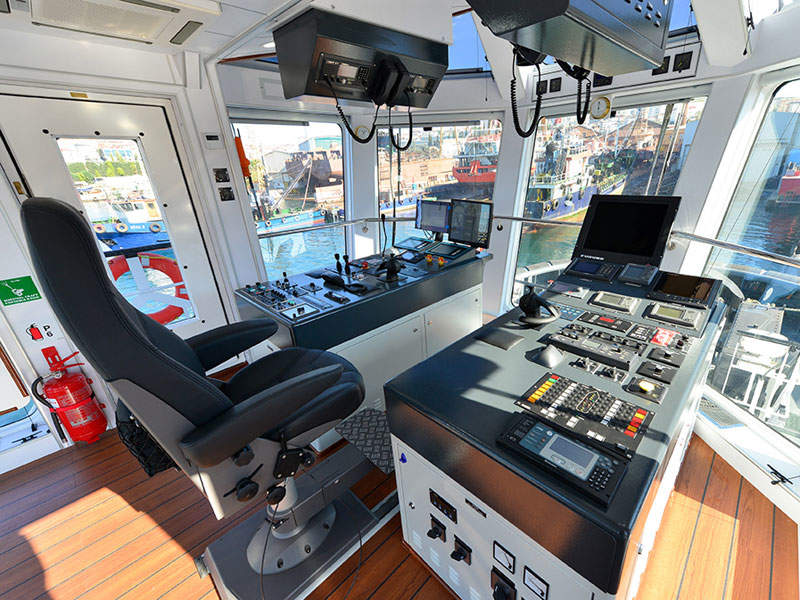 The wheelhouse on the Sirapinar Class ASD tug houses a single split control station. Image courtesy of Sanmar A.Ş.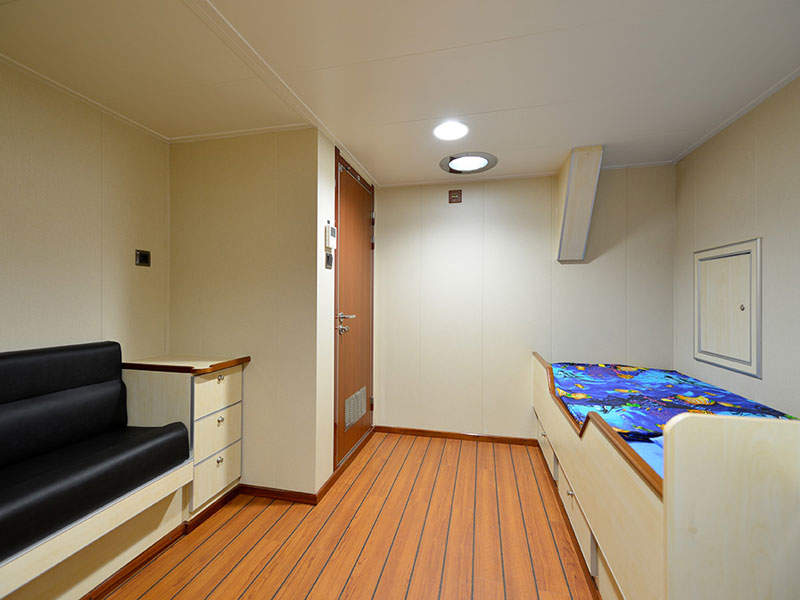 The Sirapinar-class ASD tug accommodates up to five personnel. Image courtesy of Sanmar A.Ş.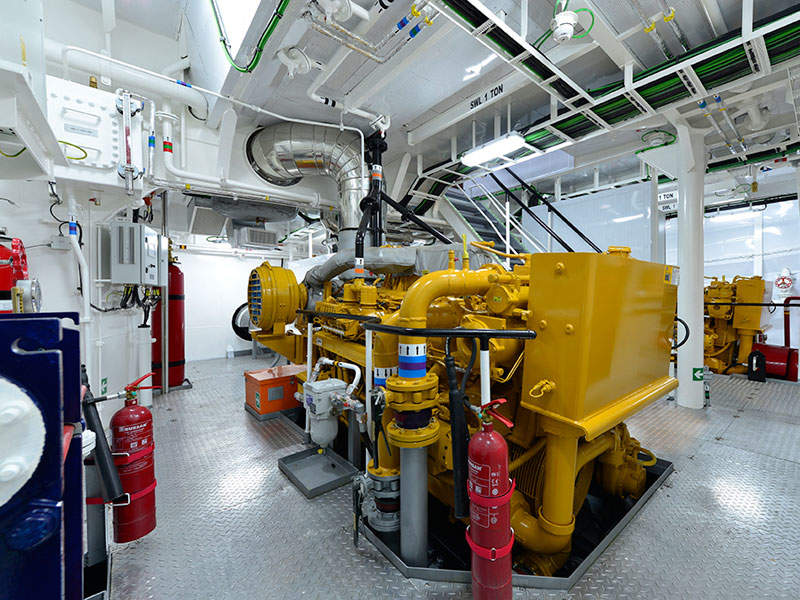 The tug is equipped with two Caterpillar 3512C main diesel engines. Image courtesy of Sanmar A.Ş.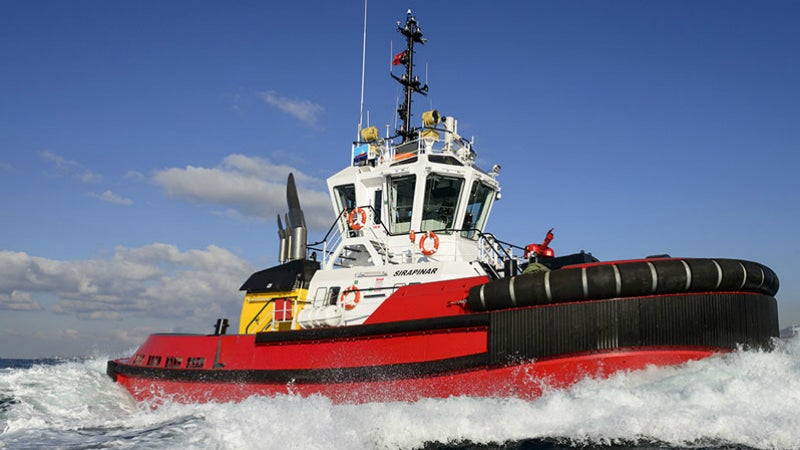 The Sirapinar-class azimuth stern drive (ASD) tugboats are being built by Sanmar to meet demand for compact tugs with high bollard pull capacity.
The class is based on the RAmparts 2200 design developed by Robert Allan Limited (RAL).
Sanmar placed a contract with RAL to design the new class based on the highly successful Bogacay series in mid-2015.
The first boat was delivered to Drydocks World in November 2016. Sanmar received a contract from Rimorchiatori Napoletani for two Sirapinar-class tugboats in March 2017.
Sirapinar-class tugs design
The hull and layout designs of the Sirapinar-class have been developed by RAL based on extensive feedback received from owners and crews. The twin Z-drive, diesel-powered tug delivers high-performance during ship-handling duties. The bow, stern, and sides of the boat are installed with a heavy-duty rubber fender system.
The design integrates high automation for low-manning operation according to the most commonly acceptable manning standards. The engines and essential equipment are resiliently mounted to meet the requirements of flag authorities.
The Sirapinar-class has an overall length of 22.4m, moulded breadth of 10.85m, moulded depth of 4.4m, extreme draft of 4.55m, and a hull draft of 3.15m. The bollard pull capacity in forward direction in 45t.
Each tug has the capacity to store 72m³ of fuel oil, 10.8m³ of potable water, 2m³ of main engine lube oil, 2.4m³ of foam, 1.1m³ of sludge, 5.5m³ of sewage, and 31.4m³ of ballast water.
Deck equipment and systems
The ASD tug is equipped with DMT Type TW-E 250KN electric double drum hawser winch. The fore winch has a brake-holding load of 150t and a pull of 250kN at 0-9m/min at low speed and 80kN at 0-28m/min at high speed.
A Data Hidrolik DTH 45-90P tow hook on the tug is equipped with pneumatic auto-release, while an electric capstan on aft offers a swivelling load capacity of 5t.
Optional equipment includes a class-certified crane, wire, pulley, and hook with overload protection, as well as a marine-grade hydraulic, knuckle-boom / folding boom-type crane, and a hydraulically-operated tow pin.
The onboard fire-fighting (FI-FI) equipment encompasses a pump with a delivering capacity of 1,200m³/hr and a water / foam remote-operated monitor with a capacity of 200/150m³/hr.
Navigation and communications
Navigation systems aboard the vessel include a radar, a global positioning system (GPS), a differential GPS (DGPS), an echo sounder, a chart plotter, a magnetic compass, an AIS autopilot, a speed log, and a bridge navigational watch and alarm system (BNWAS).
The tug integrates communication systems including an intercom, a telephone, and an A2 (GMDSS A2) global maritime distress and safety system. The ASD tug can be optionally equipped with hands-free very high-frequency (VHF) units and intercom, GMDSS A3, and secondary radar.
Accommodation facilities aboard Sirapinar-class
The ASD tug can serve a day boat or can be equipped with full accommodation facilities to house a crew of up to five personnel. Accommodation for the captain is also provided in the main deckhouse. The cabin includes washbasins, a mess, lounge, and galley.
The lower deck houses two double cabins with toilet and shower facilities. The floors of the cabins are furnished with teak imitating International Maritime Organisation (IMO) approved material.
Propulsion
The ASD tug is powered by two Caterpillar 3512C main diesel engines, which develop a total power output of 2,760bkW. The engine room also houses an acoustically isolated switchboard.
The shipboard electricity is supplied by two CAT C 4.4 diesel generators with a power output of 86ekW each. The propulsion system enables a speed of 11kt.