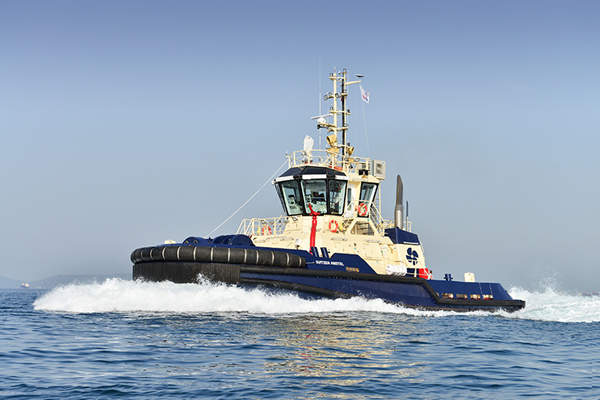 Bogacay Class tug is based on based on the RAmparts 2400 SX design. Image courtesy of Sanmar A.Ş.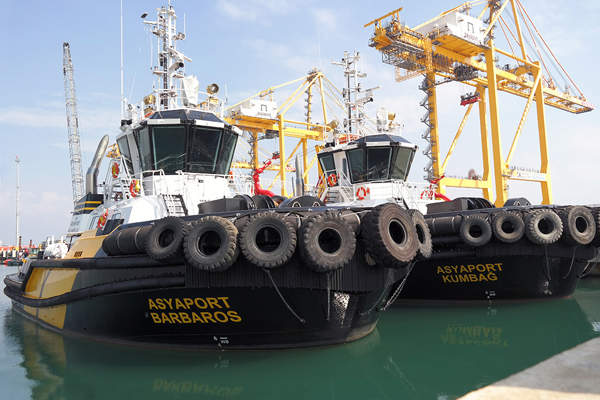 A pair of Boğaçay Class tugboats in service with Asyaport container terminal. Image courtesy of Sanmar A.Ş.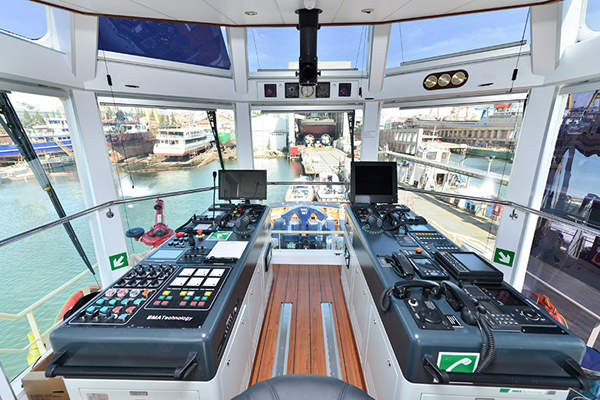 A close view of the captain's deck in Boğaçay Class tugboat Svitzer Amstel. Image courtesy of Sanmar A.Ş.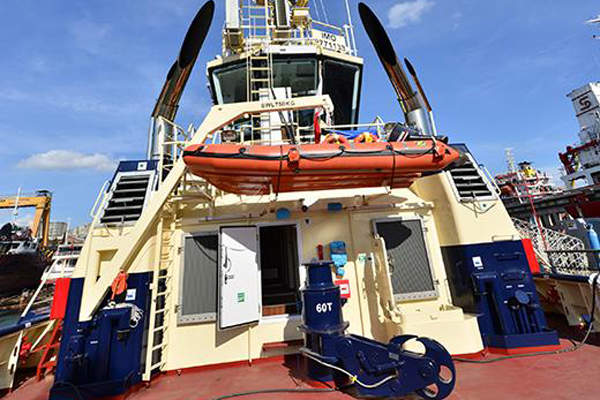 The Boğaçay Class tugboat can accommodate up to six crew members. Image courtesy of Sanmar A.Ş.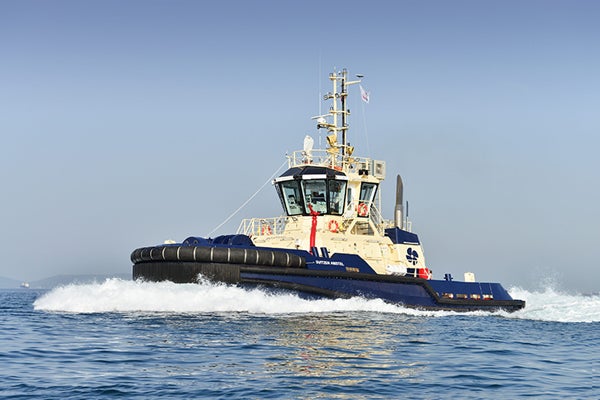 Sanmar Shipyard's Boğaçay Class tugs meet the under-24m rule for load line and tonnage conventions.
The azimuth stern drive (ASD) tugboats are based on the RAmparts 2400 Sanmar Exclusive (SX) design, a customised variant of Robert Allan's RAmparts 2500W design.
---
---
ALP Future Class is a series of four next-generation, long-distance towing and anchor handling tugs (AHTs).
---
The new series offers a bollard pull between 60t and 75t, depending on the propulsion system. The tugs are designed to deliver superior performance in ship-handling missions for ocean-going vessels.
Container port Asyaport received two Boğaçay Class tugs, which began pilotage services in October 2015.
Sanmar delivered a Boğaçay Class tug, named M / T Svitzer Amstel, to Denmark-based Svitzer in September 2015.
Boğaçay Class / RAmparts 2400 SX design
The 2400 SX boat has a wider hull than that of its predecessor, Ulupinar, in order to accommodate larger, more powerful Caterpillar engines.
The hull integrates a heavy-duty rubber fender system. The design was optimised with functional input from Sanmar's tug operation division.
The design emphasises low-manning operation with highly automated systems. The layout is contrived to meet common manning standards, and accommodation can be modified to cope with user requirements.
The boat's optional layouts include a basic day boat, and a configuration with accommodation for up to six crew members.
The Boğaçay class tugboat has an overall length of 24.4m, a moulded breadth of 11.25m and a depth of 4.38m. The extreme drafts of the 60t, 70t and 75t versions are 5.2m, 5.6m and 5.7m respectively.
Deck equipment and firefighting systems
A DMT TW-E250kN electrical drive towing winch offers a band brake holding load of 150t.The winch can drag 25t at a rate of up to 9m / min.
The tugboat also features a towing hook and a hydraulic / electrical driven capstan with a maximum pull capacity of 5t.
Optional features include an aft winch with 25t pull at up to 9m/min, a hydraulically operated 2t knuckle-boom / folding boom crane, and a marine-type hydraulic-driven tow pin.
The boat is equipped with an engine-driven fire pump, which offers a maximum flow of 600m³/hour. A manually operated firefighting system (FFS) monitor is also installed aboard the vessel.
Boğaçay Class tank capacities
The tugboat has dedicated storage tanks for carrying 84m³ of fuel oil, 41.8m³ of ballast water, 10m³ of fresh water, 1.10m³ of foam, 3m³ of black water, 1.6m³ of oily water and 3m³ of grey water.
Navigation and communications
The tugboat is installed with a radar, a global positioning system (GPS), a differential global positioning system (DGPS), an echo-sounder, an automatic identification system (AIS), a chart plotter, a magnetic compass, an autopilot, a speed log, and a bridge navigational watch alarm system (BNWAS).
The communications are complemented by an intercom, an SP telephone, and a global maritime distress and safety system (GMDSS A2).
Accommodation on Boğaçay Class tugs
Located on the upper deck, the captain and engineer cabins include washbasins, a mess, a lounge and a galley.
The lower deck features two double cabins, a water closet and a shower. The accommodation units are outfitted with IMO-approved, teak-imitating floor material.
"The tugs are designed to deliver superior performance in ship-handling missions for ocean-going vessels."
Accommodation areas are furnished with a heating and air-conditioning system. The boat's insulated interiors ensure sound levels below 60dB in cabins and below 70dB in the wheelhouse, passageways and the mess room.
Propulsion
The 60t variant is powered by two Caterpillar 3512 C HD engines, while the 70t and 75t variants are equipped with Caterpillar 3516 C HD engines.
Each 3512 C HD engine drives a Rolls Royce US205 FP thruster, and has an output of 1,765kW at 1,800rpm.
Also installed are two Caterpillar C4.4 generator sets with an output of 86ekW each. The maximum speed is 12.5k for the 60t variant, and 13k for the 70t and 75t variants.