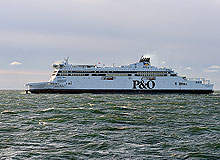 The Spirit of Britain is a car-passenger ferry which was delivered in January 2011 from Rauma shipyard, Finland. Serving the Dover – Calais route, she is considered as the largest ferry operating in the English Channel. The new ferry has taken the place of Pride of Dover which entered service in 1987.
Built at a cost of £157m by STX Europe, the ferry is operated by P&O Ferries. The vessel is said to be the world's first car-passenger ferry that complies with the requirements of the Green Passport of classifying society Lloyd's Register and meets IMO's Safe Return to Port regulations.
Spirit of Britain design
Passenger areas were designed by London-based interior design specialist SMC Design. It carried out extensive research on profiles of the existing ships and passengers on the Dover – Calais route. This resulted in the development of a design which incorporates the facilities of both cruise ships and ferries.
The optimised hull helps in achieving maximum performance with good manoeuvring characteristics. The unique hull design makes sure that there is minimum drag in the shallow Channel. Waste heat from exhaust gas is used to heat water and power the water purification plant. The ship features two engine rooms, one fore and one aft. Tier 2 NOx emission standards have been met by using engines that operate on low sulphur fuel oil.
"Enhanced manoeuvrability is achieved by three Wärtsilä CT300M bow thrusters."
The 213m-long vessel has been provided with 3,746 lane metres of space for accommodating trailers, cars and other cargo. Apart from accommodating 2,000 passengers, the 49,000gt ferry can hold approximately 180 freight trucks and 195 passenger cars. Since the length of the journey is only 90min, there is no cabin and hence no room service.
Spirit of Britain construction
P&O Ferries signed a letter of intent with STX Europe (then Aker Yards) in June 2008 and contracts in August. Steel production for the vessel commenced in March 2009 and the keel laying ceremony was held in Rauma in August 2009. Launched in June 2010, the vessel completed its four days of sea trials in December 2010 in the Baltic Sea off Rauma.
The vessel was constructed through block construction wherein pre-fabricated hull sections were fitted out with essential components.
Spirit of Britain facilities
The bar and the family lounge is located on Deck 8. Situated on the starboard side of the deck is the reception desk and bureau de change. The Club Lounge, brasserie, self-service food court and roll-roll off drivers' area are located on Deck 9.
The Club Lounge has its own private sheltered deck. The brasserie serves traditional British dishes. The self-service international food court offers a range of cuisines from oriental to continental.
"Passenger areas were designed by London-based interior design specialist SMC Design."
Onboard entertainment facilities for children include the Horizon Family Lounge. This is equipped with a sound-proofed video game arcade for teenagers and is furnished with tables and chairs for toddlers and children.
For freight drivers, a five-star standard facility is provided in the Routemasters Lounge. It has its own outside deck area and includes amenities such as private showers, a seat back entertainment system, restaurant, and relaxation area with recliners.
Other facilities onboard include a duty paid shopping centre, swimming facilities and internet access.
Spirit of Britain propulsion
The main engines include four MAN 7L48/60CR diesel mechanical engines, each producing 7,600kW. The ferry is fitted with two Alpha type controllable pitch propellers.
Enhanced manoeuvrability is achieved by three Wärtsilä CT300M bow thrusters. Each of these has a power output of 3,000kW. The vessel also has four MAN 7L21/31 auxiliary engines, each with a capacity to produce 1,424kW at 1,000rpm.