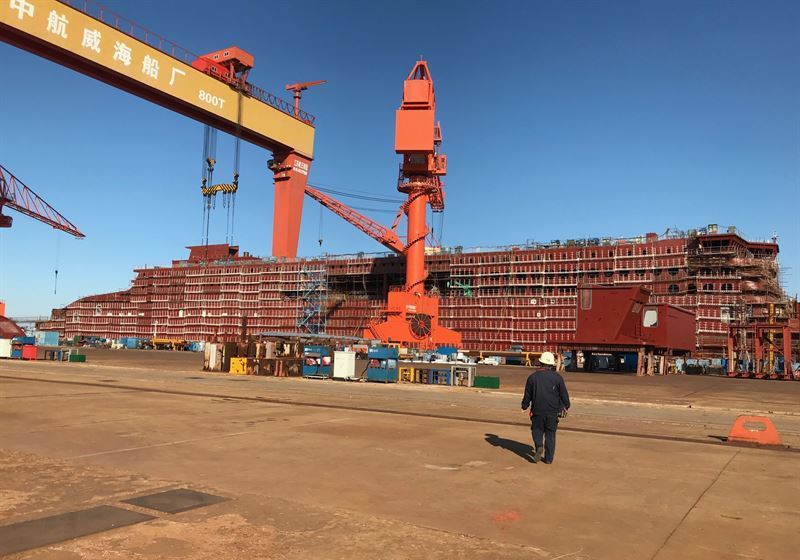 E-Flexer is a new class roll-on/roll-off passenger (RoPax) ferry being built by Chinese shipbuilder AVIC Weihai Shipyard for Stena RoRo.
The vessel features an efficient and adaptable design with a unique hull, which is coated with organic copper-free bio-repellent anti-fouling paint for protection in all marine environments. Its bow is designed to reduce wave resistance.
The E-Flexer class can carry up to 50% more vehicles as compared to a standard RoPax vessel. It is offered in two variants – Standard (215m) and Lengthened (240m).
E-Flexer class orders and deliveries
Stena signed a contract with AVIC Weihai for four new E-Flexer RoPax ferries in April 2016, with an option for four additional vessels.
Keel-laying ceremony of the first Stena E-Flexer RoPax ferry, named Stena Estrid, was held at AVIC Weihai's shipyard in China in February 2018 and the float-out manoeuvre was made in January 2019. The vessel will be operated by Stena Line between Dublin in Ireland and Holyhead in Wales when it is delivered in early-2020.
Stena Line will also operate the second and fourth vessels in the series on its Belfast to Birkehead route. The keel for the second vessel was laid in June 2018.
The third vessel's steel-cutting ceremony was held in November 2018, while its keel was laid in January 2019. It will be chartered to Brittany Ferries for LNG operation between Portsmouth, UK, and Bilbao and Santander in Spain, when delivered in 2020.
A contract for the sixth ferry was awarded by Stena RoRo in May 2018, with delivery scheduled for 2021. The ferry will also be chartered to Brittany Ferries for its Portsmouth-Bilbao/ Santander route, under a ten-year deal.
Stena RoRo placed an order with AVIC for the fifth Stena E-Flexer RoPax vessel in April 2018. The vessel will be operated by DFDS between Dover and Calais, under a ten-year bareboat charter.
The order for seventh and eighth vessels in the series was placed by Stena Line in July 2018. The vessels will be built in a lengthened version and are scheduled to be delivered in 2022.
E-Flexer RoPax design and features
E-Flexer RoPax ferry is classified under DNV GL Class 1A certification. The standard variant will have a length of 214.5m, breadth of 27.8m, and draught of 6.4m, while the lengthened variant will be 239.7m-long.
"It will have the provision to add boutiques, café, restaurant, bar, club lounge, and different cabins, including pet-friendly cabins."
The standard version can carry up to 1,000 passengers, including crew, 120 passenger vehicles, and 3,100 lane metres of freight. The lengthened variant will have the capacity to accommodate 1,200 passengers and approximately 300 vehicles.
The gross tonnage of the standard vessel will be 40,500t, while that of the lengthened variant will be 45,000t.
The ferry will feature a total of ten decks, including three decks dedicated for passengers. It will have 175 cabins in total and will be served by 73 crew members.
It will be fitted with LEDs for lighting and select lubricants and coolants, which will reduce impact on the environment.
The vessel's on-boarding facilities are designed to be configured based upon customer requirements. It will have the provision to add boutiques, café, restaurant, bar, club lounge, and different cabins, including pet-friendly cabins.
Propulsion and performance
The Stena E-Flexer RoPax-class will be powered by two Caterpillar MaK 12 M43 C marine diesel main engines, which will be coupled to Caterpillar gearboxes. The propulsion system will integrate two MPP1500F and two MPP1410F controllable pitch propellers.
The vessel will also be equipped with two WE Tech permanent magnet shaft generators rated at 2,600kW. It will have a variable frequency drive, which will be connected to a DC-link switchboard for bow thrusters and Power Take Out (PTO).
E-Flexer RoPax will also be fitted with Novenco HVAC systems, which include chillers AHU, VAV cabin units, fans, and control systems.
The ferry sails at a maximum speed of 22kt.
Contractors involved
R&M signed the contract with AVIC Weihai Shipyard in August 2017, to form a joint venture for providing total interior turnkey engineering, delivery, and installation of public areas, cabins, main galley, and all pantries for the RoPax ferries.
Deltamarin provided the ship's design, while Figura Arkitekter delivered interior design for the vessel.