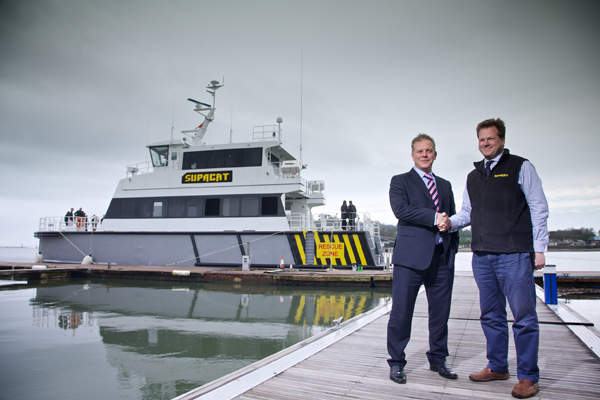 James Fisher Marine Services (JFMS) purchased SMV24 from Supacat in April 2014.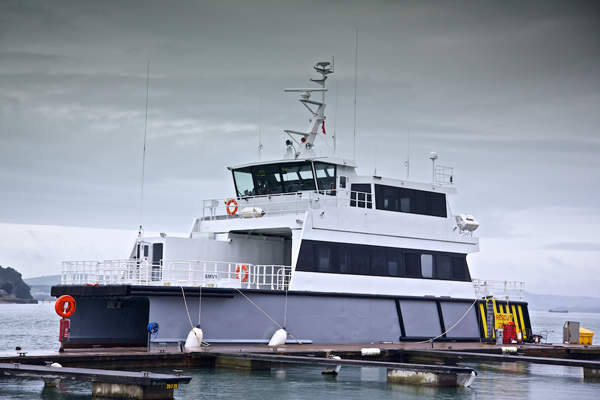 SMV24 was built by Mustang Marine (Wales) in its Pembroke Dock facility.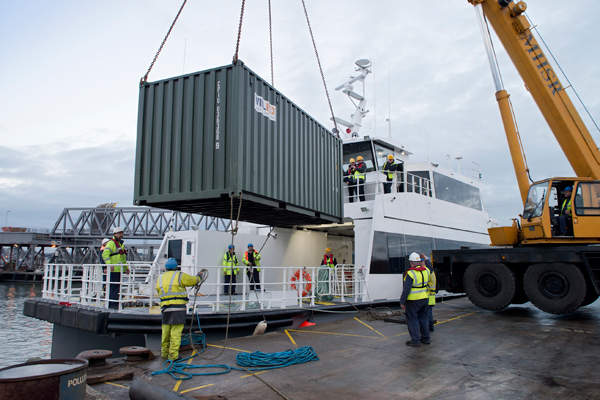 The vessel has a cargo handling capacity of 30t.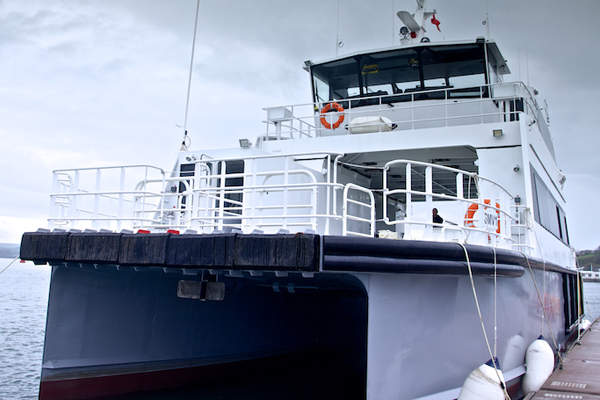 The pillar-free, flat deck space enables the ship to perform wind farm and offshore maintenance roles.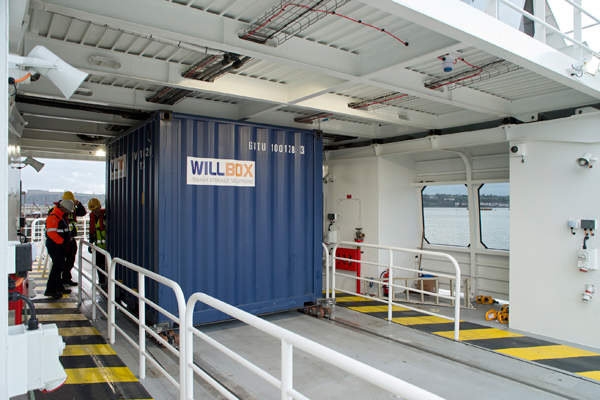 Rails in the flat deck allow movement of container loads.
Supacat Multi-Purpose Vessel 24 (SMV24) is an offshore support vessel (OSV) built by Mustang Marine (Wales) for Supacat, who ordered the vessel in February 2013. The vessel was built at Mustang Marine's Pembroke Dock facility in the UK and launched at Seawork International in June 2013. James Fisher Marine Services (JFMS) purchased the vessel from Supacat in April 2014.
SMV24 is designed to act as a multi-purpose platform to perform wind farm and offshore maintenance roles up to 150nm offshore.
SMV24 design and features
Designed by naval architecture firm Incat Crowther, SMV24 is built of marine grade aluminium with double bottom to survive damages. The boat has an overall length of 25.7m, beam of 8m, height above the waterline of 24.4m and draft of 1.5m.
SMV24 received a number of DnV (Det Norske Veritas) 1A1 class notations, including HSLC R1 Wind Farm Service 1, and carries a UK MCA SCV Code (MGN 280) Category 1 flag meeting individual flag requirements for Sweden, Norway, Denmark, Netherlands and Germany.
The vessel features an extensive and multi-functional deck space to hold equipment, including specialist diving equipment, remotely operated vehicle (ROV) equipment, operations and maintenance equipment, accommodation modules and ship to turbine (STT) oil change service.
It can handle 30t of cargo using its pillar-free cargo deck, which is flat from stern to stern and fitted with a set of container rails covering the full length of the vessel, allowing movement of container loads up to 10ft on the aft and up to 20ft on the forward deck. The rails also allow movement of a deck crane mounted on a base frame.
The crane is secured to its location by tie down points fitted throughout the deck. Removable hand rails are fitted throughout the deck, connecting the forward and aft boarding points to allow safe movement of personnel by providing access to the passenger cabin and accommodation spaces.
For improved visibility, the wheel house is located at the upper deck. Skylights are fitted allowing the operators to see the turbines during docking.
Accommodation and other facilities
The offshore support vessel is fitted with a Safety of Life at Sea (SOLAS) A60 accommodation module for 12 passengers and permanent accommodation for crew. It is certified to DNV 2.7-1 / EN 12079 classes under Safe area / Zone 2, offering convenient and secure living onboard.
The module, manufactured according to ISO 9001, ISO 14001 and OHSAS 18001 standards, is 6.05m-long, 2.43m-wide and 2.89m-high, and weighs up to 9,500kg. Each cabin has two bunk sets and an attached bathroom, and is accessible internally from the upper deck passenger cabin, as well as from the main deck wet room.
It is outfitted with modern fixtures and fittings, comfortable decor and furnishings, Category II lighting, shower rooms, air-conditioning units with individual thermostatic control and lockers with hanging and shelving space. A fire and gas detection unit with a programmable logic controller (PLC) is fitted in the A60 accommodation module.
The vessel comprises four fuel tanks of 3,000l capacity each and a 500l freshwater holding tank equipped with a watermaker onboard, producing 95l per hour. A 500l black water tank is also provided onboard, along with a sewage treatment plant meeting MARPOL 73/78 Annex IV Regulations.
Special features aboard SMV24
SMV24 features a Furuno Integrated Bridge System (IBS) with electronic chart display and information system, as well as X-band radar.
"The propulsion system allows the vessel to cruise at a maximum speed of 30k."
A fully equipped galley area with settee, 12 reclining chairs with seat belts and laptop tables is provided. Two TV sets provide a complete entertainment system with satellite internet and TV facility.
Additional facilities onboard the ship include a custom-built bow docking fender system capable of load sensing, anti-vibration mounts separating the saloon from the noise and vibration of the machinery, and an active ride control system. Separate secure storage rooms for personal protective equipment (PPE) and changing rooms for technicians are provided.
Engine and propulsion details
SMV24 is powered by two MAN V12 D2862 LE463 engines rated at 1,029kW and 2,100rpm each. Propulsion is provided by two Servogear EcoFlow Propulsor Controllable Pitch Propellers (CPP) with four blades of 1,225mm diameter. The vessel is fitted with two Beta Marine generators with a rated capacity of 35kW.
The propulsion system allows the vessel to cruise at a maximum speed of 30k. The vessel can be fitted with an alternate propulsion and performance system as per customer requirements.