Sylvia Earle is a new expedition cruise vessel operated by Aurora Expeditions. Credit: Ulstein.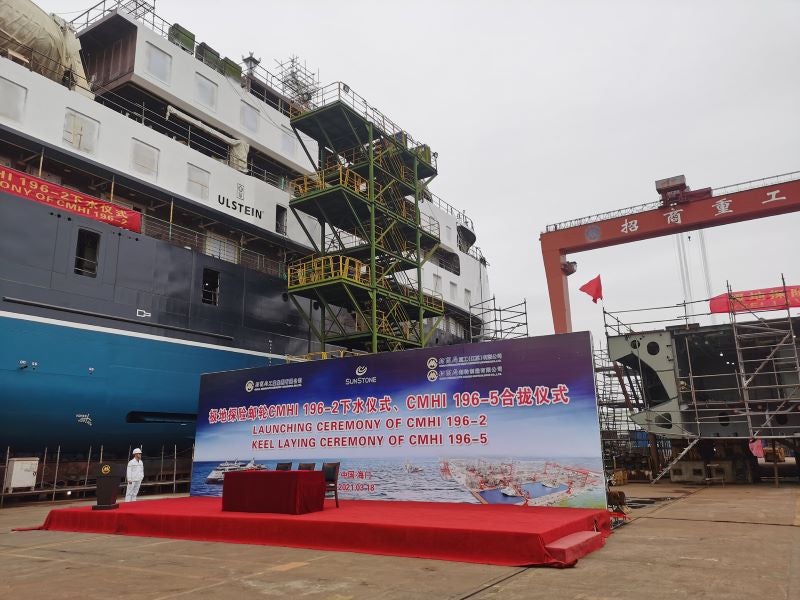 The vessel was built at the China Merchants Heavy Industry (CMHI) shipyard in China. Credit: Ulstein.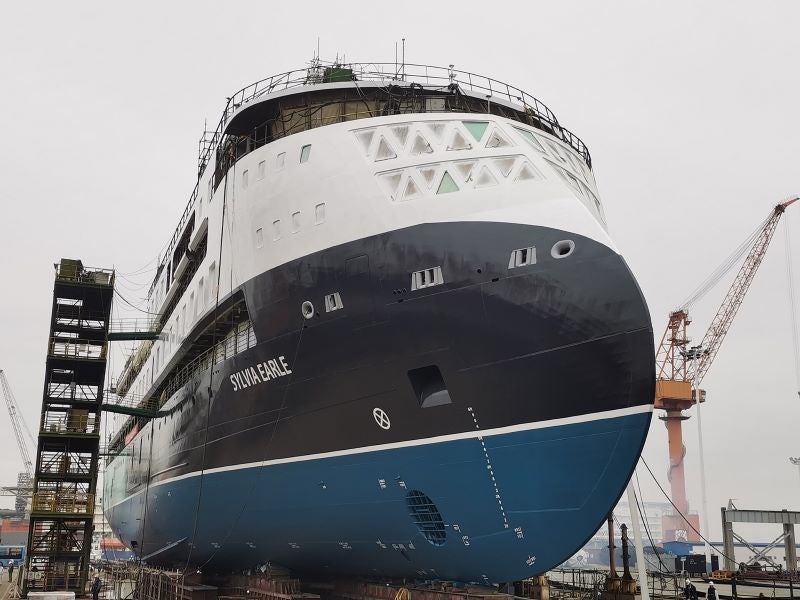 Sylvia Earle will embark on its maiden voyage in November 2022. Credit: Ulstein.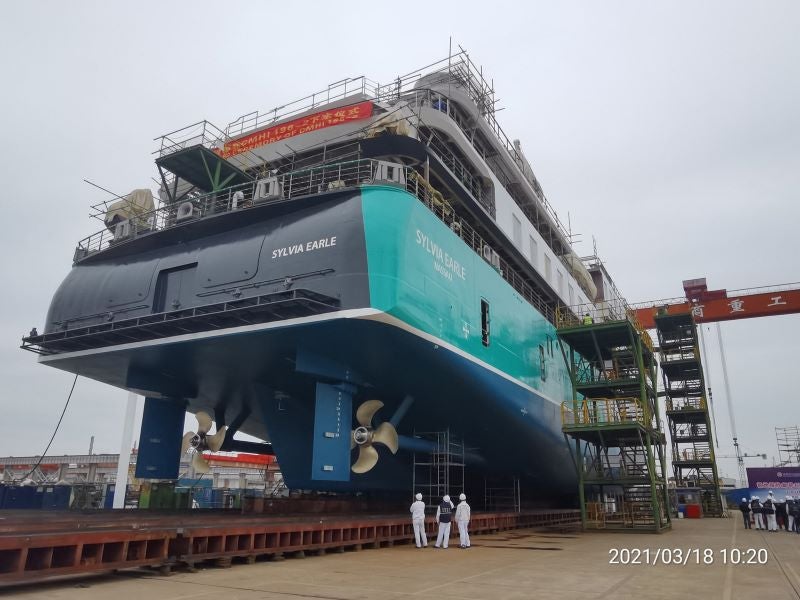 The design for the vessel was provided by Ulstein. Credit: Ulstein.
Sylvia Earle is an Infinity-class expedition cruise vessel, owned by SunStone Ships, which offers cruise vessels on charter to travel companies and tour operators.
The purpose-built vessel is operated by Aurora Expeditions, an adventure travel company based in Australia.
It was named in honour of Dr Sylvia Earle, an American marine biologist, conservationist, explorer, and oceanographer.
Sylvia Earle is the sister ship of Greg Mortimer and was built at the China Merchants Heavy Industry (CMHI) shipyard in China.
Its keel-laying ceremony was held in June 2020 while the vessel was floated out in March 2021, and sea trials were completed in October 2021.
Sylvia Earle design and features
Sylvia Earle is a 100% carbon-neutral vessel designed to consume less energy and its high fuel efficiency and streamlined design will reduce emissions.
The vessel was designed by Ulstein, based on its CX103 expedition cruise design. It has a length of 104.4m and a beam width of 18.4m. The vessel can accommodate 132 passengers and sail at a maximum speed of 15.5kt.
Sylvia Earle features the Ulstein X-BOW® with an inverted bow design, which offers a smooth and quick transit through waves while reducing fuel consumption by up to 60%.
It is also equipped with Rolls Royce dynamic stabilisers, which increase stability and comfort. The vessel features advanced safety technology and return-to-port equipment, which duplicates the propulsion system and ensures that the ship's onboard systems remain operational to guarantee passenger safety in case of an engine failure or other events such as flooding and fire.
Sylvia Earle leverages virtual anchoring technology to hold its position using global positioning system (GPS), propellers, steering technology, and thrusters.
Sylvia Earle onboard accommodation
The ship features two Aurora Stateroom Triple cabins with portholes near the mudroom and loading platforms on deck three.
The cabins are of private en-suite type and come with a 42in flat-screen TV, a room safe, a mini-bar, and a room-controlled thermostat. Each cabin occupies 22.67m² including a balcony.
The Aurora Stateroom Superior type rooms are located on deck seven. Each room offers up to 20.8m² of space including a French balcony. The staterooms also feature floor-to-ceiling windows, en-suite bathrooms, a comfortable desk area, and other amenities including a safe and  a mini bar.
The ship offers Balcony Staterooms in three categories, with space ranging between 19.5m² and 28.7m².
The 23 premium, Balcony Stateroom A category rooms are located on decks four and six. There are 17 Balcony Stateroom B standard, interconnecting cabins located at the fore and aft of decks four and six. The 11 economy-class Balcony Stateroom C cabins offer space for up to two people and are located on deck six.
Each Balcony Stateroom Superior offers space ranging between 29.2m² and 35.2m². The staterooms feature floor-to-ceiling windows, en-suite bathrooms, and a desk area while wheelchair accessible bathrooms are also available in some rooms.
Sylvia Earle also offers four Junior Suites, with a combined cabin and balcony space of up to 41.6m².
The singular Captain's Suite is the largest onboard, with a combined cabin and balcony space of 43.8m². It features a large lounge area, a balcony, a walk-in wardrobe, and en-suite.
Sylvia Earle bar and dining amenities
Sylvia Earle features a dining room with an open seating area on deck five. The dining facility will offer tea, coffee, and snacks round the clock, as well as different menu options and courses for each meal. Guests will be able to savour a range of house wine, beers, and soft drinks with dinner.
The ship will offer informal Captain's Welcome and Farewell drinks, with complimentary beverages and cocktail appetisers.
The top deck restaurant is located on deck eight while the bar is on deck seven. The bars and lounges onboard the ship feature floor-to-ceiling windows.
Facilities onboard Sylvia Earle
Sylvia Earle features a lecture theatre and lounge on deck five. The lecture theatre will host presentations by naturalists and local specialists, covering topics across various fields including history and culture, biology, and climate change.
The onboard naturalist and expedition team at the science centre on deck five will educate passengers about the areas of exploration.
A library with floor-to-ceiling windows is available on deck six where guests can pick up non-fiction books on wildlife, travel journals, and novels, or playboard games. The observation lounge on deck seven also offers wildlife guides, books, and binoculars.
A mudroom located on deck three will serve as the launchpad for all shore excursions and activities. Guests will be provided with a locker to hang dry wet expedition gear.
Sylvia Earle features two Jacuzzis and a swimming pool on the top outside deck on deck seven, which will provide views of the ocean.
A medical clinic is located on deck three while the wellness centre, with a sauna and gym, is located on deck seven.
The ship is equipped with Zodiac crafts, which can be boarded and launched via four dedicated, sea-level launching platforms. Guests will be able to participate in adventure activities such as kayaking, climbing, diving, and ski touring.
A glass atrium lounge spanning two levels in the bow will provide amazing views to the front of the ship.
Itinerary details
The Sylvia Earle expedition vessel will embark on a 17-day maiden voyage to the Subantarctic Islands in November 2022. The voyage will start from Santiago, Chile, and end in Ushuaia, Argentina.
Sylvia Earle's inaugural season will also include voyages to Antarctica, Costa Rica, the Canadian Arctic, Norway, Greenland, Iceland, Ireland, and Scotland.