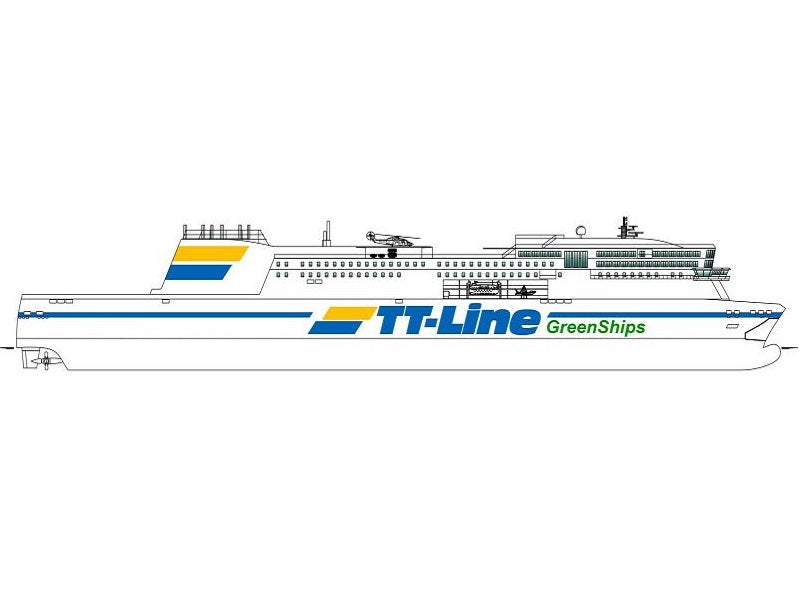 TT-Line Green Ship is an environment-friendly Ro-Pax ferry, which is intended for service on the Baltic Sea. Credit: R&M International GmbH.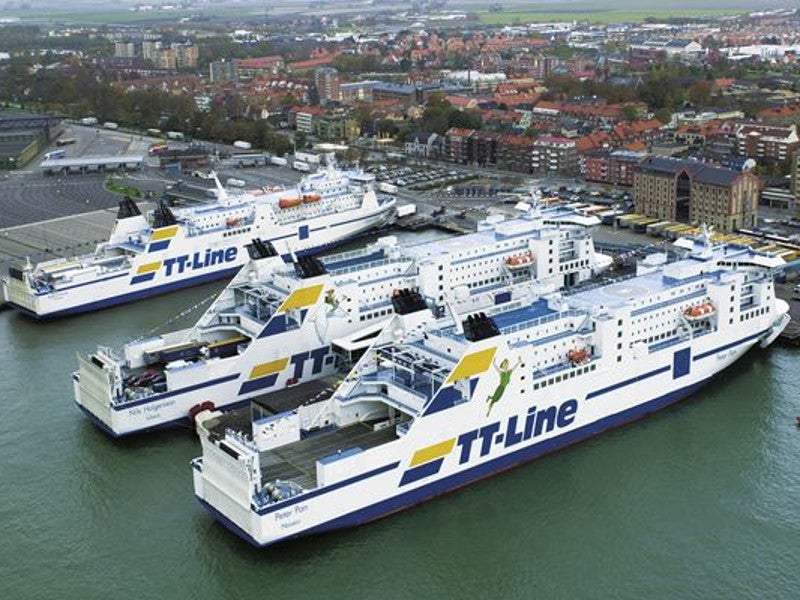 The new ferry will join TT-Line's existing fleet of six ferries. Credit: R&M International GmbH.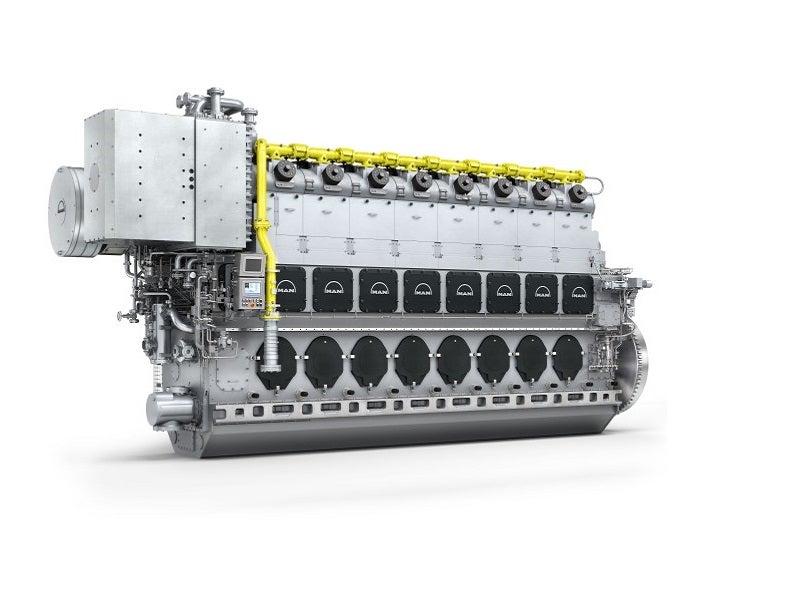 The ferry will be powered by four MAN 51/60DF engines. Credit: MAN Energy Solutions.
The TT-Line Green Ship is a new environmentally friendly roll-on/roll-off passenger (RoPax) ferry being built by Jiangsu Jingling Shipyard for TT-Line.
The ferry will be operated in TT-Line's Baltic Sea route network in Germany, Poland, Lithuania, and Sweden. It will join TT-Line's existing fleet of six ferries operating on various routes in the Baltic Sea.
TT-Line signed a contract with the Chinese shipyard Jiangsu Jinling for the ferry's construction in December 2018. The contract also includes an option for a second vessel. The ferry is designed with the aim of achieving five-star environmental rating from the Clean Shipping Index (CSI).
The vessel is presently under construction at the Jiangsu Jingling shipyard in China and is expected to enter service in 2022.
The port of Trelleborg is currently being expanded with three new ferry berths and a quay and will soon be able to accommodate the TT-Line Green Ship.
TT-Line Green Ship design and features
TT-Line Green Ship will have an overall length of 230m, a breadth of 31m, a height of 39m, and a maximum draught of 6.7m. It will offer comfortable and modern travel experience to passengers.
The RoPax ferry will be equipped with 20 charging stations, which will provide the option to charge electric cars on board. LED lights and energy-saving units will be installed in cabins to reduce power consumption.
"This innovative and future-oriented vessel will have the capacity to accommodate 800 passengers and 66 crew members as well as more than 200 trucks and trailers."
Features of the vessel include large window fronts and decks for cabins, public spaces, and adequate cargo lanes for cars and cargo. The design focus is to provide more flexibility and fast turnaround times in ports.
Energy-efficient systems on TT-Line Green Ship
The TT-Line Green Ship will have a range of energy-efficient solutions in order to provide an environment-friendly transport solution for passengers.
Air-conditioning will operate on a cold recovery system by reusing the chilliness of re-gasified LNG. The Alaska-cooler will use seawater to run the air-conditioning system.
The ferry will also be equipped with a heat recovery system, which will absorb heat from outbound air to warm up fresh inbound air.
All air handling units, compressors, fans, as well as heating ventilation and air conditioning (HVAC) pumps aboard the ferry will have variable-frequency drive (VFD) controllers to improve energy-efficiency.
TT-Line Green Ship propulsion details
Powered by a dual-fuel propulsion system, the new ferry will emit 50% less carbon. Liquefied natural gas (LNG) will be used as the primary fuel, while diesel will be used as a back-up.
The vessel will be equipped with two 8L51/60DF and two 6L51/60DF MAN engines, generating a total power output of 29,400kW.
MAN Alpha twin-screw controllable pitch propellers (CPPs) and two twin-in, single-out gearboxes will be integrated into the propulsion system. The propulsion package will also include AKA's advanced HyProp ECO system, drives, electric generators and motors for the shaft alternator (PTO), and bow thrusters.
The ferry will also feature a fuel-gas-supply system equipped with two 500m³ vacuum insulated Type-C tanks.
Contractors involved
Global maritime interior outfitting provider R&M Group received the contract to design, manufacture, and install all public areas, passenger and crew cabins, and galleys in October 2019.
TT-Line appointed Danish naval architect and marine consultant OSK-Shiptech for providing concept design of the new Green Ship, while Jiangsu Jinling selected Becker for supplying twisted flap rudders in August 2019.
Heinen & Hopman was awarded a contract to supply HVAC and refrigeration systems for the vessel.
Volkswagen Group subsidiary MAN Energy Solutions entered a partnership with Aspin Kemp and Associates (AKA) for delivering power, propulsion, and automation solutions for the new ferry. MAN Cryo is responsible to deliver the fuel-gas-supply system.
OCEANARCHITECTS is involved in the TT-Line Green Ship's interior design, including cabins and public areas.