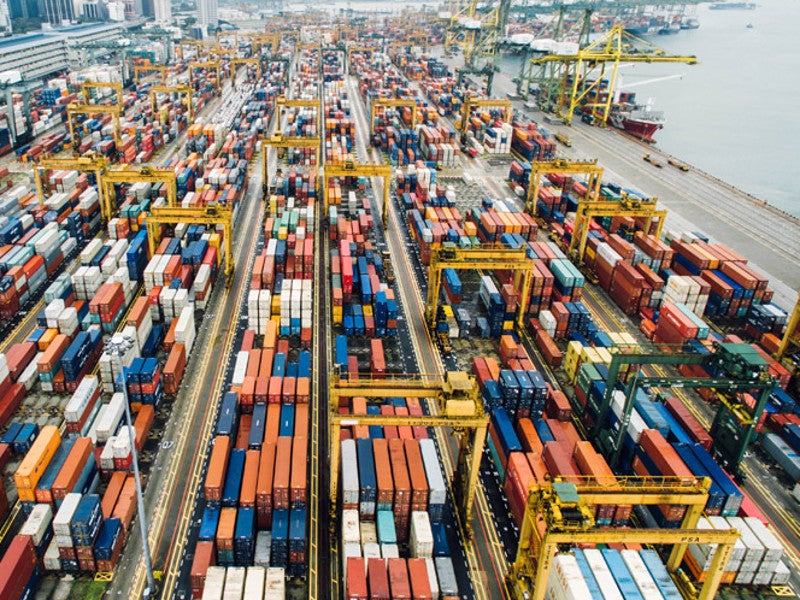 Tuas terminal is a next-generation container terminal being constructed by the Maritime and Port Authority of Singapore (MPA).
The mega-port will have the capacity to handle up to 65 million twenty-foot equivalent units (TEUs) of cargo a year, making it the world's biggest container terminal upon completion. The existing Singaporean container terminals at Tanjong Pagar, Pasir Panjang, Keppel, and Brani will be relocated and merged with the Tuas terminal upon its completion.
Construction of the mega-port commenced with phase one works in February 2015, with the terminal planned to become fully operational in 2040.
Tuas terminal details
The terminal will feature above and below-ground space, optimising land use for complementary purposes such as storage facilities.
A next-generation traffic management system will be installed across the port, which will improve safety and security. It will use automated yard cranes and port equipment technology to reduce labour costs.
The port will also have cafes, retail stores, and a jogging track as a segment of it will be partly open to the general public.
All port handling equipment will be electrically powered to reduce carbon emissions, while the smart grid systems will further minimise overall power consumption.
Tuas port will feature green building designs and rainwater harvesting and will also employ renewable energy sources such as solar power.
Tuas terminal construction details
Tuas terminal phase one will involve water dredging, construction of the wharves, and reclamation of 294ha of land. It will also witness the construction of 21 deep-water berths, which will have the capacity to handle approximately 20 million standard-sized container units a year.
"The terminal will also be installed with an intelligent planning system, which is designed to improve the turnaround time of ships at port and anchorages."
The final caisson for the Tuas terminal phase one reclamation was installed in April 2019. The port will commence its first phase of operations with two berths for ships in 2021.
Tuas terminal phase two development will include 387ha of land reclamation works surrounded by 9.1km of caisson walls, which will be 30m-high.
The land will be created through the deepening of the port basin and access channel, sandkey dredging, and sand supply management.
Advanced technology at Tuas terminal
The automated yard cranes to be installed at the terminal will accurately load and unload containers through computers, intelligent sensors, and cameras. The terminal will feature fully automated quay cranes and will be capable of transporting vehicles through driverless and battery-powered automated guided vehicles.
The port will also feature autonomous truck platooning.
Port equipment will be inspected by drones, which will support troubleshooting with remote video streaming. Pre-emptive breakdowns at the port can be identified through video analytics footage.
The terminal will also be installed with an intelligent planning system, which is designed to improve the turnaround time of ships at port and anchorages.
Contractors involved
MPA awarded a S$1.46bn ($1.1bn) contract to the joint venture (JV) of Penta Ocean Construction, Hyundai Engineering and Construction, and Boskalis International for the development of phase two of Tuas terminal, in April 2018.
MPA also appointed Dredging International Asia Pacific (DIAP)-DAELIM joint venture to perform land reclamation, dredging, and construction of the wharf for the Tuas terminal phase one, in February 2015.
SimPlus provided smart vessel tracking and monitoring solutions to the contractors. It received a consultancy contract for conducting formal safety assessment (FSA) during the first year of project activities.
Surbana Jurong is responsible for project management, contract administration, and site supervision.
GAC Singapore is involved in reclamation, dredging, soil investigation, and shore protection work for the project.
KOJIMAGUMI was subcontracted by DIAP-DAELIM joint venture to provide three grab dredgers, including GOSHO, 661 Ryosei Maru, and 381 Ryosei Maru for the Tuas terminal.