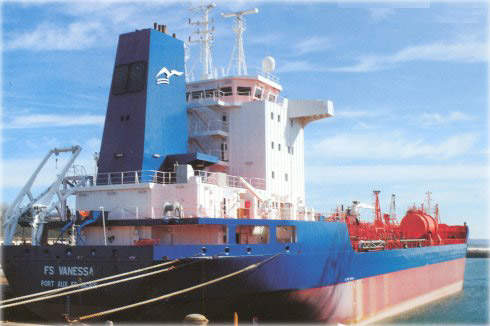 The Vanessa in port.

Diagram of the Vanessa.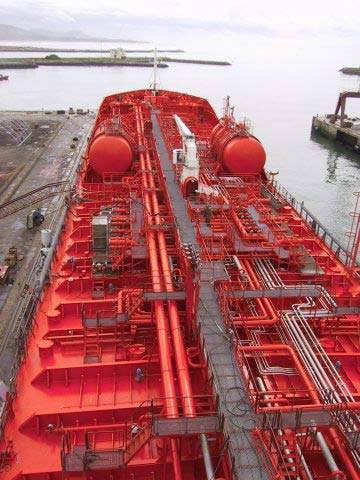 Along the main deck of the Vanessa.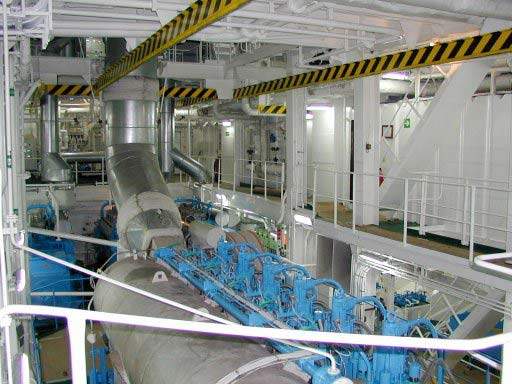 The chemical carrier's engine room.
The Vanessa was built by the Portuguese company Estaleiros Navais de Viana do Castello for the French owner/operator group Fouquet-Sacop. It is designed to transport petroleum-based products such as crude, fuel, gasoline, naphtha, etc. and chemical products, such as benzene, methyl alcohol, ether, vegetable oil, animal oil, etc.
The Vanessa has an overall length of 140m and 134m between perpendiculars. It has a breadth of 23m and a 12.4m depth as well as a draught of 8.3m. The deadweight is 19,078 at 9.5m. It registers 10,900gt and 6,000nt and has a 15,500t displacement.
CHEMICAL CARGO TANKS
The Vanessa has ten cargo tanks fabricated in normal steel (naval building steel), divided by the centre line and six transverse corrugated bulkheads. The total capacity of the tanks is 19,000m³.
The side and bottom water ballast tanks are formed from the double hull and provide 5,500t of ballast. The double bottom has a minimum height of 1.55m. There are also two cylindrical slop tanks, built in mild steel with a total capacity of 400m³. The fresh water tank has a capacity of 240m³.
All the tanks of the Vanessa are coated by three layers of phenolic epoxy, or solventless epoxy for the ballast tanks.
The cargo heating is carried out to keep the transported products at a convenient temperature by means of a heater exchanger in the cargo tanks and stainless steel coils in slops. The heating system consists of two 3,500kW Weisloch 25-VO-25 thermal oil boilers and a 600kW thermal oil economiser.
The tanks also have an inert gas system consisting of an oil fired inert gas generator with a capacity of 3,750m³/h and two fans. There is a closed loading system and a fixed tank washing machine in all cargo tanks.
The product is distributed by 12 centrifugal hydraulic drive cargo pumps provided by Framo. These consist of ten 300m³/h hydraulic deep well pumps and two 100m³/h hydraulic deep well pumps for slops.
The Vanessa Chemical Carrier vessel has a Palfinger mariner DSM 5/16 hose-handling crane which can carry 5t at 16m.
ENGINES AND PROPULSION
The engine room is located in the aft of the vessel. The Vanessa Carrier is powered by a MAK7M43 4 stroke main engine with an output of 6,300kW at 500rpm. Through a Volda ACG 950 reduction gearbox with an output speed of 500rpm, this is fed to a variable pitch propeller. This bronze propeller has four blades with a diameter of 5.1m. When the speed of the engine reaches 500rpm the propeller has an approximate speed of 150rpm.
The Vanessa Chemical Carrier has an average laden speed of 14 knots with the main engine operating at a draft of 8.3m or 14.5 knots with just water ballast.
This carrier is also equipped with a bow thruster. Manufactured by Lips, it has an output of 900kW. Power is provided by an AEM/SE 500 M4 main engine alternator. It has an output of 1,500kW.
There are also three Yanmar auxiliary engines with an output of 750kW at 1,500rpm and a 1,500kW shaft generator.
The carrier can travel 10,000nm in cargo condition or 30 days at the speed service.
CARRIER NAVIGATION
The bridge contains two Kelvin Hughes Nucleus 3600A radar units and an Inmarsat B and Inmarsat C satellite navigation system. These are Nera Saturn BM2 and a Thrane and Thrane TT-3020C units.
CREW AND CABINS OF VANESSA CARRIER
The complement of the Vanessa is eight officers and 11 crew. The vessel can accommodate 19 persons in 19 cabins. There is also an officers' mess and a crew's mess as well as a galley and hospital.
It is classified by Bureau Veritas with the notation + 13/E Oil Tanker, Chemical Tanker + AUT – MS Port.