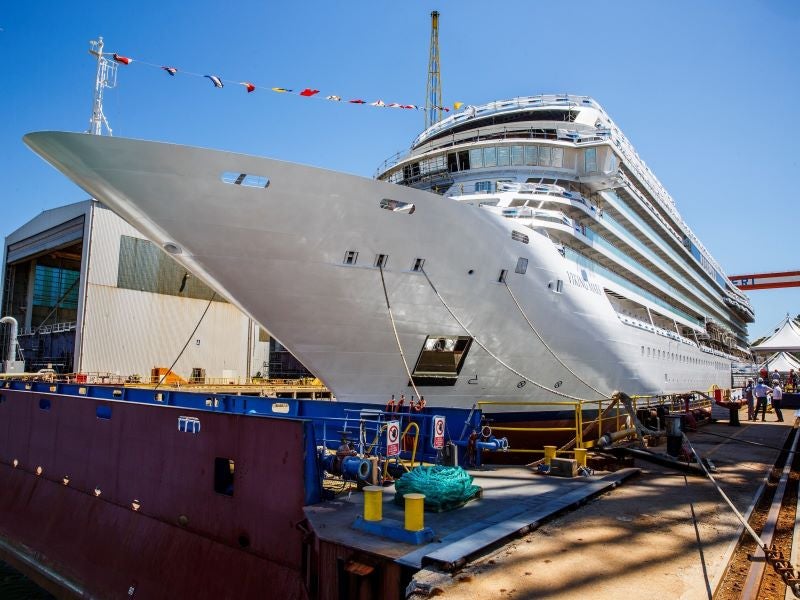 The Viking Mars cruise ship was successfully floated out in July 2021. Credit: Viking Ocean Cruises / PR Newswire.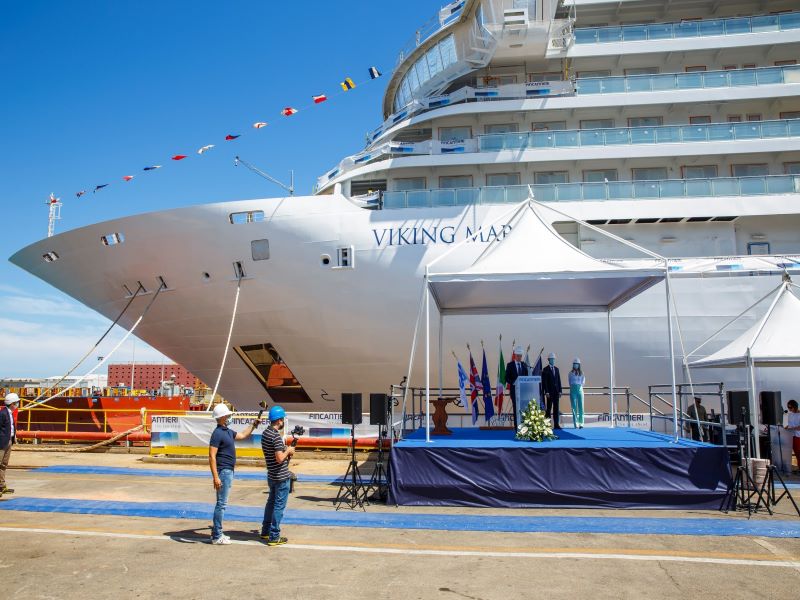 Viking Mars is set to embark on her maiden voyage in 2022. Credit: Viking Ocean Cruises / PR Newswire.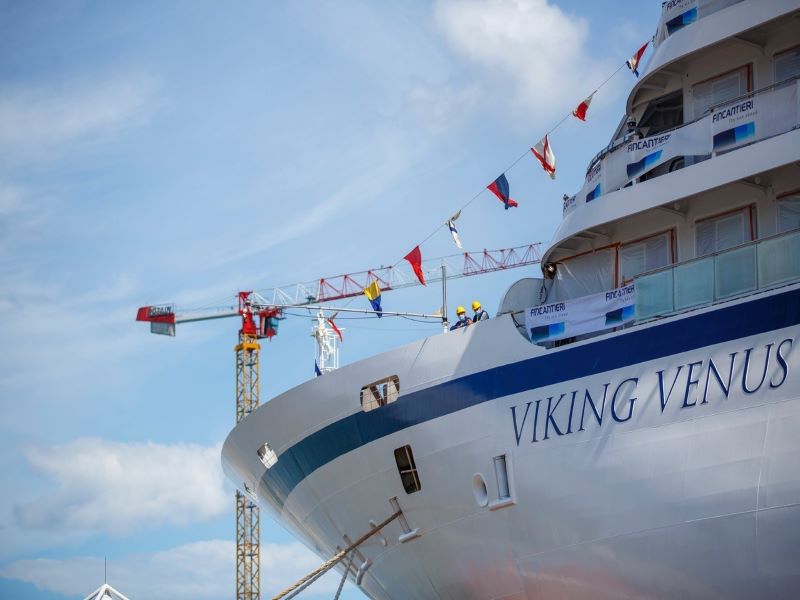 Viking Venus, the sister ship of Viking Mars, was recently delivered in April 2021. Credit: Viking Ocean Cruises / PR Newswire.
Viking Mars is a new small ship-class oceangoing vessel ordered by Viking Ocean Cruises, a cruise company based in Switzerland.
The ship will join seven identical sister ships, namely Viking Star, Viking Sea, Viking Sky, Viking Sun, Viking Orion, Viking Jupiter and the most recent sister ship, Viking Venus delivered in April 2021.
Viking Mars was successfully floated out at Ancona shipyard in Italy in July 2021. The ship will undergo outfitting in a nearby dock for final construction and interior build-out.
The Viking Mars will be officially named by her ceremonial godmother, Lady Fiona Carnarvon, the eighth Countess of Carnarvon, before her maiden voyage in early 2022. The ship will set sail for the Mediterranean and Northern Europe for the maiden season sailing to be followed by voyages in Asia and Australia.
Viking Mars design and features
The Viking Mars measures 745ft long and 94.5ft wide. Weighing approximately 47,800t, the cruise ship features ten decks with all-veranda 465 staterooms to be located across deck three to deck eight to accommodate 930 guests.
The cruise ship features a modern Scandinavian-inspired design with spacious suites with sweeping views and airy public places.
Deck one will have a spa that is designed according to Scandinavian tradition with a sauna and a snow grotto. The cruise ship will have two swimming pools at deck seven, of which the infinity pool will be positioned at the stern, and the main pool will have a retractable roof. The Explorers' Lounge will be located on decks seven and eight.
The Viking ships are built according to the latest navigation regulations and incorporate the most modern safety systems, including the 'safe return to port'. The vessels feature energy-efficient engines, optimised hydrodynamics and hull, which reduce fuel and energy consumption. The vessels are fitted with systems that minimise pollution produced by exhaust gases.
Staterooms on Viking Mars
All the staterooms aboard the Viking Mars ship will come with private balconies with space ranging from 270ft² to 1448ft², free Wi-Fi and 24-hour room service. All the suites will be provided with one to three 42in flat-screen, interactive LCD TVs with intuitive remote and complimentary movies on demand.
Among the various suites available, the multi-room Owner's suite located on deck seven is the largest with a 1,448ft² area including the private balcony. The 24-hour room service for the suite will offer service from any restaurant during open hours. The suite will feature a minibar with alcoholic beverages, soft drinks and snacks that will be replenished once daily, a boardroom that can host up to 12 people for business meetings and catered dinner parties.
The suite will also come with the benefits of complimentary shore excursion with private car and driver for up to four guests in a port city of choice, priority booking of spa treatments and four guaranteed priority reservations at each alternative restaurant.
The Explorer suite is the second largest with space ranging from 757ft² to 1,163ft² based on the location. The other suites will include the 405ft² Penthouse Junior Suite, the 338ft² Penthouse Veranda Stateroom, as well as the Deluxe Veranda Stateroom and the Veranda Stateroom, each with a 270ft² area. All the suites will offer abundant perks and amenities.
Viking Mars dining and bar venues
Deck two will feature the Restaurant, which is the streamlined Scandinavian design main dining venue. It will offer a mix of regional cuisine and classics enhanced with locally sourced ingredients. The ship will also offer abundant al fresco dining options.
Deck one will feature Manfredi's Italian Restaurant, offering the best of Italian cuisine in a subdued, ambient lighting environment. The Chef's Table will provide a perfect pairing of food and wine with a multicourse tasting course, while the Kitchen Table will offer local culture and cuisine in an optional interactive culinary style. The Viking Bar located in the atrium will offer guests a variety of cocktail choices. Two private dining spaces will also be available on the deck.
Torshavn on deck two will be a live music venue with romantic jazz lounges of 1940s Hollywood, making it ideal for pre-dinner drinks and after-dinner entertainment.
The World Cafe at deck seven will host live cooking with an open kitchen and premium sushi/seafood choices. Guests can choose between indoor dining and al fresco on the Aquavit Terrace for stunning panoramic views.
Mamsen's will offer Norwegian specialities for breakfast, lunch, an afternoon snack or evening treat, while Wintergarden will offer airy space around the main pool for a calm tea ceremony and afternoon tea service with the backdrop of a live string quartet.
The Pool Grill will serve casual fare prepared to order with a menu ranging from Viking Burger, Seared Ahi Tuna and more. A small salad bar will also be available for a lighter meal. The deck will also house a pool bar.
Entertainment and wellness facilities of Viking Mars
The main entertainment venue of the ship will be the Theatre on deck two. It will host live performances, port talks and onboard lectures on the history, art, and culture of the ship's destinations. Located adjacent to the Theatre, two movie theatres will show first-run films, including destination-driven films.
The Spa aboard the ship will feature a snow grotto where snowflakes gently descend from the ceiling through chilled air and a Nordic tradition-inspired sauna. The top deck will accommodate a medical centre, while a sports deck on deck nine will have an outdoor gym and a yoga area.
Contractors involved
The Viking Mars was designed by an interior design team of London-based SMC Design, and Los Angeles-based Rottet Studios.
Viking Ocean Cruises signed an agreement with the Italian shipbuilder Fincantieri to build the cruise ship in April 2017.